If there was a contest for flag-waving and high-profile street campaigning, Alex Salmond's Yes campaign will have already taken Scotland back from Westminster. But in Glasgow, Aberdeen, in Edinburgh, and elsewhere, the lower-volume and less visibly patriotic campaign to keep Scotland part of the United Kingdom concentrated on only one thing – getting out its vote.
With Alistair Darling, Gordon Brown, and Ed Miliband all keeping relatively quiet, the backroom operation of the No vote, the bands of canvassers and activists who have surveyed Scotland for the past months, were returning to the doors that said they would vote No to separation.
In Glasgow, fleets of mostly Labour volunteers visited some of the highrise blocks in the south and east of the city that house mainly elderly residents. One volunteer in Drumchapel said: "We have a job. We've known where help was needed, where an elderly voter who didn't register a postal vote needs to be taken to a polling station. We're doing just that."
Blue-flagged street stalls and gatherings of Yes supporters were still evident on main streets and high streets throughout Scotland. But at polling stations, No officials, offering last-minute leaflets outside schools and community centres, reported a continuing reluctance for their supporters to openly admit their ballot paper would be marked No.
Scotland goes to the polls
Scotland goes to the polls
1/20 Scotland decides

Piper Ryan Randall leads a pro-Scottish independence rally in the suburbs of Edinburgh

Getty Images

2/20 Scotland decides

A "No" campaigner bursts into song as the BBC's Nick Robinson walks past

Getty Images

3/20 Scotland decides

Chris McAleese holds a Saltire flag as he speaks with Gerrard Corrigan, left, and Robbie Devine outside Bannockburn Polling Station in Scotland

AP

4/20 Scotland decides

George Mackay and his daughter Anne Mackay run a polling station from their caravan at Coulags near Lochcarron

PA

5/20 Scotland decides

Voters arrive at the polling station in the village hall in the remote Highland area of Lochcarron, Scotland

PA

6/20 Scotland decides

A No campaign supporter and Yes campaign supporter debate with each outside the Scottish Parliament building in Edinburgh, Scotland

AP

7/20 Scotland decides

Martin Greenhouse arrived at Partick polling station wearing a Scottish football jersey with the number 14 - for 2014 - on the back. Martin said that he'd lived in Scotland for years and would be remaining north of border regardless of the outcome tonight. "Westminster does London very well. But not the rest of Britain. Devolution works, independence will work better and the regions of England will take note. That's why my wife and I are voting YES."

James Cusick/The Independent

8/20 Scotland decides

A supporter of the 'Yes' campaign stands outside a polling station

Reuters

9/20 Scotland decides

A yes supporter talks with a man and a woman with a Union flag in George Square, just a few hours before polling stations will close in the Scottish independence referendum

Getty Images

10/20 Scotland decides

Chris McAleese at Bannockburn Polling Station, as voters go to the polls in the Scottish Referendum

PA

11/20 Scotland decides

Ryan Randall plays the bagpipes outside a polling station in Edinburgh, Scotland

Reuters

12/20 Scotland decides

Fashion makes a point on voting day in the Scottish Independence referendum in Stirling

EPA

13/20 Scotland decides

Voters come to Notre Dame Primary School polling station as the people of Scotland take to the polls to decide their country's fate

Getty Images

14/20 Scotland decides

Voters come to Notre Dame Primary School polling station as the people of Scotland take to the poles to decide their country's fate in a historic vote

Getty Images

15/20 Scotland decides

First Minister of Scotland Alex Salmond chats to school children at Strichen Primary School in Strichen

PA

16/20 Scotland decides

Former Prime Minister Gordon Brown with No campaigners outside the polling station at North Queensferry Community Centre as polls open

PA

17/20 Scotland decides

Scottish First Minister Alex Salmond gives the thumbs up after voting in the Scottish referendum in Aberdeenshire, Scotland

EPA

18/20 Scotland decides

Residents take part in a "short walk to freedom" march in Edinburgh

Reuters

19/20 Scotland decides

Young voters leave a polling station in Charlotte Square, Edinburgh

Reuters

20/20 Scotland decides

David Aguilar, left, and Aleix Sarri from Catalonia, who are visiting Scotland to support the Scottish independence referendum, gesture and hold up a placard supporting a Yes vote at passing motorists in Edinburgh, Scotland

AP
"We are relying on an almost under-the-counter thumbs up from people as they leave polling stations," said one official in Glasgow's West End where almost 40 percent of the constituency's registered voters had arrived and voted by 2pm.
At the top of the Better Together campaign the entire final-hours operation was to be based on getting out the vote.
One official said: "This is where our confidence comes from, where we deliver, where we consolidate the promises that have been given to us on doorsteps. We knock and we knock again till the polls close. Urgency? Sure – this has become unlike anything we've ever seen. No general election, no Holyrood election – nothing is like this."
In Glasgow's George Square, where a flashmob of Yes supporters almost took over the civic heart of Scotland's biggest city on Wednesday night, the Yes side's sense of control was still there. One kilt-wearing supporter, wrapped in a Saltire, who said "I'll be here all night".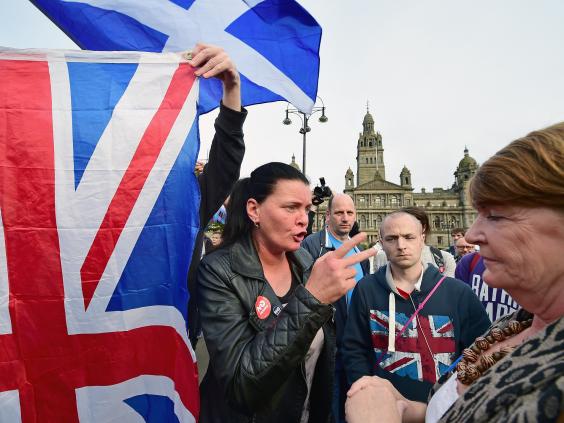 On another side of the square, inside the café of the Millennium Hotel, a group of No voters admitted their "team" had lacked the passion of their opponents. One said: "Maybe we should be out there now, shouting the same as them. But we haven't shouted – and I hope to hell shouting doesn't win this."
In Shettleston, in the constituency of the Shadow Scottish Secretary Margaret Curran, who had been out campaigning with Labour's Harriet Harman on Wednesday, the street theatre of Scotland's historic decision seemed to be dominated by the Saltire and swagger of Yes.
But again the No campaigners were choosing a different tactic. Along London Road, near the city's famous Parkhead football stadium, home to Glasgow Celtic, Labour activists were still returning to homes for last-minute checks.
Suggestions that the turnout will be above 80 percent – and closer to 90 than 80 – were borne by out by early comments from returning officials anxious to say nothing more than it would "a historic high".
Blair McDougall, the director of the Better Togther campaign, simply said the turnout was "very high". His campaign's message, since the return of Gordon Brown as its effective frontline figure, appears to have had some effect among No voters. One of Mr McDougall's officials said that despite setbacks and criticism, "we will win".
But there was a caveat: "Scotland has changed and this vote will not unite us. Will there be trouble if we win? I'm afraid the answer to that will be seen on streets on Friday and Saturday night."
Reuse content