Wilderness, whisky, ceilidhs, culture... In a series of very personal love letters, seven writers who have no say in the referendum give their own special reasons why a vote for independence next week would leave them feeling bereft.
Tom Holland, Novelist
When I was young, I became quite possibly the only Scottish nationalist in Wiltshire. This improbable conversion came about as a result of my reading Alasdair Grey's masterpiece Lanark, a novel which affected me like a fever, and inspired me to turn to his more overtly political writings. To someone like myself, at the opposite end of Great Britain to Grey, his polemics provided a thrilling opportunity to up-end the telescope: to see the familiar contours of my country from a new and alien perspective, as "Ukania", a rotten feudal hybrid, simply asking to be swept away.
Ultimately, though, because I came to disagree with this diagnosis, my Scottish nationalism proved to be just a passing phase. The reason for this, ironically enough, was the very intensity with which it had affected my imaginings. Once again, Scotland had provided me with what, as an Englishman, I had always found so haunting about it: the sense that, within the very country that I inhabited, England had a twin.
That Scotland was different, I never doubted; but all the things that made her different, enshrined as they were within the capacious embrace of the UK, served only to emphasise what I most prized about both Scotland and England. Gray's Glasgow, when I finally came to visit it, seemed so inimitably Scottish, and yet so very reminiscent of Liverpool, that I found myself confirmed in my view of both cities as thoroughly British.
Scotland will still be there should her electorate vote for independence; but Scots and English, for the first time in 300 years, will be foreigners to one another. I will feel it as a bereavement.
Tom Holland's books include 'Rubicon'. He is giving a talk on Asian lions at London Zoo on Tuesday
Scottish Independence: For and against
Scottish Independence: For and against
1/23 Vivienne Westwood

YES: "I hate England. I like Scotland because somehow I think they are better than we are. They are more democratic."

Getty

2/23 Bob Geldof

NO: "This argument needs to be had among us all, you can't selfishly resolve it amongst yourselves by taking an easy opt-out clause."

Getty

3/23 Leonard Cohen

UNDECIDED: "People are trying to make their lives significant," he said. "[They] are engaged in a struggle for self-respect and significance."

Getty

4/23 James McAvoy

UNDECIDED: "If you vote for continued unification or independence there is no protest vote – that's it. And that could be it for decades, for centuries. There's no going back from it."

Getty

5/23 Bill Clinton

NO: "Unity with maximum self-determination sends a powerful message to a world torn by identity conflicts that it is possible to respect our differences while living and working together. This is the great challenge of our time. The Scots can show us how to meet it."

Getty

6/23 George Galloway

NO: "There will be havoc if you vote Yes in September. Havoc in Edinburgh and throughout the land and you will break the hearts of many others too… I know which side I'm on. I'm with JK Rowling. Just say No."

Getty

7/23 David Beckham

NO: "We want to let you know how very much we value our relationship and friendship. Of course regardless of your decision that will never change, however, my sincere hope is that you will vote to renew our historic bond which has been such a success over the centuries and the envy of the entire world. What unites us is much greater than what divides us. Let's stay together."

Getty

8/23 David Bowie

NO: "Scotland stay with us"

Rex Features

9/23 Eddie Izzard

NO: "You can be Scottish, you can be British and you can be European. We can have that. "I say have the parliament, have the more power, but be with us. Like David Bowie said, 'Stay with us Scotland' and I'm saying the same – don't go."

Getty

10/23 Frankie Boyle

YES: "It's an 'aye' (for Independence) from me, man."

Association of Online Publishers

11/23 Andy Murray

NO: "I started competing for Great Britain when I was 11. A lot of people forget that. I didn't like it when Salmond got the Scottish flag up at Wimbledon"

GETTY IMAGES

12/23 The Proclaimers

YES: 'Scotland has huge national resources, with its people, its wave power – all the possibilities that this country has...we need to take charge of our own affairs'

Gary Calton

13/23 Susan Boyle

NO: "I am a proud, patriotic Scot, passionate about my heritage and my country. But I am not a nationalist."

Rex Features

14/23 Chris Hoy

NO: "It will weaken the British team obviously if Scotland went separately, and it would be harder for the Scottish athletes, initially, to establish themselves in a new training environment, with new coaches, with a different environment altogether."

15/23 Alan Cumming

YES: "The evidence is clear - in the past 15 years we have become stronger economically, socially, culturally and globally. The world is waiting for us and I know Scotland is ready."

Kalpesh Lathigra

16/23 Emma Thompson

NO: "Why insist on building a new border between human beings in an ever-shrinking world where we are still struggling to live alongside each other?"

Carlo Allegri, Reuters

17/23 Billy Bragg

YES: Independence would "create a new settlement that puts people before profit. Those in England who believe that our own society needs to be rebalanced along similar lines should wake up and join the debate"

Getty Images

18/23 Marcus Brigstocke

NO: "If Scotland go their own way (based on fingers crossed, f**k the Tories, William Wallace bollocks it'll be a damn shame. Still wish 'em well"

19/23 Rod Stewart

NO: "I'd hate to see the union broken after all these years. It's always been a spiritual home - but as I don't live there I shouldn't comment on independence. If it's good for the Scots I'm happy."

PA

20/23 Sean Connery

YES: "As a Scot and as someone with a lifelong love for both Scotland and the arts, I believe the opportunity of independence is too good to miss"

Rex Features

21/23 Al Kennedy

NO: "Salmond has the warm potato head of a man who is Scottish and – we hope – no threat"

Rex Features

22/23 Annie Lennox

YES: "There is an opportunity for something innovative and visionary. Scotland could have some kind of new, ethical, visionary stance and it could take on some fresh ideas. That could be amazing, really amazing."

Getty Images

23/23 Morrissey

YES: "They must cut ties with the United King-dumb. I love Scotland, and I love the Scottish spirit and they do not need Westminster in the least."

Getty Images
Katy Guest, Literary Editor, Independent on Sunday
I was 13, a Wirral-accented oddity in my second year at a school in Devon, when I met my Scottish best friend. The teacher stood her at the front of the classroom and asked, "So, how do you like Plymouth, then?" In an accent that drew gasps from the class, she scowled, "I preferred Prestwick." As soon as I heard her I knew that I preferred Prestwick, too.
We'd visit her family in exotic locations such as Aberdeen, Dundee and Forfar – and mine, in dull old Leicester, Pontefract and Derby. I learned about first footing and tasted my first whisky, and then my first real hangover, in the back of her parents' estate car on the way home to the south.
Recently, I apologised to her for the day that my brother and I wrote the Six Nations rugby score across her forehead in permanent marker and made her walk home across the playing field parading her nation's defeat. She reminded me that she got her revenge when she took me to Edinburgh for Hogmanay and told me that everybody would hate me for my English accent. I had to pretend to have lost my voice for two days.
You see, this is our relationship, Scotland: we devotedly adore you for your pride, your glamour and your dazzling array of single malts. If we've taken you for granted recently, not appreciated you like you deserve, we're sorry.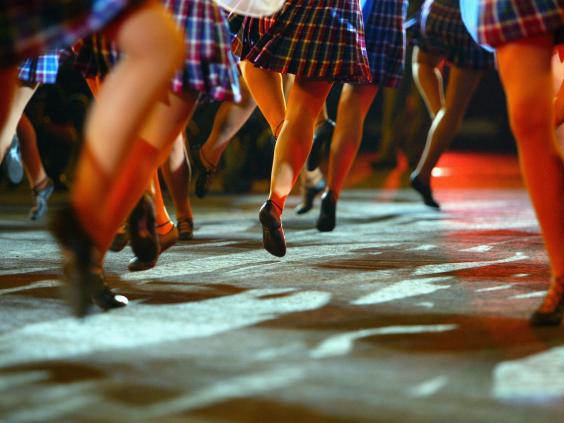 Kathy Lette, Australian author living in London
The chief products of England are gardening programmes, TV murder mysteries set in Oxford, epigrams, puddings and pinstripe. The chief products of Scotland on the other hand, are irreverent humour, whisky-induced hangovers, hearty hill walks and the contact sport known by the name of the "ceilidh". I have had more fun in Scotland than anywhere else on the planet. Especially at the ceilidh. How can anyone resist a party where all the invitations read "trousers optional"? In fact, psychologists maintain that Scottish reel dancing induces more feelings of happiness than sex. (My aim in life is to have sex AT a ceilidh.) There's nothing to do but get drunk as a laird – after all, you're probably dancing with one.
I was introduced to Scotland by Billy Connolly and Pamela Stephenson, way back in the 1990s and have visited nearly every summer since then. On my first trip Pam had a human minestrone of house guests from all over the world. After taking the precaution of putting on layers of clothing, we lured the American guests into a game of "strip croquet". Locals had been briefed to reassure alarmed Yanks that this traditional game dated back centuries... It wasn't long before some poor unsuspecting Californian had to make a naked dash back to the castle. I asked her later why she had fallen for our ruse. She replied: "Hey, we're talking about a place where the men wear skirts, quote poetry while eating sheep's gizzards and toss huge tree trunks in the air for fun.... Strip croquet really isn't such a stretch."
Scotland is not just hedonistic hilarity though. Its castle-encrusted countryside haemorrhages history, with a host of ghosts in every nook and cranny. Single malt whisky, mouth-watering salmon, Billy Connolly, the Celtic Rangers ... a lot of good things have come out of Scotland. I'll be very sad if the UK has a haggis-ectomy.
Kathy Lette's latest novel, 'Courting Trouble', is published by Bantam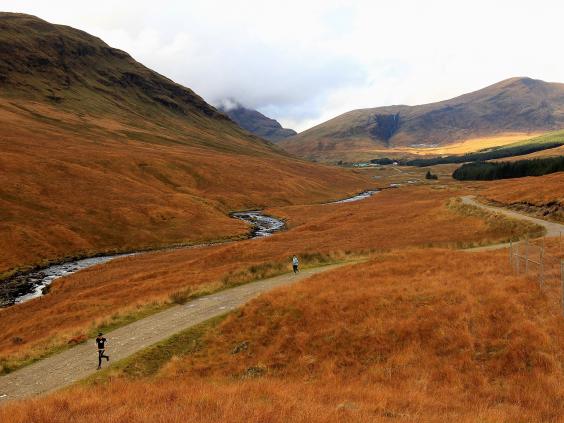 Sir Christopher Bland, Former BBC chairman and debut novelist
I am an Anglo-Irish Scot. My mother was a Brodie, a clan that was out in the 1745 rebellion. That mixture of blood, allied to a deep and unshakeable affection for Scotland, gives me as much right as the next man to say to the Scots, "Please don't leave".
We have had a fishing shack in Sutherland, 15 miles south of Cape Wrath, for 20 years. It has no electricity or telephone; it's lit by a fine collection of Aladdin oil lamps, and warmed by peat cut from the far side of the sea loch. You can only get there by boat. We've flown the Saltire from the boat and the house for 20 years. And I've had an Edinburgh life for even longer, as chairman of Canongate Books.
The No campaign has been an uneasy mixture of threats, never a good way of persuading a Scot, and last-minute promises born out of apparent desperation. The best reasons for voting No are not about the currency, not about Polaris, not about the Queen. They are emotional, not fiscal.
We need each other. The UK would be a poorer place, diminished in every sense of the word, without the energy, intellectual vigour and sheer bloody mindedness of the Scots. The Union without Scotland is unthinkable. And yet we seem to be close to blundering into a decision that all of us, on both sides of the border, will bitterly regret for many years.
It would be a messy, painful, protracted, acrimonious, and above all unnecessary divorce. We need to remind ourselves about the good things in our 300-year old marriage. The bad stuff we can fix, but not once we are in the hands of the lawyers. So please, please don't leave.
Sir Christopher Bland's first novel 'Ashes in the Wind' is published by Head of Zeus (£14.99) this week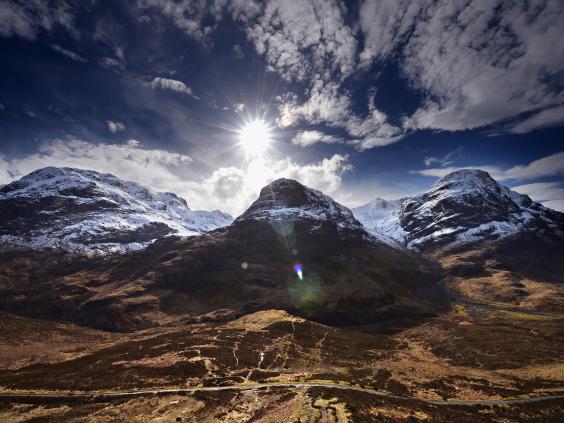 Will Gore, Deputy Managing Editor, The Independent
My great-grandmother was a Scot; a Macalister. My maternal grandfather was a Welshman called Evans. My father's parents were English. They were all British, as am I.
I was born and raised in Cambridgeshire and for no obvious reason, opportunities to visit Scotland as a child or during my teenage years never arose.
When I was 22 I was on the verge of ending a long-term relationship. To find some breathing space I tagged along on a walking holiday with my parents, who had rented a cottage for a week on the shores of Loch Torridon, on Scotland's north-west coast.
I embarked with my father on a planned ascent of the aptly named Beinn Alligin, Gaelic for the "mountain of beauty". Our route up took in its challenging horns: we slipped and scrambled on wet ground, glad at least that the mist was clearing. As I felt the thrill of "bagging" my first Munro, I wondered what lay on the other side of the mountain. Villages, I supposed, some crofts or farms, a few roads.
But there was nothing. Only wilderness: lochans, gullies, bog, more mountains and a thrilling, swirling sky. I was utterly bowled over. How could I have lived for more than two decades in ignorance of this stunning corner of my own country?
Our country. Great Britain. A surge of national pride came over me at the discovery of such beauty.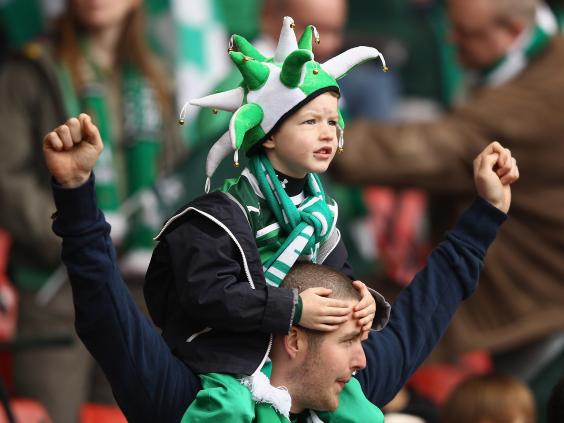 James Moore, Associate Business Editor, The Independent
When it comes to football I'm a Sheffield United fan, and 100 per cent Blade. But if I'm being honest I have to admit that a part of my red-and-while heart beats green.
As a financial reporter I've been a regular visitor to Edinburgh for many years, and become friend with Scott White, a legendary figure among business journalists. 
He would regularly drag me along to Easter Road to watch Hibs games when I was up for the weekend. I'm not sure whether I should thank him for that.
Because it felt very familiar: here was another under-achieving big city club, with a noisy and passionate fan base sustained more by hope than expectation.
I've seen some euphoric highs there: a comprehensive victory over Hearts at Tynecastle. Rangers being sent packing from Easter Road on a day when everything clicked for once.
You will see Irish flags in Hibs crowds, but there isn't the same sort of sectarian bile there that characterises Celtic or Rangers.
Indeed, at a Scottish Cup semi-final against Celtic at Hampden Park (one of those all too frequent disappointments) a member of the Hibs faithful stood up to loudly berate the Glaswegians for starting a sectarian chant with an eloquent and creative volley of profanity that you're unlikely to hear matched elsewhere on these isles.
While purists will say you're not supposed to have a second team, Hibs is mine. There are numerous pubs I'd love to revisit, having celebrated or commiserated with my Hibbee friends in their welcoming environs.
Football can provoke some of the ugliest divisions between our peoples. But, even though we might not like to admit it, we have a lot in common too. Building a wall between us feels like creating a wall in the middle of a home.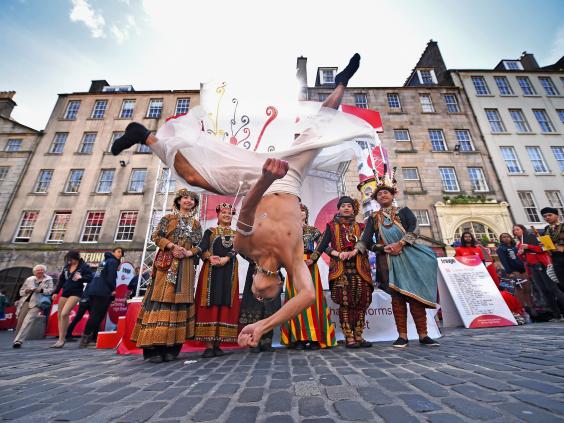 Matt Haig, British novelist
I've loved Scotland for as long as I remember. I might have even loved it before I heard Haig was a Scottish name, and before I heard I was – in some annoyingly distant way – related to the John Haig of Haig whisky fame. I liked to believe I was kind of a Scot by default. I think it had a clearer identity than being from the East Midlands.
My earliest Scottish memory was a trip to Fife. We stayed at my Aunt Jane's cottage in the tiny coastal village of Earlsferry, a picture postcard little place full of pink-and-white cottages, about 10 miles south of St Andrews.
It seemed – like so much of the country – made for adventure. The mornings were thick with fog, that made it feel like the place emerged from a dream. I remember my foolish Dad braving the unaccommodating temperatures of the Forth for a quick swim. There was a lighthouse nearby. Nearby fishing villages had strange names – like Crail and Pittenweem – that made you think dragons or sea-monsters lurked there. Scotland seemed exotic and familiar all at once, like a part of home and a part of abroad. I pretended I was a local. I practised an accent. I was eight years old.
I still visit Scotland a lot. I and my family spend much of August in Edinburgh, because there is no better or buzzier place in the world than August in Edinburgh.
Whatever the results of the referendum I can't help thinking we are eternally blessed to have such a great nation – one that is, if you squint, almost like England, but somehow totally and tantalisingly different – only a short train hop away.
Matt Haig's novel 'The Humans' (Canongate) is out now in paperback