A poll taken after people voted in the Scottish referendum predicts a narrow victory against independence.
The YouGov survey put No on 54 per cent and Yes on 46 per cent.
With no exit polls conducted during the historic ballot, the survey by polling company YouGov was the only pointer for people eager for an early clue to the result, expected to be announced around breakfast-time tomorrow.
YouGov based its prediction on the responses of 1,828 people after they voted today, as well as 800 people who had already cast their ballots by post. All respondents had previously taken part in a voting intention survey earlier this week, allowing the company to assess any last-minute shifts in views.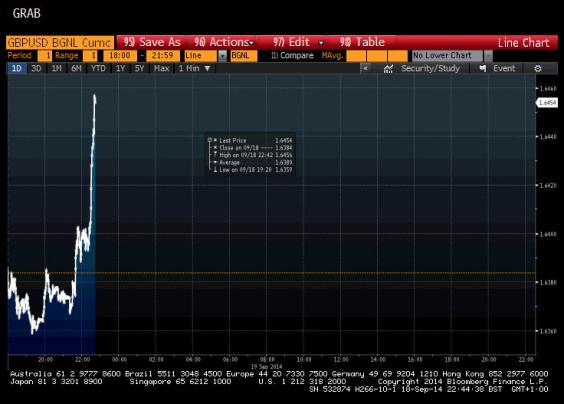 The responses indicated a small shift on the day from Yes to No, and also that No supporters were slightly more likely to turn out to vote.
Some 10 per cent of No voters said they had encountered unreasonable behaviour by Yes campaigners when they went to cast their ballots, while five per cent of Yes voters said they witnessed unreasonable activity by the No camp.
The post-election poll was broadly in line with surveys in the final days before the referendum, which gave No a lead of between two and six points.
The final poll before voting started, by Ipsos-Mori poll for the London Evening Standard, found 53 per cent of voters planned to vote No, while 47 per cent said they would vote Yes, after excluding undecided voters.
Peter Kellner of YouGov said: "At risk of looking utterly ridiculous in a few hours time, I would say it's a 99 per cent chance of a No victory.
"From the polling we did earlier in the week, it looked as if the No voters felt they had more to lose if they were on the losing side than the Yes supporters.
"If we have got this wrong, if Yes win, we and by extension other pollsters, have got something badly wrong.
SNP MSP Humza Yousaf conceded that the Yes campaign were the "underdogs" in the referendum.
But the Scottish minister for external affairs and international relations told the BBC: "We relish that status as the underdogs."
He added: "We've had one poll, but it's not an exit poll and it certainly won't take into account the high levels of turnout that we're seeing and hearing about across the country."
The finding is in line with other surveys over the last 48 hours.
Reuse content