David Cameron, Ed Miliband and Nick Clegg jointly pledged last night that Scotland would gain greater tax-raising powers if voters reject independence in next month's referendum.
Their promise came ahead of tonight's televised showdown between the First Minister Alex Salmond and the former Chancellor Alistair Darling, who leads the Better Together campaign.
The three main Westminster parties, which oppose independence, have already set out plans to increase devolution to Holyrood.
But the Prime Minister came together with the Labour and Liberal Democrat leaders to promise further powers over tax and the welfare system would be devolved if the country votes No on 18 September.
Their joint pledge read: "We support a strong Scottish Parliament in a strong United Kingdom and we support the further strengthening of the Parliament's powers."
The leaders went on to promise to "strengthen further the powers of the Scottish Parliament, in particular in the areas of fiscal responsibility and social security".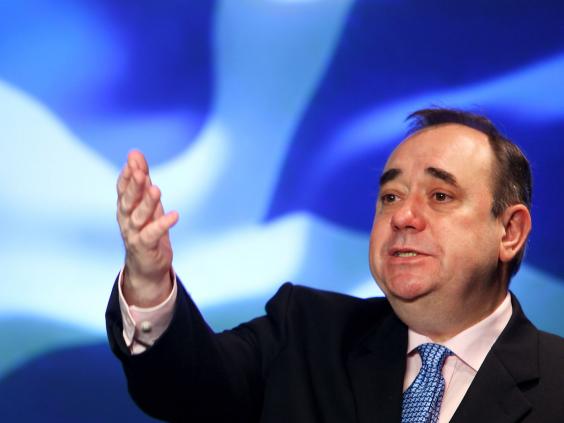 A spokeswoman for Mr Salmond said: "No one in Scotland will be fooled by this Westminster-led rehash of vague promises and unspecified more powers in the event of a No vote. The Tories have tried that before. David Cameron fought tooth and nail to keep a more powers option off the ballot paper, so how can anyone take him seriously now?"
With surveys showing opponents of separation in a consistent lead, the pro-independence camp hopes a passionate performance by Mr Salmond in tonight's debate will produce a vital breakthrough with surveys showing opponents of separation in a consistent lead.
Video: Rival parties unite 100 days before referendum
A "poll of polls" for the Independent last week suggested Scotland was on course to vote to remain in the UK by a margin of 57 to 43 per cent.
Up to one million viewers are expected to tune into tonight's debate, which starts at 8pm. It will be shown across Scotland on STV, but not be available elsewhere in the UK apart from in some parts of the English borders.
Other viewers, including Mr Cameron on holiday in Portugal, will have to watch it live online.
It will get underway with a new poll followed by opening statements from both politicians.
STV's political editor Bernard Ponsonby, who will host the debate in front of an audience of 350 at the Royal Conservatoire of Scotland in Glasgow, will quiz Mr Salmond and Mr Darling.
The pair will then cross examine each other, before facing the audience's questions.
Reuse content