A Spider-Man superfan diagnosed with incurable cancer tragically passed away in his sleep aged five on Christmas Eve, just hours after being brought home from hospital.
Jayden Wilson, whose father dressed up as Spider-Man in an extra-special birthday surprise last month which has been viewed almost nine million times on YouTube, was given a year left to live after he was found to have Grade 4 brain stem tumour in August 2013.
The tumour was discovered after he was taken to see doctors after hitting his head in a fall.
His family said yesterday in a statement on his Facebook page: "Jayden fought an amazing battle. By far he was the most bravest person we know.
"But unfortunately late on Christmas Eve, Jayden Died peacefully in his sleep, warm in his bed. He looked so relaxed with a very subtle grin on his face."
Jayden left hospital with his parents and older sister Ella shortly after lunchtime on Wednesday to spend Christmas at their home in Basingstoke, but sadly he died hours later in his bed.
Marvel's best superheroes
Marvel's best superheroes
1/19 Black Widow

The Black Widow (Natasha Romanoff) played by Scarlett Johansson

AP

2/19 Spider Man

British actor Andrew Garfield as Spider-Man

PA

3/19 Captain America

Chris Evans in 'Captain America: The First Avenger'

Rex

4/19 Iron Man

Robert Downey Jr in Iron Man 3, who won favourite action movie star at the People's Choice Awards 2014

Iron Man 3

5/19 Wolverine

Hugh Jackman bears his claws and loses the plot in X-Men movie 'The Wolverine'

Twentieth Century Fox Film

6/19 Hulk

Edward Norton as Hulk in The Incredible Hulk

YouTube

7/19 Thor

Chris Hemsworth as Thor. Recently Marvel revealed its plans to make the hammer-wielding Norse superhero Thor a woman

Rex Features

8/19 Hank

Nicholas Hoult as Kan in 'X-Men: Days of Future Past'

AP

9/19 Raven Darkhölme

Jennifer Lawrence as Raven Darkhölme in X-Men: Days of Future Past

10/19 Hawkeye

Jeremy Renner as Hawkeye in 'Avengers Assemble'

Marvel

11/19 Winter Soldier

Sebastian Stan as the villainous Winter Soldier in the 'Captain America sequel

Marvel

12/19 The Avengers

The Avenger's superheroes

Marvel

13/19 Cyclops

The optic blast hero has long been played by James Marsden

YouTube

14/19 Professor X

Patrick Stewart landed the role as Professor Charles Xavier in Bryan Singer's comic-book blockbuster X-Men

Rex Features

15/19 Rocket Raccoon

Bradley Cooper voices Rocket Raccoon in Guardians of the Galaxy

Marvel

16/19 Groot

Also known as the Monarch of Planet X, Groot is played by Fast and Furious star Vin Diesel in Guardians of the Galaxy

Marvel

17/19 Drax

Known as 'the destroyer', Drax is played by actor Dave Batista in Guardians of the Galaxy

YouTube

18/19 Gamora

A soldier and assassin played by Zoe Saldana in Guardians of the Galaxy

YouTube

19/19 Guardians of the Galaxy

Bill Mantlo's comic creation on screen in Guardians of the Galaxy

Marvel
His parents Mike and Lou are expecting a baby boy to be born next year. His father said he received help from two costume designers to make a Spider-Man costume to dress up as Jayden's favourite comic-book hero to surprise him for his fifth birthday.
Mike said at the time: "When I saw his face light up as I jumped down, all that time and effort spent was all worth it."
His family added to the Facebook announcement: "Jayden to us is the most inspiring person ever, fighting this tumor with all his might.
"We now remember Jayden as that cheeky little chappy, always smiling, playing with his favourite toys, on his scooter, enjoying school, and playing with his friends  x will never forget this little Spartan Warrior x"
The post got more than 6,000 replies and messages of condolence from supporters and those who helped raise awareness and funds for Jayden. Some also had changed their profile photos to pictures of Spider-Man in tribute.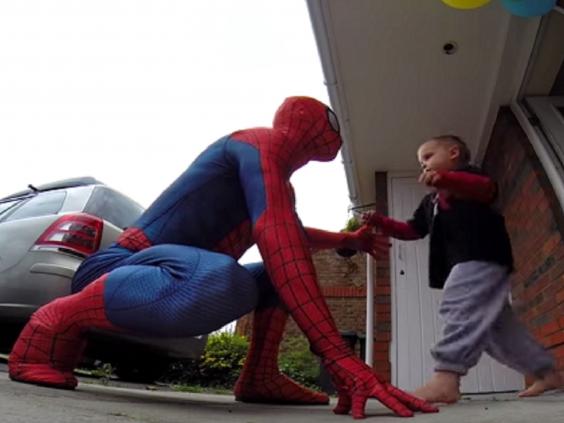 Sue Miller said: "Such sad news. What an amazing family you are and I'm sure the whole of Basingstoke is thinking about you on this sad day xx"
Katie Dodd said: "Bless him, and you for giving him the best life ever. Sleep soundly little man. Xx"
Jayden was taken to children's hospice Naomi House and was laid down with his Spiderman blanket and Lego figurines of the action hero on his pillow, the Facebook announcement added.
On his birthday in September, Spider-Man leading actor Andrew Garfield sent him a birthday card.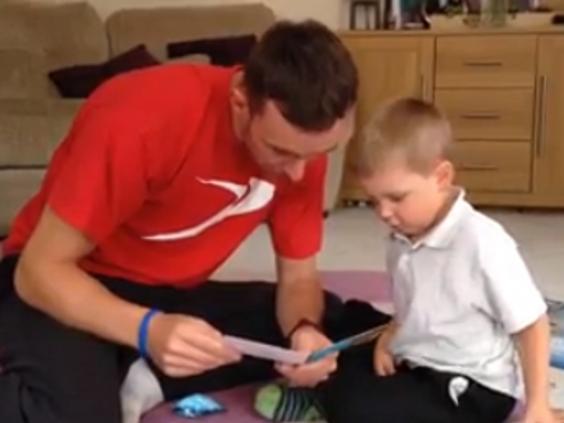 It said: "Dear Jayden, I heard you are a big fan of Spiderman. My friends told me all about you; how strong you are, how brave and sweet you are.
"I want to tell you, I am a huge fan of you too. I just wanted to let you know that Spider-Man is thinking about you and loves you lots."
Prior to his passing away, Jayden had been undergoing physiotherapy on his chest due to infections and had been practicing walking and running without help.