When a queue forms in the street in Camden, in north London, it's usually to see the latest up-and-coming indie band. But on Sunday the line outside the Holiday Inn was for entry to 2014's Gay Wedding Show – where, inside, photographers, caterers and party planners were readying themselves for an onslaught of newly engaged men and women eager to start planning their big day.
Love Hearts sweets and glasses of pink Lambrini were handed out to couples as they waited in the spring sunshine. The day held a special meaning for many as they will, for the first time, be able to marry legally in England and Wales on 29 March.
"All love is shared," cried the gay rights campaigner and event founder, Gino Meriano, 50, as he doled out pink-themed goodies to the excited couples. "All love is appreciated." According to him, the show, which celebrated its 10th birthday last year, is an opportunity for same-sex couples to "leave their sexuality at the door".
"I set up the show 11 years ago after realising there wasn't really anything out there for same-sex couples," he said. "I came up with the idea of having an exhibition just for them, where they can leave their sexuality at the door, walk in and start planning their big day."
Karl and Simon Bruno are doing just that. The pair, who have been civil partners for five years, are overwhelmed by the prospect of finally being able to marry. Their big day is in July 2016 and they have already ticked most items off their Beauty and the Beast-themed wedding list, proudly reeling off the name of the venue, theme, colour scheme and catering options.
"To get married means everything to us," said Simon, 25. "It's about having equal rights. We want to be treated just the same as everyone else and civil partnership doesn't quite cut the mustard."
Rhiannon Dollar, 27, who helps co-ordinate the show in Cardiff, Brighton and Manchester as well as London, says last year was a quiet year for the industry, as same-sex couples waited to find out whether they would be allowed to marry legally. "I think last year no one wanted to set a date until the law changed," she said. "This year is much busier and everyone is really happy and excited. The atmosphere is fantastic."
With drag queen and compère Fonda Cox belting out power ballads and encouraging couples to down shots of pink tequila, the atmosphere is certainly livelier than a traditional wedding fair, but in many ways the events are identical. Caterers hand out tasters, party planners discuss "pre-wedding parties" and photographers pounce on unsuspecting couples asking them whether they've set a date yet.
"I've been to a straight wedding fair before," says 29-year-old Claudia Frei, who is marrying partner Anita Ferraro, 25, in May 2015. "It was all about beauty, teeth whitening and stuff like that. That's not what weddings should be about. For me, it's about being comfortable and happy on my wedding day, not looking like a beauty queen."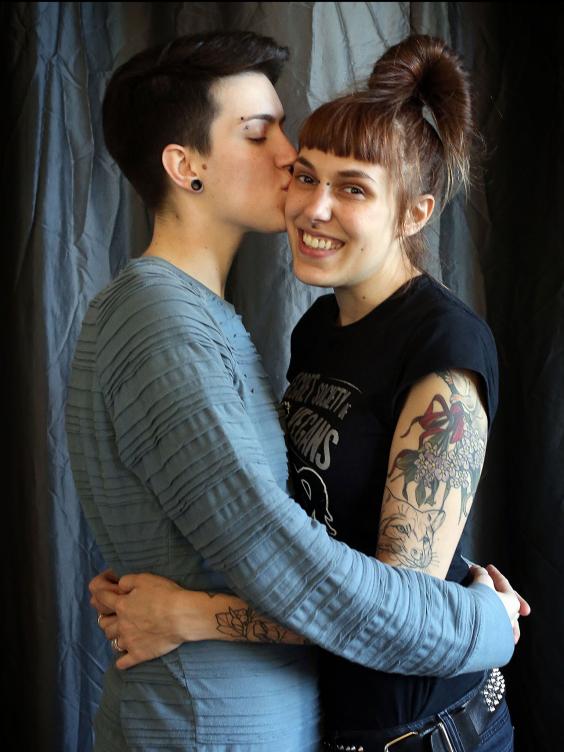 On hand to make sure everyone is catered for are companies like The Butch Clothing Company, which creates bespoke suits for women who don't want to wear a dress on their big day. "Clothing can be an issue for women," says Mr Meriano. "We cover every base and make sure everyone is catered for."
Many of the exhibitors also peddle their wares at traditional wedding fairs, and photographer Jacs Williams says she's been surprised by the stigma still attached to same-sex marriage. "I was at one event where a woman saw we had photographs of a same-sex couple, closed the book and walked away in disgust," she says. "I was stunned."
Reuse content