A Tory peer has called for crackdown on 'mooning' in a debate speech praised by the Home Office minister for "seeking to get to the bottom of several issues."
Lord James of Blackheath laid bare his disgust during a committee-stage debate on the Anti-social Behaviour, Crime and Policing Bill, telling the house:
"In my endless attempts to convince my wife that rugby is a respectable pastime and not the equivalent of being found in bed with a supermodel on a Saturday afternoon..which given the way England has been playing recently, is a good alternative.
The 75-year-old businessman went on: "My wife, I persuaded to come to Twickenham with me. She was totally horrified by school buses coming down the road to Twickenham, full of school children, indulging in a pastime which I believe is called 'mooning'. The sight of some 40 school children mooning simultaneously is not a pretty sight. She was horrified," Lord James said.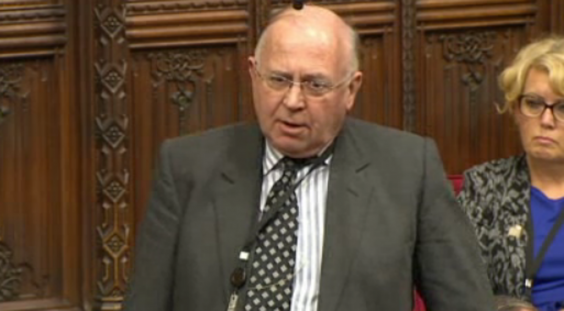 He then called for an amendment that would adequately deal  with the "the bad behaviour that can come out of vehicles and interfere with others. "
Lord James went on to giving another example of what he believed was bad behaviour on the roads, criticising the "wisdom of the Times newspaper" for "pursuing to a ludicrous degree the cause of cyclists, to the point where they are creating a new and separate society in London who think they have  a superior law and control over everyone in motorcar and it's going to cause some catastrophic accidents soon."
He goes on to detail some of his own experiences of cyclists' poor behaviour adding "they defy you to run them down while they photograph you doing it", claiming "that's what they're longing for".
He said that Conservative Lord Marsleford's amendment needed to go further because the current laws governing cycling "will lead to their demise and our prosecution."
Home Office Minister Lord Taylor of Holbeach praised Lord James for "seeking to get to the bottom of several issues" but didn't comment further.