The severe weather is set to continue over the next few days - as parts of the UK face up to 10cm of snowfall and icy conditions.
Wintry showers are expected to hit parts of Scotland over the weekend, with around five to 10cm of snowfall predicted in areas above 200-300m. There is also an 80 per cent probability of icy conditions and some snow in the North of England.
Meanwhile, strong winds and persistent rain continue to affect the country as a low pressure system caused by a weather bomb over the Atlantic passes overhead.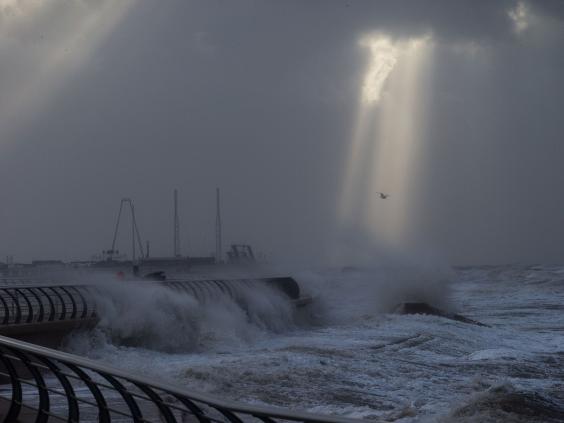 Yesterday almost 30,000 homes in Scotland were left temporarily without power, while hundreds of engineers worked into the night to restore power to about 2,800 homes across the Western Isles, Shetland, Orkney and rural areas on the west coast.
Around 10,000 homes remain without power today, according to SSE. A spokesperson said engineers hope to have restored supplies to all customers by 1pm.
They said: "Continued lightning across the Western Isles and north west of Scotland through the day means that further faults are likely. We aim to restore all supplies as quickly as possible when faults occur.
"We have good levels of resource on the ground across the Highlands and Islands and will work hard to ensure that all faults are repaired as quickly as possible."
However, there is set to be some respite from the gale-force winds after weather warnings were downgraded last night.
Amber "be prepared" wind warnings had been in place throughout yesterday for the west coast of Scotland, the Highlands and Islands, Orkney, Shetland and Northern Ireland. A wind speed of 144mph was recorded on the remote St Kilda islands yesterday, with gusts of more than 80mph also hitting some low-lying areas.
But today yellow "be aware" wind warnings remained in place until 10am for Scotland, Northern Ireland, parts of Wales and northern England.
A Met Office spokesperson told The Independent that the weather conditions are "fairly typical for winter in the UK".
UK weather warnings
UK weather warnings
1/7 Winter weather

Two seafront walkers dodge an icy wave at Saltcoats Harbour in Saltcoats, Scotland on December 27, 2013. A yellow 'be aware' warning has been issued for many parts of Scotland as the country is affected by gale force winds and heavy rain

Jeff J Mitchell/Getty Images

2/7 Winter weather

A woman wraps up warm to fight the cold in London in 2013. A mixture of hail, snow, sleet and heavy showers is expected in Scotland and northwest England, the West Midlands and Northern Ireland

Getty

3/7 Winter weather

A motorcyclist tries to right his bike on the slippery road surface in London in 2004. The emergency services are advising motorists to be vigilant

Getty

4/7 Winter weather

A man is bombarded by sleet and hail on the Brighton seafront in 2013. The south of England is however expected to escape the brunt of the incoming bad weather

Getty

5/7 Winter weather

A woman wraps up against the wind and a blizzard of sea foam whipped up by the wind near Trearddur Bay in Anglesey, 2013. This year it is to be areas in south west of Wales that will see more "wintry" weather

Getty Images

6/7 Winter weather

Snow covers trees in the Parade Gardens in Bath last year. Heavy snow may bring widespread disruption to many parts of the UK

7/7 Winter weather

Snow and ice make getting around by vehicle difficult in the Yorkshire Dales in 2012. The tops of the moors will see more "wintry" weather on Monday night

John Giles/PA Wire
Snow started falling last night with mountain rescue teams sent to help a group of motorists stranded in a blizzard in the Borders.
The Border Search and Rescue Unit said it was called to the A68 at Carter Bar to help dozens of drivers and passengers at around 10pm.
Rescue teams from Tweed Valley and Northumberland helped in the operation to tow several cars and lorries to clear the road.
Tonight winds could be severe in places overnight, especially for exposed coastal areas in the west, with gusts of 65mph to 75mph in places.
Scotland's Deputy First Minister John Swinney last night praised frontline staff for how they dealt with disruption to travel and power supplies.
He said: "I am pleased to report that we are seeing an improving picture in terms of the stormy conditions tonight and heading into tomorrow.
"Obviously there has been transport disruption, principally on the ferry network and also on some of the coastal rail services where it's just been unsafe to run trains because of the dangers of the coastal flooding that could have taken place.
"Some alerts remain in place, and we are not out of the woods yet, but any necessary repairs and safety checks on the transport network are expected to go ahead tonight as planned."
The process behind the storm, known  in meterological terms as rapid cyclogenesis, applies to an intense low pressure system with a central pressure that falls 24 millibars in a 24-hour period.
Reuse content