The United Kingdom is enjoying some unseasonably warm weather, with parts of Britain basking in 20C today.
Why is it so unseasonably warm?
A Met Office spokesperson told The Independent: "We have had high pressure over the past few days which is the reason we've had the dry and settled conditions. The air is coming from a southern direction, so is warmer.
"All these factors have combined to give us the weather we're currently enjoying," the spokesperson said.
Where is it warmest?
"The warmest weather will tend to be in the south of the country, although that's not exclusively true as it also depends on where the sunshine is," they said.
East Wales and the west midlands will enjoy the best temperatures today, with the spokesperson predicting up to 20 degrees in these areas of the country.
Elsewhere, the forecast is not so good. Unfortunately, if you're in the northern regions of Scotland you can expect rain and temperatures below the rest of the UK, hovering around 9 to 10 degrees. 
Will it last?
If you've got the chance to get outside enjoy it now. Sadly, the good weather is forecast to last the rest of this working week, staying "dry and warm" according to the Met Office, before it turns colder on Friday evening.
"There will be a spell of colder weather coming Friday evening," the spokesperson said. "We expect to see rain during the overnight period."
Will it make my hayfever worse?
Allergy UK's scientific director Jean Emberlin told The Independent that a small percentage of people would be affected. "Not all of them will because we're not in the main season yet, but there will be a percentage of people who will have symptoms."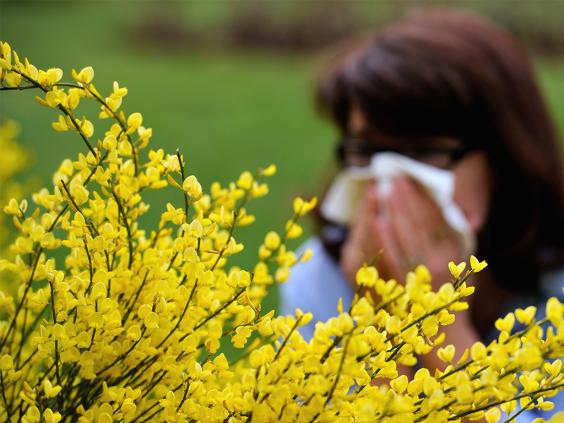 She explained that until May, when the grass season begins, most people should escape hay fever symptoms.
"But here will be some people suffering, although it will only be about 20 to 25 per cent of those affected by hay fever," she added.
If you are in the south of the country, you may be more likely to have a flare-up. The Met Office's pollen map shows that levels in the south and midlands are moderate, while Scotland and Northern Ireland will remain low for the rest of the week.
Reuse content