A dog was abandoned and tied to a railing outside a train station with a small suitcase of his belongings because the sale of the pet had fallen through, a woman involved in the failed transaction claims.
Kai, a Shar Pei crossbreed, was discovered at Ayr Station in Scotland last Friday with a wheeled suitcase packed with his food, toys, bowl and a pillow. The images posted on social media sparked a flurry of offers from around the world to rehome him.
A JustGiving page was also set up to raise funds for Kai, real name said to be Pluto, who needed an operation on his eyelids. It has raised more than £3,800 and surplus money will be spent on looking after other animals too.
The dog, whose story is reminiscent of the well-loved Paddington Bear but without the note around the neck asking "Please look after this bear. Thank you", has been cared for by the Scottish SPCA since he was found on 2 January.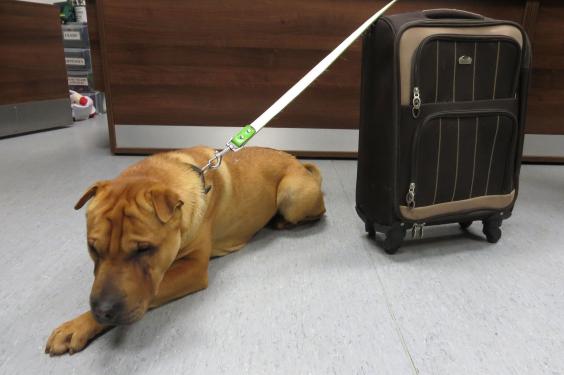 Fin Rayner, 39, told the Daily Record that she travelled with her daughter from her home in Aberdeenshire to Ayr to collect him after seeing him advertised on Gumtree however when she arrived she found that the dog was different to the one pictured in the online advertisement.
She told the newspaper: "The guy rushed out with a food chest and lead on the dog.
"I said I wanted to take the dog for a walk, so he asked me for £150 as a deposit in case I didn't come back. Then I saw him tearing off in his car. I phoned and said 'You better come back for your dog'. He never turned up."
Ms Rayner added that she had considered taking the abandoned dog back with her to Aberdeen, however she said she made up her mind not to after her son phoned and said the picture in the advert was from America and was taken in 2005.
"I said to a member of staff it was somebody else's dog. I said, 'I'm just going to tie him up out there', and I did that," she claimed.
She said she made sure the dog was safe before leaving and that she had panicked and had to leave quickly as she and her nine-year-old asthmatic daughter needed to make the last train back to Aberdeen.
Reuse content