In response to London's cereal café comes Simply Crispy, Belfast's newest crisp sandwich shop, in what is thought to be a world first.
It began as a joke, by the satirical website the Ulster Fry, but has turned serious since the website teamed up with a local café to make the idea a reality.
Ulster Fry put their idea on the internet, not thinking that anyone would take it seriously, but thousands of people responded favourably to the proposal.
One man, Andrew McMenamin, who owns That Wee Café in Belfast, offered to transform his business when he read the spoof online.
Trial and terror: 10 of the strangest foods in the world
Trial and terror: 10 of the strangest foods in the world
1/10 Tepa (Stinkheads) - Alaska

Also called 'Stinkheads', Tepas are fermented whitefish heads, and if you haven't quite grasped the clues given already, they don't exactly smell like roses. Traditionally, preparation includes placing fish heads and guts into a wooden barrel, covering them with burlap and burying them in the ground, allowing them to ferment over a week. Once complete, they can be 'enjoyed' immediately.

Twitter: (@iBANGEARN)

2/10 Rocky Mountain Oysters - USA

Thinking of the seafood that apparently provides an aphrodisiac? Think again. This American dish, usually an appetiser served with a cocktail sauce dip, is something more out of I'm a Celebrity Get Me Out of Here than the Deep South, as it consists of bull testicles - how delightful - being deep fried to present a crispy finish. An old-time favourite with cowboys back in the Wild West, it is more likely these days to be found at festivals and carnivals in the United States.

Twitter (@RandomlyTyping)

3/10 Cockcombs - France

Ever wondered what the red, fleshy Mohican-like feature on top of a rooster's head tastes like? Perhaps not. In which case, you may be interested to learn that it can be used in a variety of dishes. Cockcombs are predominantly used in France as part of a famous garnish, but the biggest surprise is that they can also be used either as a main dish or even as a desert, with one food website Offalgood.com comparing them to "warm gummy bears in your pocket."

Twitter (@Chefkylebailey)

4/10 Sannakji - Korea

There's nothing strange about eating octopus, as millions around the world do every year. But how about eating live octopus tentacles which could potentially kill you? Sannakji, a raw Korean dish, is formed by bits of chopped octopus usually seasoned with sesame seeds and oil. It represents a health hazard because the suction cups on the tentacles still function even when cut off – as do the wriggling tentacles – and there is a possibility that they could stick to your throat as you swallow them. Sounds terrific.

Twitter (cbcradio)

5/10 Witchetty Grub - Australia

It sounds like something you might find in an East London café, although it certainly doesn't look it. This large, wood-eating larvae of several moths is actually found in central Australia, and despite its unattractive exterior, it's quite a healthy and delicious treat. It can be eaten raw or lightly cooked in hot ashes, and they are sought out as a high-protein food by Indigenous Australians. When raw, the witchetty grub tastes like almonds, but when cooked, the skin becomes crisp like roast chicken while the inside becomes light yellow, like a fried egg.

Twitter (bmullan7)

6/10 Fugu (Puffer fish) - Japan

One of the most dangerous foods in the world, it takes specially-trained chefs to ensure that the toxic parts of the fish are not included in the meal. Since 2000, there have been 20 deaths in Japan related to this. Containing highly poisonous tetrodotoxin, it can be fatal if the liver - the most poisonous part of the fish banned from sale in 1984 - is consumed. Fugu is available to buy in a package in supermarkets but due to its lack of availability, can cost up to £130 in some restaurants. People brave enough to try it claim fugu is definitely worth the risk, and it remains one of the most popular aspects of Japanese cuisine, but is the seafood delicacy worth risking your life for?

Twitter (@musafirdotcom)

7/10 Fried Bat - Asia

On a warm summer's evening in Britain, you may notice bats flying around as the sun goes down. Travellers in parts of China, Thailand, Guam and even Australia, however, might stumble across bats being sold in food markets and even restaurants. Varieties of fruit bats, including the sizable flying fox bat, are the most popular to eat. The main way of cooking is to roast the bats after skinning them, and other cultures might toss bits of bat into soups and stir-fry, claiming that tastes similar to chicken.

Twitter (@FathinZee)

8/10 Durian Fruit - Asia

When you mention foods with a somewhat odorous scent, the usual suspects such as garlic and onion spring to mind. But a type of fruit, called durian fruit, is an unexpected addition to that list. If you're planning on eating durian fruit in a public place in Asia, you can't. The smell that it produces has been likened to sewage and rotten onions, which hardly gives it the most appetising description. In fact, it's so bad that in some areas in Asia, people are banned from eating them in public. But don't let that put you off, as durian fruit's flesh is rumoured to be quite pleasant to consume. We're not promising anything, though.

Twitter (@rodelsaurus)

9/10 Fried Tarantula - Cambodia

A regional delicacy in the Cambodian town of Skuan, it's a cheap and popular snack for the increased number of tourists passing through the South East Asian country. Costing the equivalent just five pence, the taste of the tarantula is said to be slightly bland, with a mix between cod and chicken. Fried in oil for a crispy finish, the popular choice is to eat the head, which has a good amount of meat inside. Those who take a bite into the abdomen might get a nasty surprise, however, with a brown taste containing organs and excrement remaining inside.

Twitter (@tranquilotravel)

10/10 Haggis - Scotland

With all the odd foods in the world, who could forget the strangest of them all? The Scottish trademark dish of Haggis - made from sheep heart, liver and lungs - has been around for hundreds of years and is usually accompanied by a glass of Scotch whisky. Even in spite of its ingredients and appearance, the dish is said to have a nutty texture and a real savoury flavour. There is even a sport called 'Haggis Hurling' where competitors throw the meat as far as possible, with the record standing at 217ft.

Twitter (@JackWills)
"When I read the article I immediately thought, we could make that joke into a reality, and got in touch. The lads at the Ulster Fry thought it would be fun, so from Monday we're rebranding the café as 'Simply Crispy'," he told the Irish Independent.
The café will specialise in a range of classic and contemporary crisp sandwiches to suit all palates and budgets from their premises in the Northern Irish capital.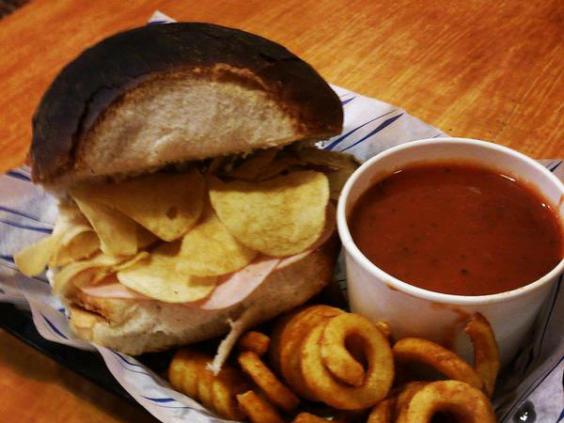 Writing on their website Ulster Fry said: "A nice young man who owns a cafe in Belfast city centre loved the idea so much, he wanted to partner with us to convert his premises into Simply Crispy, and bring the idea to life."
Customers will be able to choose their bread, crisps and add cheese or ham to their sandwich, which will be served with soup and chips.
Only time will tell how popular a shop selling crisp sandwiches will be.
Simply Crispy will open on Monday at 8 Bedford Street, Belfast
Reuse content