April Fools' Day has, for the majority of the Earth now at least, been and gone. And while some of the jokes were a bit predictable, there were plenty that shocked and even went under the radar altogether.
Obviously, The Independent's own hoax articles were by far the best – and can be found along with live updates from the US here.
But out of the rest, here are the pranks we ranked the best, the worst – and the most original.
Best
Van Gaal loves astrology
Among the sports-themed April Fools' out there today was this classic from The Sun, suggesting Louis van Gaal actually picks his team based on his belief in astrology.
The report suggests this explains his falling out with star striker Radamel Falcao - a Uranus to his Leo.
But the highlight is the mocked-up image of Van Gaal holding a team sheet with the player's star signs written under their names.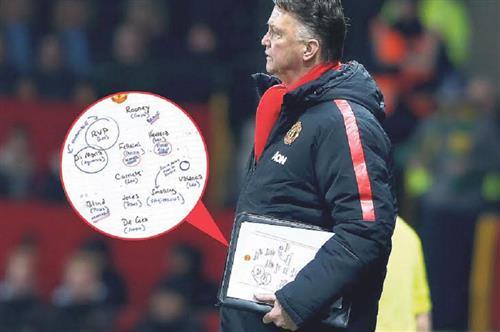 Limited edition Simon Cowell £5 notes
The Sun has to receive some serious plaudits for its photoshop work today after it unveiled the news that Simon Cowell's face is to appear on £5 notes.
Occupying page 5 in the paper, the story claimed that bank chiefs had decided it would be "foolish to print more than 100,000".
Cowell was also quoted, telling the Sun: "Having made so much money I am delighted to give something back to the country, Oh, and please handle me carefully."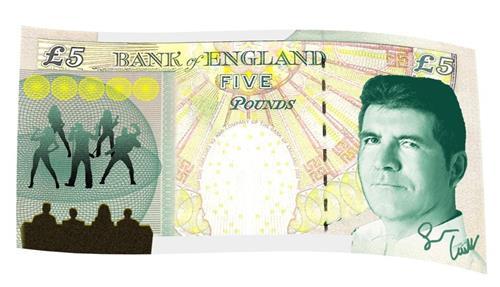 Cambridge University security guards
A key fob-protected door at the University of Cambridge was adorned with a note to trick the clever students – and according to Dr Paul Coxon "so many" fell for it.
It read: "The door access system in this building has been upgraded to include voice recognition – speak your name towards the card reader to gain entry."
So many people are falling for this :D #AprilFools pic.twitter.com/kUo6o7obYw

— Dr Paul Coxon (@paulcoxon) April 1, 2015
This was a lovely, intelligent prank. Well done to the Cambridge estates people for reclaiming this great day back from the brands.
New Edinburgh bridge to have gap
The Edinburgh Evening News have a decent effort on their website, with a report saying that a blunder ordering support beams for the new Forth bridge, the Queensferry Crossing, will leave a gap in the middle.
The mock-up is great, as is the detail that "drivers will face a minimum speed limit of 30mph on the Queensferry Crossing, so that vehicles clear the gap safely".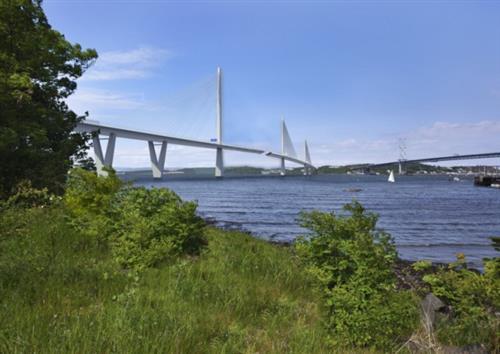 Com.Google
Google threw the full wealth of its marketing budget at April Fools' this year, but our personal favourite from its offerings is over at com.google.
Yep, that's right, Google decided to offer a search function where everything reads backwards.
The company even managed to come up with its "reason" for doing so.
It said in a blog post: "We're always thinking about what's ahead, but sometimes it's important to look backwards. In that spirit, we're proud to introduce http://com.google, available today. Made possible by new gTLDs (http://goo.gl/HolXqe), http://com.google gives us an opportunity to reflect on our efforts by flipping our results on their head (and y axis).
"So take a minute out of your day to peek at the Search you know and love at http://com.google. It might just change your perspective."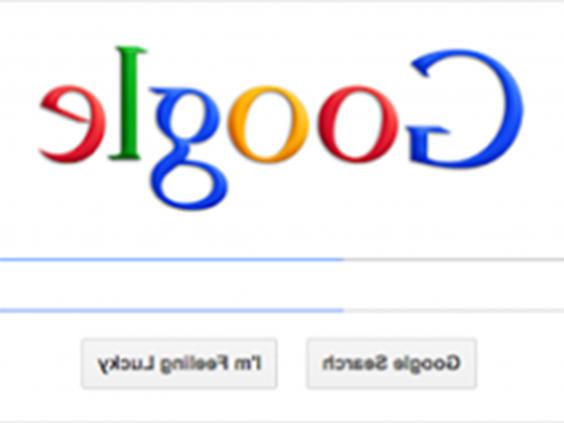 Worst
Kim and Kanye's huge news!
It was an early contender, but hasn't yet been beaten to the crown of worst April Fools' of the year – this tweet from Kiss FM.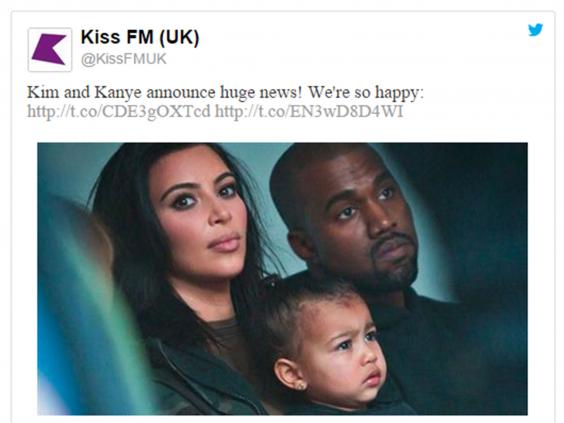 Aside from the fact that no Kim & Kanye news could ever really be considered "BIG", it falls down primarily on the fact that they haven't even bothered to provide any fake "news" to speak of.
The words "April Fool" and a Despicable Me gif doth not a decent prank make.
Jeremy Clarkson joins Guardian drive for fossil fuel divestment
At first glance, this had the lot: a slick video featuring star names like Sophie Raworth and Owen Jones, a pun in the headline, a topical subject matter – even a hired look-alike!
But scratch the surface and what do we have? Apart from the fact that the look-alike is awful and EVERYONE was expected to do something Clarkson-y, this is all really about The Guardian's climate change thing.
And as admirable as it is to encourage an increased focus on the plight of the planet, that's not what April Fools' Day is about. Really, this is no better than a fancy corporate "Oh I see you're doing a round-up this year" press release.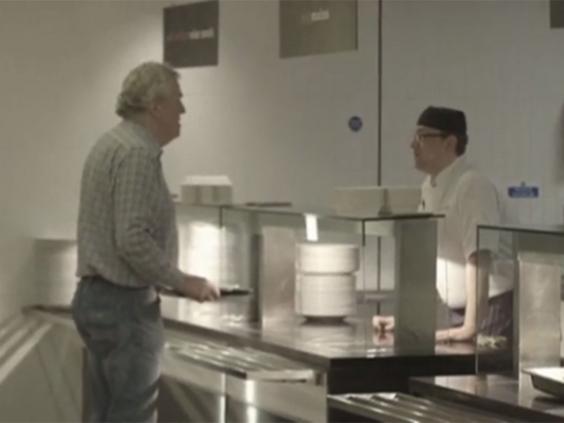 Google Japanese Input Piro-Piro
We like what Google does with April Fools' generally, but this offering from Google Japan is just, well, a bit too foolish.
The principle at stake – a new hands-free device that requires the user to do something silly – is sound.
But a party horn/keyboard that types a letter depending on how hard you blow? What? This would simply never work – and a key part of April Fools' is that it is at least a bit believable.
It is somewhat redeemed by the slick product launch video, however.
Weekly shop at a whole new level
Metro's effort at an April Fools' picture story, courtesy of Tesco, was a classic case of someone thinking they could make an entire prank work with just a bit of photoshopping.
"Ex-Towie star Lucy Mecklenburgh tests Tesco's new trampoline aisles to help small people reach the top shelves," the caption claimed.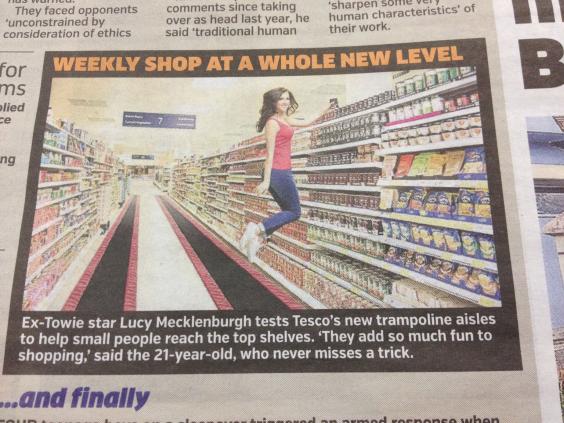 It would never work 2) Who is Lucy Mecklenburgh and 3) This does not feel very original
Sam Smith
Some hilarious bants from singer Sam Smith on Twitter, who joked "Guys I have some news… I'm straight". The pop sensation couldn't keep from giving away the game for long however – and 45 minutes later tweeted: "April fools".
Guys I have some news... I'm straight

— SAM SMITH (@samsmithworld) April 1, 2015
The lack of effort and commitment here are both disappointing – but they aren't as sad as the fact that his first post got more than 18,000 retweets and 23,000 favourites.
Most original
Airbnb time travel
Airbnb said they were suffering from an elaborate "glitch" on their website that meant people booking places to stay were being presented with results from around 4,000 years ago.
"SUNNY CAVE WITH FIRE" does sound appealing.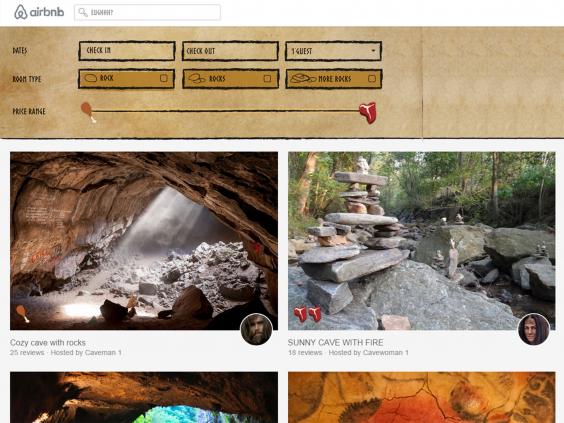 Royal Albert Hall and the Beatles
The people over at the Royal Albert Hall have put a fair bit of work into mocking up this fake letter from its executive director in 1967 "furious at being name-checked in a Beatles song".
We're not sure what that says about the state of the Royal Albert Hall, but it merits inclusion here.
Unearthed documents reveal that the Hall was furious at being namechecked in a Beatles song: http://t.co/CTgFq6nS8U pic.twitter.com/AjwX8GBBst

— Royal Albert Hall (@RoyalAlbertHall) April 1, 2015
BMW reverse April Fools'
One brand actually seems to have done April Fools' Day very well this year - if we are to take this video at face value.
BMW New Zealand says it put an advert emblazoned with the words "April Fools' Special" in a newspaper informing the public that the first person to come down to a dealership and "ask for Tom" would receive a free BMW.
One woman did - clearly risking being told it was an obvious prank - and reaped the rewards.
Unless the whole video itself is a massive hoax. April Fools' Day has a way of making you paranoid.
CERN discovers the Force
Researchers at CERN have been busy, it seems, mocking up elaborate images of their scientists pretending to be characters in Star Wars.
While its an straightforward leap from running the Large Hadron Collider to sci-fi themed tomfoolery, we think this story that researchers have "confirmed the existence of the Force" is still a good effort.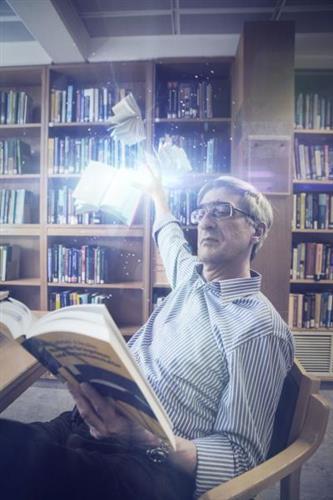 The Happy Hippo Café
Metro have done what looks certain to be a one-thing cafe April Fools', claiming that a "pygmy hippo cafe" is on its way to London's Regent Park.
The newspaper claims The Happy Hippo Cafe will be open for just one week in June, and they've even gone to the effort of making a registration website where you can sign up to get a ticket.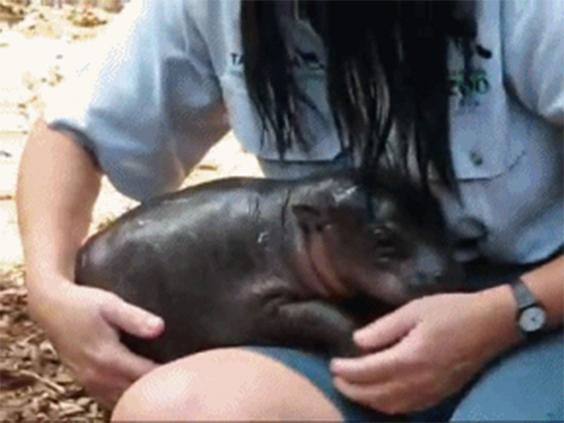 "During your allotted two hours at the Happy Hippo Cafe, you can also join in the Hungry Hungry Hippo tournaments and help yourself to unlimited Kinder Happy Hippos (as well as other snacks and soft drinks)," the paper claimed. Sounds great.
Best historic April Fool's hoaxes
Best historic April Fool's hoaxes
1/11 Stringy theory

The BBC's 1957 Panorama programme about harvesting spaghetti from trees in Switzerland showed women carefully plucking the strands from trees and laying them in the sun to dry. It has gone down in history as one of the most believable April hoaxes. It was presented by the very believable Richard Dimbleby, after all.

2/11 Left-handed whopper

Burger King launched a marketing campaign for its 'Left-handed whopper' on April 1 1998. A press release sent out at the time estimated that nearly 11 million left-handed customers visited the fast food outlet in the UK each year. A spokesperson from the Left Handed Club is quoted as saying: "We are delighted that Burger King has recognised the difficulties of holding a hamburger in your left hand that has a natural right bias to it. We urge all left handed hamburger lovers to visit their nearest Burger King and taste the difference for themselves."

3/11 Alarming underwiring

In 1982 the Daily Mail reported a series of signal interferences in fire and burglar alarms, television and radio broadcasts due, it claimed, to the manufacture and sale of bras containing extremely conductive copper underwire. The report claimed that the combination of body heat and nylon caused the copper to produce static electricity which interfered with signals.

Getty Images

4/11 Licking it

The Sun made newspaper history with the world's first flavoured page. On page 17 a white square carries the words "Lick here" and an arrow advises viewers where to place their tongues to experience the flavour. It carries the warning "May contain nuts." The report reads: "Our ink-redible printing breakthrough comes after we teamed up with Brit boffins. It means that readers can lick this page to reveal a hidden taste. The revolution follows TV chef Heston Blumenthal, 43, unveiling lickable wallpaper." Sadly it doesn't work online.

Getty Images

5/11 The magic of colour TV

In 1962 colour TV seemed like a magical thing in Sweden. So when its one television channel broadcast an advisory by the station's technical expert Kjell Stensson telling viewers that they could manually convert their black and white sets into colour by covering the screen in a nylon stocking, thousands of people gave it a try. His technical explanation for the peculiar activity was that the fine mesh of the material would cause a reconfiguration of the light particles emanating from the screen. Viewers were advised to tilt their heads from side to side to help with the readjustment process.

Getty Images

6/11 Sighing over Gordon

"He thrilled them with his constitutional reform statement in 2007, he made them sigh at the International Nuclear Fuel Cycle Conference, he made them clap at the St Paul's Institute," reported The Times this morning, revealing the much anticipated news that a collection of PM Gordon Brown's speeches is soon to be available in all good bookshops. "The Change We Choose; Speeches 2007-2009 contains the Prime Minister's most exciting speeches from the past three years. Those who seek inspiration in the oratory of Gladstone, Disraeli and Churchill will now be able to turn to Mr Brown's discussion of the Millennium Development Goals, his appeal for global solutions to global problems and his promise of a points based immigration system."

Getty Images

7/11 Wife not?

Wikipedia is widely regarded as the font of all knowledge for journalists, students and, well, pretty much anyone who's ever used the internet. Shocking then for the feminists among us to discover that the comprehensive encyclopaedia condones wife selling. A recent entry states: "The English custom of wife selling was a way of ending an unsatisfactory marriage by mutual agreement that began in the late 17th century, when divorce was a practical impossibility for all but the very wealthiest. After parading his wife with a halter around her neck, arm, or waist, a husband would publicly auction her to the highest bidder. Wife selling provides the backdrop for Thomas Hardy's novel The Mayor of Casterbridge, in which the central character sells his wife at the beginning of the story, an act that haunts him for the rest of his life and ultimately destroys him."

Wikipedia

8/11 Star turn

Well-known television astronomer and national treasure Patrick Moore announced on BBC Radio 2 on April fool's in 1976 that due to an unusual alignment of planets, known as the Jovian-Plutonian gravitational effect, Earth would have a temporary reduction in the gravitational pull. He urged listeners to jump at exactly 9.47am to experience weightlessness. Thousands called in to say they'd felt the decrease in gravity and one woman even claimed that she and eleven friends "wafted from their chairs and orbited gently around the room."

Getty Images

9/11 Just my type

On April 1 1977 The Guardian published a seven-page supplement on the semi colon-shaped islands of San Serriffe, situated somewhere in the Indian Ocean. The two main islands were named Upper Caisse and Lower Caisse and the editorial was littered with other puns and plays on words relating to typography. The islands were used for subsequent hoaxes in 1978, 1980 and 1999 and they often turn up in the paper's cryptic crossword.

10/11 Less fun for blondes...

Stuffy global agencies aren't known for their jokes. Which made it all the more believable in April 2002 when the World Health Organization released a report claiming that natural blondes were likely to be extinct within 200 years. It said that due to the proliferation of dyed blondes and a genetic weakness, the last natural blonde would probably be born in 2202. The study was revealed to be a hoax and the WHO denied conducting the research.

Getty Images

11/11 Pinana colada?

One April 1st Waitrose supermarket announced it was stocking an exotic new fruit: the Pinana, a hybrid combination of a pineapple and a banana. The advert read: "Fresh in today and exclusive to Waitrose. If you find that all Waitrose pinanas have sold out, don't worry, there's 50% off our essential Waitrose strawberries."
Reuse content