A customer complaint about weak tea at a Marks and Spencer café has escalated after sparking a social media backlash.
Marie Byrne, from Dublin, took to the retailer's Facebook page to vent her frustrations about how her parents were treated when they asked for a second tea bag for their brew.
The issue appears to have struck a chord around the world, as the post has gained more than 9,000 likes and over a thousand comments from outraged tea lovers.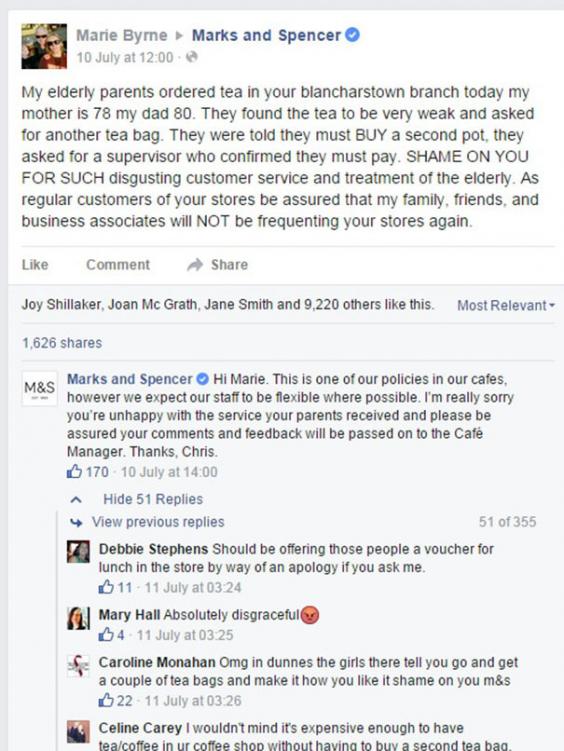 In the post, which makes liberal and passionate use of capitalisation, Byrne writes: "My elderly parents ordered tea in your blanchardstown branch today. My mother is 78 and my dad 80. They found the tea to be very week and asked for another tea bag.
"They were told that they must BUY a second pot, they asked for a supervisor who confirmed they must pay. SHAME ON YOU FOR SUCH disgusting customer service and treatment of the elderly.
"As regular customers of your stores be assured that my family, friends and business associates will NOT be frequenting your stores again."
In response, Marks and Spencers offered their apologies but said that their cafes operate a one-tea bag policy. The retailers wrote back: "This is one of our policies in our cafes, however, we expect our staff to be flexible where possible.
"I'm really sorry you're unhappy with the service your parents received and please be assured your comments and feedback will be passed on to the Café Manager."
One user was not placated by the response however, and declared that the tea bag-denying staff were "getting away with murder."
Another user suggested that the situation had been blown out of proportion and was "the ultimate storm in a tea cup."
Reuse content