This year has definitely been the year of the group selfie.
Whether it was Ellen DeGeneres' Academy Awards effort in March that included pretty much everyone who is anyone is Tinseltown, or Joan Collins' snap at the Prince's Trust that saw Ben Kingsley, Dominic West and Jools Holland pose together, it is now a well-established celebrity past time.
However, despite being so ingrained in the celeb psyche, as of yet, this display of "narcissism, but with people" has not even been given a proper name.
That is until now.
Joining the selfie (traditional you and the camera shot), belfie (bum selfie) and shelfie (selfie of a bookshelf), the way to refer to a group selfie is now, apparently, to call it a "usie" - sometimes spelt "ussie".
Pronounced uss-eee (rhymes with fussy), Ben Zimmer, executive producer of Vocabulary.com and language columnist for The Wall Street Journal, says the terminology has been around since April 2013; however it is only now that it is beginning to become a part of everyday speak.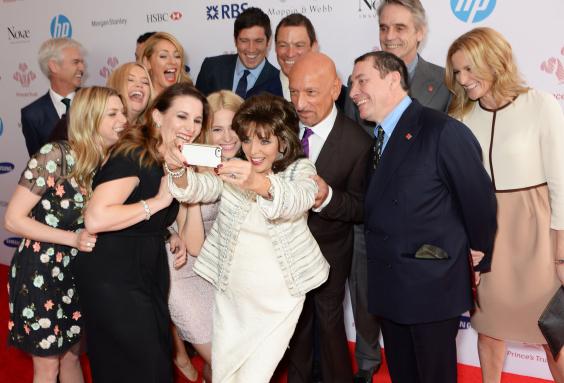 Observers say that the first public use of the word came last year, when The Times of India proclaimed that a snap of Pope Francis posing with a group of visitors at the Vatican last year, could be described as "first chronicled celebrity usie."
Since then the term has been a appearing in a number of other publications, with some saying that it could soon replace the "traditional" selfie.
And, there's more.
Not only does the "usie" now have a name, according to marketing experts, they also are a good way of promoting good social values in people.
Michal Ann Strahilevitz, a professor of marketing at Golden Gate University in San Francisco who studies consumer behaviour, says that, "Usies are a growing trend that I think have far more social value than selfies,
Selfies of 2013: From The Pope to Tom Daley
Selfies of 2013: From The Pope to Tom Daley
1/10 Kim Kardashian suffered a backlash over her sexy swimsuit selfie, called 'disgusting' and 'nasty'

Kim Kardashian

2/10 Pope Francis has his selfie taken inside St. Peter's Basilica with youths from the Italian Diocese of Piacenza and Bobbio who came to Rome for a pilgrimage, at the Vatican

AP

3/10 One of Tom Daley's many Instagram selfies

Tom Daley

4/10 Zayn and Perrie in their selfie pouting next to each other

Zayn and Perrie

5/10 The leader of the Labour party posed with 'salty potato' fan Joey Essex for a bizarre 'selfie' at the Sun's Military Awards in London

JoeyEssex

6/10 A photograph of Rihanna posing with a slow loris led to two arrests in Phuket, Thailand

badgalriri /Instagram

7/10 Lady Gaga took a selfie during her safari trip in South Africa

Lady Gaga

8/10 Obama and Cameron cosy up for selfie with the Danish PM at Nelson Mandela's memorial service

Getty Images

9/10 Miley Cyrus took a selfie before her Halloween costume party this year

Miley Cyrus

10/10 This year's UK X Factor winner Sam Bailey

Sam Bailey
"In contrast to one-person selfies, usies are "more about the relationship, and less about you and your hair."
Adding: "It's magical capturing moments we share with other people."
Additional Reporting AP
Reuse content