The internet has by and large become a place where popular discourse is taken over by abusive comments, sarcastic insults and WHOEVER CAN SHOUT THE LOUDEST.
But it seems that there remains at least one precious sanctuary from the noise – hidden away in the comments section of the Guardian's crossword.
First spotted by Twitter user James Crobag (who has since been overwhelmed by his newfound online fame), the spaces underneath each day's puzzle are a bit like how you imagine country pubs were on a summer afternoon in "the good old days".
there's a community of old men who have conversations every morning in the comments section of guardian crosswords pic.twitter.com/wACmiVTLFi

— james crobag (@EnvGen) August 5, 2015
Having now been exposed to the Guardian Crosswords comments section/old people social network, I've become addicted pic.twitter.com/9W6N2iowQu

— Ned Donovan (@Ned_Donovan) August 5, 2015
@EnvGen @willknitforwine reminds me of the comments under the classical music vids on youtube. Most civilized discussions on the net.

— Judson Hamilton (@Judson_Hamilton) August 6, 2015
.@_pretzelhands @EnvGen Now THAT is the first proper, humane internet discussion I've seen! Like Berners-Lee meant it to be!

— Ville Lundberg (@iFundox) August 6, 2015
While discussions hinge upon the crossword itself – because it's polite to stay on topic – the wizened commenters also talk about their holidays, grandchildren and, of course, the cricket.
There's no swearing to be heard and set-ups for jokes of a sexual nature are quickly steered in a more prim and proper direction.

Newfangled technology is discussed along with references to "Microsoft stocks".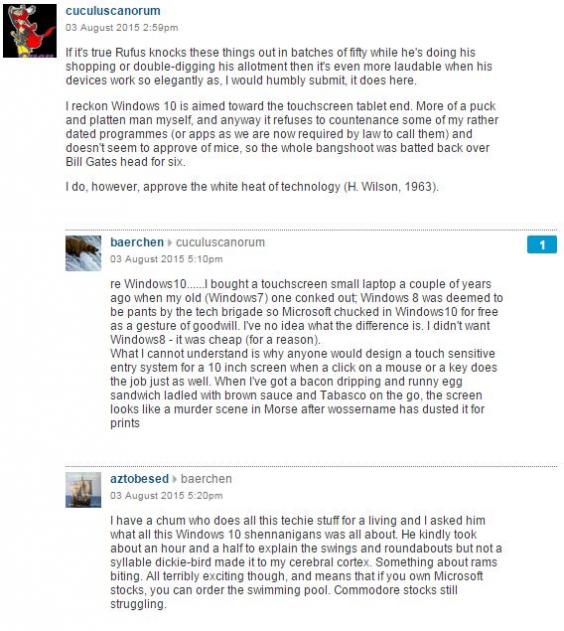 How lovely it is to be retired naturally gets a mention.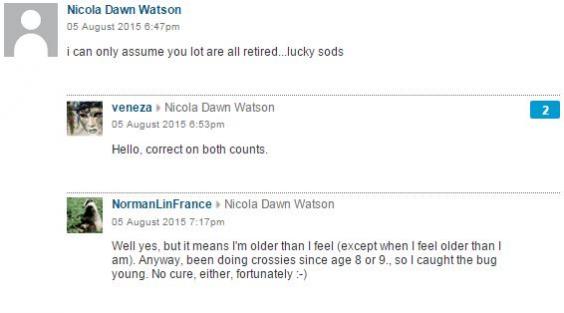 As do the current affairs of the day.
There's a real sense of a community feel.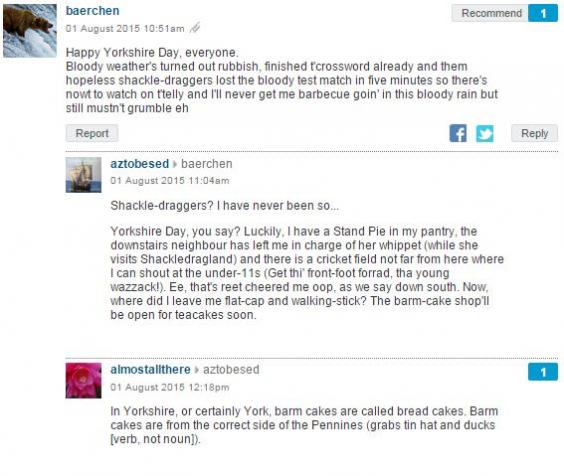 And naturally, lots and lots about cricket.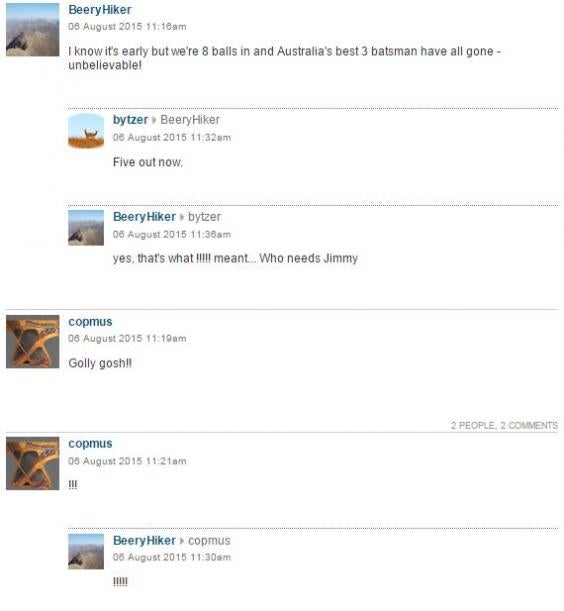 But at the end of the day, even this safe place can't avoid a mention of Jeremy Corbyn.

After discovering this online gem, James Crobag begged his Twitter followers to "follow the prime directive when observing the crossword men". So far at least, people seem to have done just that.
Reuse content