A well-meaning if inebriated batman fan has been praised on social media for doing his best to help a man he found slumped over at the wheel.
In an Imgur post which has since gone viral, the Good Samaritan explained how he found a man "passed out drunk with his car running" outside the bar next to his apartment at 3am.
Identifying himself only as "the drunk Knight" in reference to his own state, the passer-by fetched the would-be driver a bottle of water, took the keys out of the ignition and left him a note explaining where he had hidden them.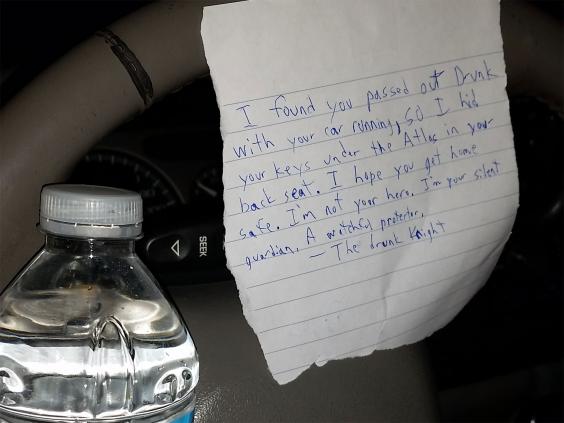 "I decided to hide his keys in the backseat, just in case a cop came, and left him a note and some water," he said.
"I realised once I was sober that a cop would probably just read the note and arrest him anyway, but at least I tried."
Some social media users were less forgiving of the drunk knight after he posted the images to Reddit however. One wrote: "If you wanted to help society, you would of called the cops on this idiot and they could of dealt with it.[sic]"
Reuse content