In the four days since Ireland voted to legalise same-sex marriage, another country has already been added to the growing list of nations where couples of any gender can walk down the aisle.
Greenland's parliament voted unanimously to adopt Danish laws allowing equal unions on Tuesday, becoming the 21st country in the world where gay people can get married.
That move was in the making long before Ireland's referendum but the country's historic vote on Saturday has renewed the push for equality around the world.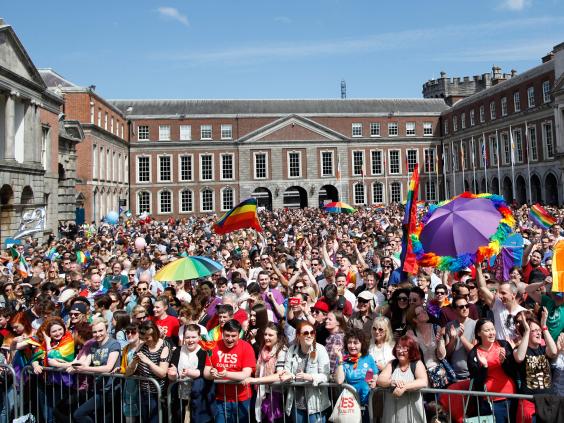 It reignited debate in Australia, Italy, Northern Ireland and other nations that do not yet recognise same-sex marriage.
Aodhán Ó Ríordáin, Ireland's equality minister, said his country had "sent a message to the world" and given hope to LGBT people.
In Australia, the Labor Party is planning to introduce bill in the House of Representatives on Monday that would allow gay marriage by removing parts of the law specifying that unions must be between a man and a woman.
Bill Shorten, the leader of the opposition, said today that the time was right following the vote in Ireland.
Irish gay marriage vote results: In pictures
Irish gay marriage vote results: In pictures
1/11 Drag queen Panti Bless and crowd celebrate a Yes victory

Drag artist and Yes activist Panti Bliss joins supporters to celebrate in front of Dublin Castle

Getty Images

2/11 The celebrations started last night in Dublin and continued all day

A couple celebrating in Dublin

EPA

3/11 A woman heading to the polling station yesterday

Woman walks past a mural of two rainbow coloured hearts on polling day. Polling stations in the 43 constituencies across country opened their doors yesterday to vote on legalising same sex marriage

EPA

4/11 A 'Yes to Equality' badge

A pro-gay marriage badge on a voter's lapel in gaelic meaning "Yes to Equality" seen in Dublin on polling day.

EPA

5/11 A cafe in Dublin lending its support to the cause

Many businesses in Ireland have got involved in the campaign, declaring their support for both the Yes and No campaigns

EPA

6/11 Two campaign posters side by side posters on a Dublin street

Both sides have campaigned fiercely saying they are fighting for social freedom

EPA

7/11 Newly married couple share their support for a Yes vote

Newly married Anna and Vincent Fox share a kiss as they mark their support for a Yes vote in Dublin on polling day

Getty Images

8/11 50 foot mural on the wall of Caherkinmonwee Castle in Galway to celebrate gay marriage

A 50 foot referendum mural created by artist Joe Caslin to promote a Yes vote

Getty Images

9/11 Supporters celebrate an expected Yes vote

Supporters in favour of same-sex marriage pose for a photograph as thousands gather in Dublin Castle

Getty

10/11 Couple waiting for the result in Dublin Castle

Erin Reddy (left) and Dee Campell awaiting the result at Central Count Centre in Dublin Castle

PA

11/11 A gay marriage activist kisses her rosary beads in celebration

A gay marriage supporter kisses her rosary beads at the Central Count Centre at Dublin Castle

PA
"There is no doubt that at the weekend the Irish referendum has, I think, reignited momentum for the marriage equality debate on the other side of the world in Australia," he said.
"If a country which is religiously conservative by cultural history can vote for marriage equality, then surely a modern Australia can endorse marriage equality in 2015."
A similar bill was rejected by the House of Representatives three years ago by 98 votes to 42.
Tony Abbott, who trained as a Catholic priest, does not personally support same-sex marriage but hinted that he may allow a free vote today.
"It's an issue upon which there are sharply divided views inside this Parliament, inside our respective political parties and indeed, as is well known, even inside my own family," he told Parliament, referring to his sister, who is a lesbian.
"It is important that all views be treated with respect because this is one of those subjects upon which decent people can disagree."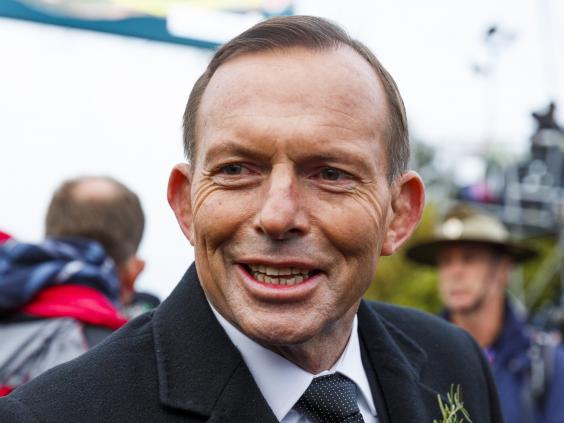 Shortly after Ireland's result was declared, the Italian Prime Minister vowed to push through civil unions as a first step towards allowing gay marriage in the home of the Catholic Church.
"Civil unions cannot be delayed any longer," Matteo Renzi said.
Nichi Vendola, leader of the left-wing SEL party, said Ireland had provided "a lesson in civility" and Italy needed to "wake up".
Its proposed civil partnership law is stuck at the committee stage in the Italian Senate in Rome, where it has been bombarded with thousands of amendments mostly from right-wing opponents.
Around 81 per cent of Italians are Catholic and the approval in Ireland, where a similar proportion of the population follow the religion, has given campaigners hope.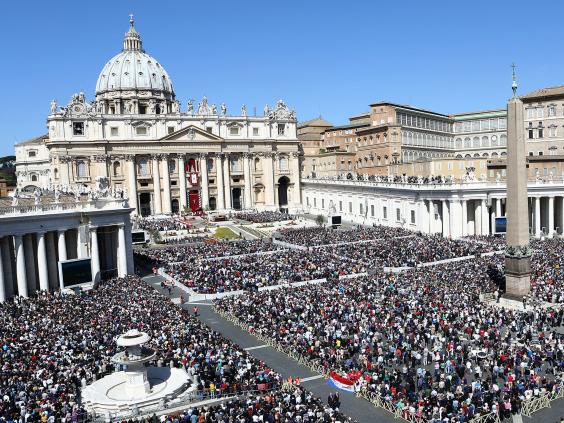 Ireland's approval also turned heightened scrutiny on its northern neighbour, which is now the only nation in the British Isles where same-sex marriage is not legal.
A mass rally in support of equal marriage is due to be held in Belfast on 13 June and politicians are under mounting pressure to allow a referendum or legalise it themselves.
Deputy First Minister Martin McGuinness, whose party Sinn Fein campaigned for a Yes vote in Ireland, said: "Politicians, particularly in the north need to reflect on this progress. The world is moving on and Ireland is taking the lead."
Several other countries are considering similar legislation, while same-sex marriage in the US is allowed in a growing number of states.
In Slovenia, Parliament approved a marriage bill in March but it has not yet received Presidential approval needed to enact it.
Reuse content