The French President François Hollande says there are no survivors of the Air Algerie flight AH5017 which crashed in Mali with 116 people on board, including more than 50 French nationals.
Earlier, his office confirmed an announcement by officials the plane wreckage has been discovered in Mali, west Africa, saying in a message on its website it had been clearly identified despite the disintegration of the aircraft. A French military unit has been dispatched to secure the site and gather evidence.
Speaking after a crisis meeting, Mr Hollande also announced that one of the aircraft's two black boxes has been found in the wreckage, in the Gossi region near the border with Burkina Faso. It is being taken to the northern Mali city of Gao.
French investigators have now concluded the flight broke apart when it hit the ground, the Interior Minister Bernard Cazeneuve told RTL radio. 
He told the station: "We think the plane went down due to weather conditions, but no hypothesis can be excluded as long as we don't have the results of an investigation."
The passenger plane was found about 50 kilometres (31 miles) from the border of Burkina Faso, according to Burkina Faso authorities.
The plane, chartered by Spanish company Swiftair and operated by Algeria's flagship carrier, disappeared from radar 50 minutes after it took off from Burkina Faso's capital of Ouagadougou at 1.17 GMT on Thursday. It was bound for Algiers in Algeria and was due to arrive at 5.10 GMT.
Aviation officials lost contact with the plane at 1.55am GMT, shortly after its pilots contacted Niger's control tower in Niamey and requested to change course due to reported storms.
French Mirage fighter jets, UN peacekeepers and teams hunted for the wreckage of the MD-83 in the remote region.
General Gilbert Diendere, a member of the crisis unit in Burkina Faso, said the Burkina Faso army had identified the crash site and his team of investigators had already inspected the wreckage.
"This team has confirmed that it has seen the remains of the plane, totally burned out and scattered on the ground," Mr Diendere told local television, adding human remains had also been discovered. He said he had no further information on the fate of passengers.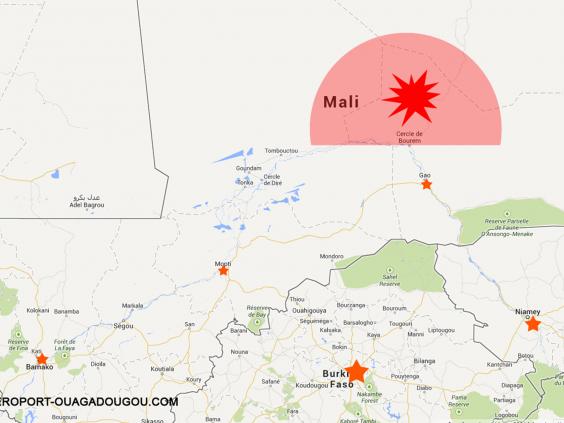 Burkina Faso authorities said the passenger list included 51 French, 27 Burkinabe, eight Lebanese, six Algerians, five Canadians, four Germans, two from Luxembourg, one Cameroonian, one Belgian, one Egyptian, one Ukranian, one Swiss, one Nigerian and one Malian. All six crew members were Spanish, according to Spain's pilot union.
Burkina Faso's government spokesman said the country will observe 48 hours of mourning. The President of Mali Ibrahima Boubacar Keita is due to visit the site of the crash today.
Malian state television also said the debris of AH5017 was found in the village of Boulikessi and was found by a helicopter from Burkina Faso.
Video: Details of wreckage still unclear
The vast deserts and mountains of northern Mali fell under control of ethnic Tuareg separatists and then al-Qa'ida-linked Islamic extremists after a military coup in 2012.
France deployed troops to Mali in January 2013 until July, but the Tuaregs have pushed back against the authority of the Bamako-based government. France agreed to keep troops in the region as part of a military operation to target Islamist extremists in the Sahel region.
The crash of the Air Algerie plane is the latest in a series of aviation disasters.
The Malaysia Airlines Flight MH370 disappeared without a trace in March with 239 people on board on its way to Beijing.
Last week, the Malaysia Airlines flight MH17 was shot down while flying over a war-torn section of Ukraine, and the US has blamed it on separatists firing a surface-to-air missile.
Earlier this week, US and European airlines started canceling flights to Tel Aviv after a rocket landed near the city's airport. Finally, on Wednesday, a Taiwanese plane crashed during a storm, killing 48 people.
Swiftair, a private Spanish airline, said the plane was built in 1996, with two Pratt & Whitney JT8D-219 PW engines.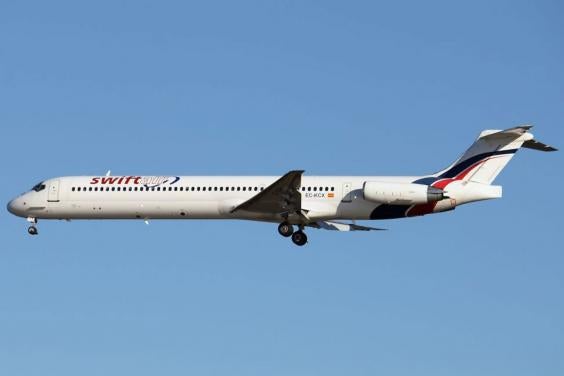 Swiftair took ownership of the plane on 24 October, 2012, after it spent nearly 10 months unused in storage, according to Flightglobal's Ascend Online Fleet. It had more than 37,800 hours of flight time and has made over 32,100 takeoffs and landings.
It was the fifth crash and the second with fatalities for Swiftair since its founding in 1986, according to the Flight Safety Foundation.
The MD-83 is part of a series of jets built since the early 1980s by McDonnell Douglas, a US company now owned by Boeing Co.
Additional reporting by agencies