French fighter jets and UN helicopters were scouring the north of Mali, West Africa, on Thursday night in an attempt to locate the wreckage of an Air Algerie flight which is believed to have crashed with 116 people onboard.
Conflicting reports surrounding the location of the wreckage made it unclear whether the aircraft had been found on Thursday evening. Mali's President Ibrahim Boubacar Keita said that flight AH5017 had been spotted in the desert between the northern towns of of Aguelhoc and Kidal. But General Gilbert Diendere, a member of the crisis unit in Burkina Faso, said his team had found remains in southern Mali, 50 km (30 miles) from the Burkinabe border.
Local authorities in the nearby town of Gossi also told Reuters the wreckage had been located there.
In Paris, French Foreign Minister Laurent Fabius said the flight, carrying 51 French nationals, had "probably crashed" but he said two French Mirage warplanes searching the vast desert area around the northern Malian city of Gao had spotted no wreckage.
He added authorities believed flight AH5017 may have encountered bad weather after the pilot requested to change direction shortly after takeoff due to a storm. However, he said no hypothesis had been excluded.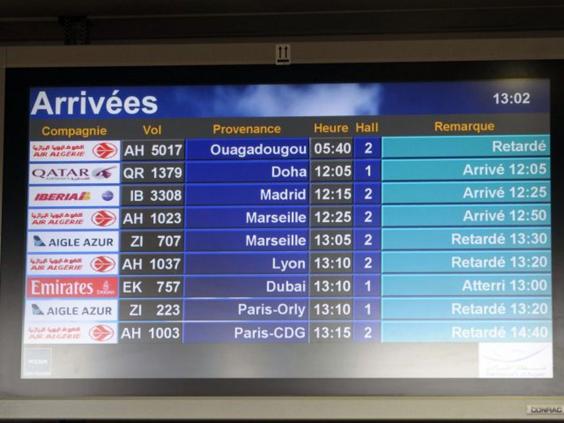 AH5017 lost contact with aviation officials about 50 minutes after take-off from Ouagadougou in Burkina Faso in west Africa. It was bound for Algiers in Algeria.
The last contact Algerian authorities had with the aircraft was at 01.55am GMT when it was flying over Gao in Mali, an Algerian official said.
The pilot had contacted Niger's control tower and asked to change route at 01.38am because of a storm in the area.
A diplomat in the Malian capital of Bamako said that the north of the country was struck by a powerful sandstorm overnight.
Earlier, an Algerian aviation official confirmed that flight AH5017 had gone missing and crashed while carrying a total of 116 people on board.
In response to the incident, French President Francois Hollande cancelled a planned visit to overseas territories, and said all military means on the ground would be used to locate the aircraft. He added he had sent his minister Fleur Pellerin to the region, and confirmed he will hold an emergency cabinet meeting this afternoon.
"The search will take as long as needed," Hollande told reporters. "Everything must be done to find this plane. We cannot identify the causes of what happened," he said.
The French civil aviation body has confirmed investigations into the missing plane are being led from Paris and Marseille. It has set up crisis centres at airports in both cities.
Niger security sources said the country had also sent planes over the border region with Mali to search for the flight.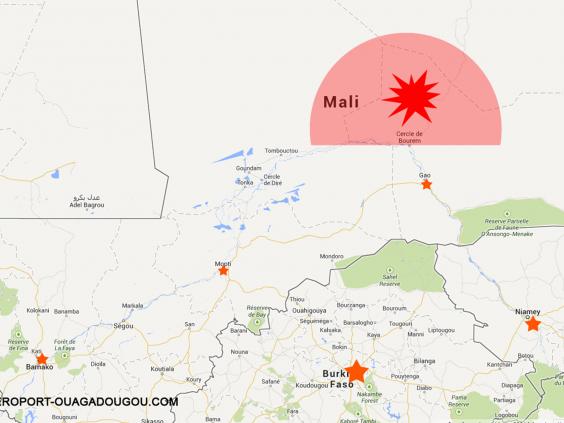 The official Algerian news agency APS has published a list of passengers on board the plane, including 51 French, 27 Burkina Faso nationals, eight Lebanese, six Algerians, five Canadians, four Germans, two Luxemburg nationals, one Swiss, one Belgian, one Egyptian, one Ukrainian, one Nigerian, one Cameroonian and one Malian.
The six crew members are believed to be Spanish, according to reports.
The Lebanese Foreign Ministry said its embassy in Abidjan estimated the number of Lebanese citizens on the flight was at least 20, some of whom may have dual nationality.
"We don't know anything yet. We have just heard from the news that the plane went missing," said Amina Daher, whose sister-in-line Randa was travelling on the plane with her three children, returning to Beirut to celebrate the Muslim religious festival of Eid El-Fitr with her family.
Due to the unknown location of the plane, officials have not yet stated how many casualties there are.
The plane is operated by Air Algerie and chartered from Spanish airline Swiftair, who said 110 passengers and six members of crew are on board the MD83 aircraft. It can carry up to 167 people. Flight AH 5017 flies the Ouagadougou-Algiers route four times per week.
Swiftair has a relatively clean safety record, having had five accidents since 1977, two of which caused a total of eight deaths, according to the Washington-based Flight Safety Foundation.
Swiftair said in a statement that the passenger jet took off from Burkina Faso at 01.17am and was supposed to land in Algiers at 05.10am, but never reached its destination.
It said the six crew members include two pilots and four flight attendants.
Mali has been the site of unrest in recent years after it fell under control of ethnic Tuareg separatists and then al Qaida-linked Islamic extremists following a military coup in 2012.
In light of the tragic downing of flight MH17, thought to be shot by pro-Russian separatists in Ukraine, a senior French official said it is unlikely that fighters in Mali had the kind of weaponry that could shoot down a plane.
The mission to find the plane is complicated by the vast scale and daunting terrain of Mali. The area where the flight is suspected to have crashed is a sparsely inhabited region of scrubland and desert dunes stretching to the foothills of the Adrar des Ifoghas mountains.
As the Malian government has only a weak presence in the region,  the bulk of the operation is in the hands of France and UN peacekeepers.
AH5017 is the third passenger air crash this week, after the downing of a Malaysia Airlines plane in Ukraine and, the crash of a TransAsia Airways off Taiwan during a thunderstorm on Wednesday.
Air Algerie's last major accident was in 2003 when one of its planes crashed shortly after take-off from the southern city of Tamanrasset, killing 102 people. In February this year, 77 people died when an Algerian military transport plane crashed into a mountain in eastern Algeria.
Additional reporting by agencies
Reuse content