At least 19 people have been killed by a bomb strapped to a girl believed to be 10, in the north-eastern Nigerian city of Maiduguri on Saturday.
The bomb went off at 12.15pm in the city's busy market place, killing the girl and at least 18 bystanders.
More than 20 people who were injured in the attack are now in hospital.
"The explosive devices were wrapped around her body and the girl looked no more than 10 years old," a police source told Reuters.
In pictures: Nigeria kidnapped schoolgirls
In pictures: Nigeria kidnapped schoolgirls
1/19 Nigeria

A total of 276 girls were abducted from the northeastern town of Chibok, in Borno state, which has a sizeable Christian community. Some 223 are still missing

2/19 Nigeria

One of the kidnapped girls looks into a camera

3/19 Nigeria

One of the missing girls talking to the camera

4/19 Nigeria

The missing Nigerian schoolgirls, wearing the full-length hijab and praying in an undisclosed rural location. Boko Haram alleging they had converted them to Islam

5/19 Nigeria

Girls wearing the full-length hijab holding a flag reading "There is no god, but Allah" and "Mohammed is Allah's prophet"

6/19 Nigeria

A man claiming to be the leader of Nigerian Islamist extremist group Boko Haram Abubakar Shekau

7/19 Nigeria

Abubakar Shekau speaks on the video

8/19 Nigeria

Girls, wearing the full-length hijab and praying are filmed by an unidentified man (R) in an undisclosed rural location

9/19 Nigeria

People carry signs as they attend a protest demanding the release of abducted secondary school girls in the remote village of Chibok in Lagos

10/19 UK

A protester demonstrates against the kidnapping of school girls in Nigeria, outside the Nigerian Embassy in London

11/19 UK

Chief International Correspondent Christiane Amanpour and Prime Minister David Cameron appearing on the BBC1 current affairs programme

12/19 USA

People participate in a "Bring Back Our Girls" campaign demonstration and candlelight vigil in Los Angeles

13/19 USA

Girls holding heart shaped banners in a "Bring Back Our Girls" campaign demonstration and candlelight vigil in Los Angeles

14/19 South Africa

South Africans protest in solidarity against the abduction of hundreds of schoolgirls in Nigeria by the Muslim extremist group Boko Haram and what protesters said was the failure of the Nigerian government and international community to rescue them, during a march to the Nigerian Consulate in Johannesburg

15/19 USA

Karilyn Coates (10) joins others in a candlelight vigil for the more than 300 girls abducted by Boko Haram in Nigeria, at All Souls Unitarian Church in Colorado Springs

16/19 Nigeria

Mothers of the missing Chibok school girls abducted by Boko Haram Islamists gather to receive informations from officials. Nigeria's president said that Boko Haram's mass abduction of more than 200 schoolgirls would mark a turning point in the battle against the Islamists, as world powers joined the search to rescue the hostages

17/19 Nigeria

Former Nigerian Education Minister and Vice-President of the World Bank's Africa division (3rd L) Obiageli Ezekwesilieze speaks as she leads a march of Nigeria women and mothers of the kidnapped girls of Chibok, calling for their freedom in Abuja

18/19 Bring Back Our Girls

Kelly Hoppen tweeted: 'Please make sure you do this, we must stand together and not forget them'

19/19 Bring Back Our Girls

E.L. Rock Star tweeted: 'Join The Movement'
Maiduguri, the capital of Borno state, is regularly attacked by Boko Haram militants, due to its location in the heart of the northern region where the group wants to establish an Islamic caliphate in Borno, Yobe and Adamawa states.
In March last year, 600 people were killed in a single day, when an attack was launched on the Giwa military barracks in Maiduguri.
No group has yet claimed responsibility for the attack, but it is believed that Boko Haram is behind the murders.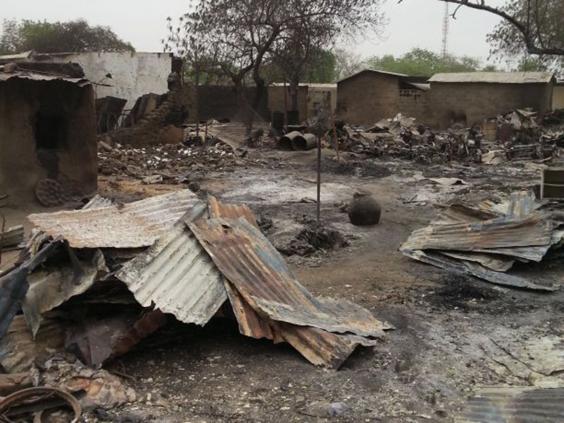 The killings come after Boko Haram's Friday attack on the town of Baga, near the Chad border, which was labelled its "deadliest massacre" by Amnesty International.
The town was razed to the ground and as many as 2,000 people were slaughtered. Hundreds of bodies are reportedly still strewn in the bush.
Insurgents entered Baga firing rocket-propelled grenade launchers and assault rifles; the victims were largely the elderly and children who could not run quickly enough from the attackers.
A government spokesman, Mike Omeri, said: "Security forces have responded rapidly, and have deployed significant military assets and conducted airstrikes against militant targets." But a nearby military installation had earlier been overrun by the militants on 3 January.
Muhammad Abba Gava, a spokesman for a civilian defence group, said: "The human carnage perpetrated by Boko Haram terrorists in Baga was enormous.
"No one could attend to the corpses and even the seriously injured ones who may have died by now," he added.
In the past five years of fighting in the north-east of Nigerian more than 10,000 people are estimated to have died by the Council on Foreign Relations, based in Washington DC.
Additional reporting AP
Reuse content