President Barack Obama has chided Kenya on its gay rights record and urged the government in Nairobi to take greater steps to tackle corruption, describing it as "the single biggest impediment to Kenya growing even faster".
The US leader called for "visible prosecutions" to show citizens that something was being done about corruption, noting that Kenyans "don't have to be a forensic accountant to know what is going on". He pointed to examples of officials driving flashy cars and building houses that were far beyond their means.
Mr Obama's comments hinted at tough closed-door discussions, where he had been expected to tackle President Uhuru Kenyatta on a worsening human rights record, as well as his administration's failure to take seriously the rampant corruption that has seemingly made it easy for terrorists to strike.
Mr Obama was speaking during his much-anticipated visit to Kenya, his first trip since becoming President to the birthplace of the father he barely knew. In similar fashion to his first trip to the East African nation in 1988, he was greeted off the plane on Friday night by his half-sister, Auma, but this time without the battered Volkswagen into which she bundled him on the way to meet his African relatives.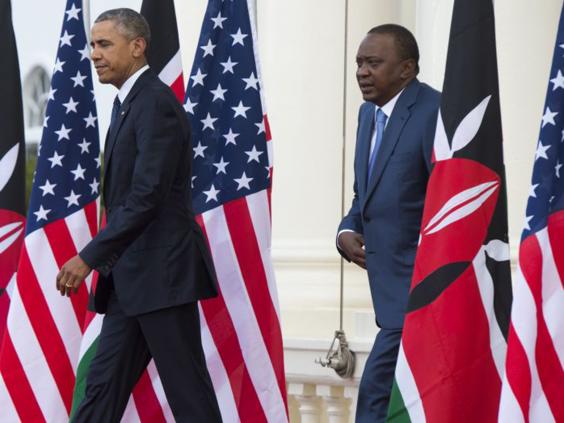 Kenyans have literally and metaphorically rolled out the red carpet for Mr Obama, viewed by many as a returning son, a global leader with the power to change lives.
Ordinary Kenyans have delighted for the most part in Mr Obama's visit, waving American flags from their cars and lining the streets for hours just to catch a glimpse of him.
But beyond the emotion lingers the legacy of Kenya's deadly post-election violence seven years ago that loomed so large in Mr Obama's decision to not take this trip until now. When the International Criminal Court dropped its case in December against Mr Kenyatta, indicted alongside his Vice-President William Ruto for crimes against humanity, it paved the way for the homecoming that the President so desired. Mr Ruto denies the charges against him, while Mr Kenyatta also denies the charges against him that were dropped.
Some argue that by visiting Kenya now, Mr Obama is conferring legitimacy on an administration where the Vice-President still faces charges at the ICC.
Makau Mutua, a Kenyan-American professor at the State University of New York, said: "Bottom line is that the Americans have caved in to Kenyatta and now appear to condone the impunity of a regime that lacks basic legitimacy, is drowning in corruption and is suffocating civil society."
Mr Obama's visit, however, promised to deliver difficult messages, and he brazenly stood up for gay rights, dismissed by his Kenyan counterpart as a "non-issue". Gay sex is illegal in Kenya, and homosexuals face discrimination in all aspects of their lives in this predominantly Christian country.
"That's the path whereby freedoms begin to erode and bad things happen," Mr Obama said. "When a government gets in the habit of treating people differently, those habits can spread."
Mr Kenyatta said gay rights were not "foremost on the minds" of Kenyans. "There are some things that we must admit we don't share – our culture, our societies don't accept," he said.
A large part of the discussions between the two men focused on counterterrorism co-operation, with Kenya struggling to combat a terror threat from the Somalian group al-Shabaab. Mr Kenyatta described the issue as "an existential fight for us" and welcomed a united stance on security.
Al-Shabaab has carried out several deadly attacks on Kenyan soil, including the 2013 Westgate shopping mall siege, where 67 died, and an attack on a north-eastern university in April, where 148 people, mostly students, were killed.
Earlier, Mr Obama visited the site of the 1998 US embassy bombing, now a small memorial garden at the heart of the business district. Al-Qaeda launched twin attacks in Nairobi and Dar-es-Salaam, killing more than 220.
It is not without irony that the President will address the Kenyan nation today from the same football stadium where thousands of Somalis were rounded up last year in a counterterror operation and held for up to three weeks in what human rights groups decried as a deeply misguided effort.
The growing frequency – and potency – of attacks by al-Shabaab on Kenyan soil have thrown an increasingly harsh spotlight on Kenya's security forces, accused in a police watchdog report last year of apparent incompetence and cowardice.
Mr Obama said that this visit was "personal" for him. He also spoke of the dinner he had shared with relatives and the fact that he had not met some of them before. "There were lengthy explanations in some cases of the connections… Mostly we were just catching up." He said he would return to Kenya after his presidency finished.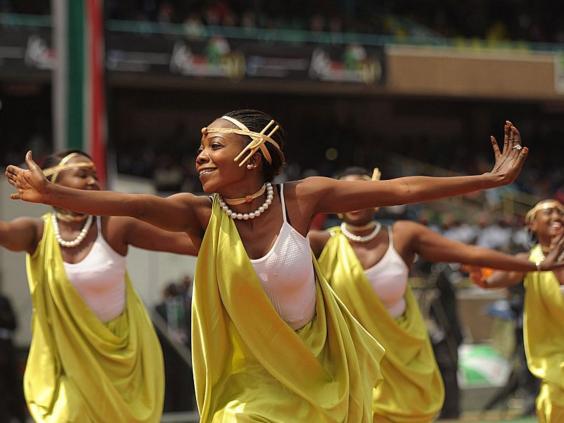 Some Kenyans, wanting to commemorate his visit, went as far as naming their newborns after Mr Obama – or, in one case, after the presidential jet. Lucy Akinyi Okoth, a new mother at a Kisumu hospital, told AFP: "I have decided to call my baby AirForceOne Barack Obama so that we can all remember Obama's visit to Kenya because it is a huge blessing."
With the hype has also come a weight of expectation on Mr Obama, seen increasingly as the one person who can press the government on issues such as the harassment of civil rights groups, slippage on human rights and a crackdown on the freedom of the media. When he visited Kenya as a senator in 2006, he identified corruption and tribalism as the two main issues bedevilling the nation, a criticism that did little to endear him to his official hosts.
Relations between the two leaders have been frosty since the then Assistant Secretary of State Johnnie Carson warned Kenyans ahead of the 2013 elections that "choices have consequences", interpreted by some as a threat not to vote for Mr Kenyatta because of the ICC indictment. It would set the tone for US-Kenyan relations.
In the violence that followed Mwai Kibaki's disputed victory in the 2007 elections, more than 1,000 people died and thousands more were forced to flee their homes. Mr Kenyatta, accused of being partly responsible for orchestrating that violence, was widely seen by his critics as seeking impunity from prosecution when he stood for election in 2013 – something he denied – before the case was dropped.
With relations tense, Mr Obama bypassed Kenya in a tour of East Africa in 2013, and Mr Kenyatta has instead turned to China, which has made huge inroads into Africa as a part of a strategic vision to tap the continent's natural resources.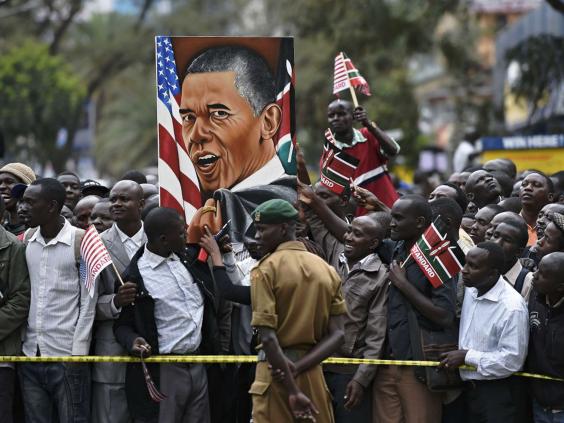 As such, observers say that global relations are shifting to represent new realities, calling for a more investor-driven approach, a departure from the days when the West could hector African countries.
Early on Saturday Mr Obama spoke at the Global Entrepreneurship Summit, announcing more than $1bn (£640m) of new commitments from the US government, banks, foundations and philanthropists.
Half of the money will go to support women and young people, who Mr Obama said faced bigger obstacles when trying to start businesses. "If half of your team is not playing, you've got a problem," Mr Obama said, referring to women being excluded from the formal economy.
Mr Obama told the summit that Africa was "on the move" – something that many Kenyans feel this visit proves.
William Bellamy, a former US ambassador to Kenya, said: "There is a mood of confidence and self-assurance in Africa that did not exist 10 years ago, including Kenya. They feel that they have options."
Reuse content