The Nigerian army has been accused of perpetrating war crimes in parts of the country already ravaged by Boko Haram's violence.
Fresh evidence of multiple atrocities and summary executions carried out by both sides of the conflict has been gathered by Amnesty International.
Gruesome footage of one incident, which was too graphic to show, appears to show soldiers slitting the throats of suspected Boko Haram members and dumping them in a mass grave.
The video, showing men being pinned down on the edge of the bloody pit before being killed one at a time, is one of several published by Amnesty International in a report on the ongoing conflict.
Boko Haram's bomb attacks, massacres and summary killings have continued almost unchallenged since the start of the Islamist insurgency in north-eastern Nigeria in 2010.
An estimated 4,000 people have been killed so far this year and more than 200 of the girls abducted from a school in Chibok in April are still believed to missing, along with countless other women and girls.
Nigeria's military has been struggling to combat Boko Haram militants and its forces have also been accused of human rights abuses, including torture and extrajudicial killings.
The army's numbers have been strengthened by volunteers known as the "Civilian Joint Task Force" (CJTF) in state-sponsored militias.
Salil Shetty, Amnesty International's Secretary General, said the new evidence was further proof of "appalling crimes" being committed by all sides in the conflict.
"Nigerians deserve better – what does it say when members of the military carry out such unspeakable acts and capture the images on film?" he added.
"These are not the images we expect from a government which sees itself as having a leadership role in Africa.
"The ghastly images are backed up by the numerous testimonies we have gathered which suggest that extrajudicial executions are, in fact, regularly carried out by the Nigerian military and CJTF."
In pictures: Nigeria kidnapped schoolgirls
In pictures: Nigeria kidnapped schoolgirls
1/19 Nigeria

A total of 276 girls were abducted from the northeastern town of Chibok, in Borno state, which has a sizeable Christian community. Some 223 are still missing

2/19 Nigeria

One of the kidnapped girls looks into a camera

3/19 Nigeria

One of the missing girls talking to the camera

4/19 Nigeria

The missing Nigerian schoolgirls, wearing the full-length hijab and praying in an undisclosed rural location. Boko Haram alleging they had converted them to Islam

5/19 Nigeria

Girls wearing the full-length hijab holding a flag reading "There is no god, but Allah" and "Mohammed is Allah's prophet"

6/19 Nigeria

A man claiming to be the leader of Nigerian Islamist extremist group Boko Haram Abubakar Shekau

7/19 Nigeria

Abubakar Shekau speaks on the video

8/19 Nigeria

Girls, wearing the full-length hijab and praying are filmed by an unidentified man (R) in an undisclosed rural location

9/19 Nigeria

People carry signs as they attend a protest demanding the release of abducted secondary school girls in the remote village of Chibok in Lagos

10/19 UK

A protester demonstrates against the kidnapping of school girls in Nigeria, outside the Nigerian Embassy in London

11/19 UK

Chief International Correspondent Christiane Amanpour and Prime Minister David Cameron appearing on the BBC1 current affairs programme

12/19 USA

People participate in a "Bring Back Our Girls" campaign demonstration and candlelight vigil in Los Angeles

13/19 USA

Girls holding heart shaped banners in a "Bring Back Our Girls" campaign demonstration and candlelight vigil in Los Angeles

14/19 South Africa

South Africans protest in solidarity against the abduction of hundreds of schoolgirls in Nigeria by the Muslim extremist group Boko Haram and what protesters said was the failure of the Nigerian government and international community to rescue them, during a march to the Nigerian Consulate in Johannesburg

15/19 USA

Karilyn Coates (10) joins others in a candlelight vigil for the more than 300 girls abducted by Boko Haram in Nigeria, at All Souls Unitarian Church in Colorado Springs

16/19 Nigeria

Mothers of the missing Chibok school girls abducted by Boko Haram Islamists gather to receive informations from officials. Nigeria's president said that Boko Haram's mass abduction of more than 200 schoolgirls would mark a turning point in the battle against the Islamists, as world powers joined the search to rescue the hostages

17/19 Nigeria

Former Nigerian Education Minister and Vice-President of the World Bank's Africa division (3rd L) Obiageli Ezekwesilieze speaks as she leads a march of Nigeria women and mothers of the kidnapped girls of Chibok, calling for their freedom in Abuja

18/19 Bring Back Our Girls

Kelly Hoppen tweeted: 'Please make sure you do this, we must stand together and not forget them'

19/19 Bring Back Our Girls

E.L. Rock Star tweeted: 'Join The Movement'
The footage showing prisoners' throats being slit was reportedly taken near Maiduguri, the capital of Borno state, on 14 March this year, a day after Boko Haram's attack on the military detention centre in nearby Giwa Barracks.
It shows 16 young men and boys seated in a line, called forward killed on the bloody edge of the mass grave one by one.
Eyewitnesses told researchers nine of the prisoners had their throats cut and the rest were shot dead.
Two of the men involved in the killing are dressed in combat fatigues that mark them as members of the 8 Nigerian army's 81 Battalion, according to witnesses, whereas two more are possibly members of the CJTF.
Amnesty claimed that after Boko Haram had left the town, more than 600 people, mostly recaptured Giwa detainees, were executed in various locations across Maiduguri including the one shown in the video.
Bama, a town 50 miles south-east of Maiduguri, has been a focal point of violence by both the Nigerian military and Boko Haram.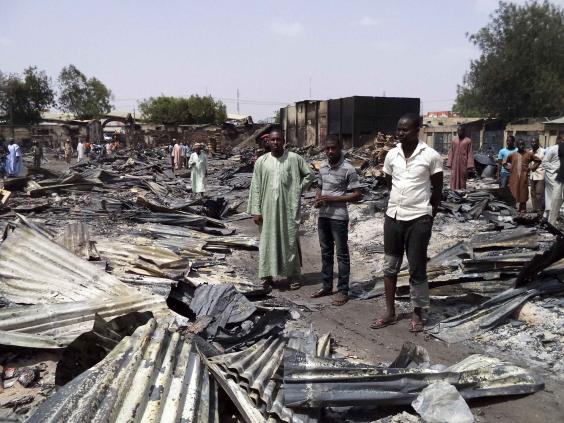 Residents told Amnesty about a "screening" operation on 23 July last year, when scores of Nigerian soldiers and CJTF from Maiduguri gathered men in the central market and divided them into suspected Boko Haram members and innocents.
Up to 35 men alleged to be part of Boko Haram were ordered to lie down and were beaten with sticks and machetes in recorded footage.
They were then loaded into a military vehicle and taken away to military barracks before returning days later on July 29.
Soldiers allegedly took the suspects back into their communities and executed them several at a time before dumping the bodies.
A relative of one of the executed men told Amnesty International: "We found [our relative] near Bama bridge. Plenty of people were with us. They [had] shot five of them [in that location alone].
"There were five bodies including [my relative]. He had a bullet hole in his chest and no clothes, only trousers. We took the body and buried it.
"There is no death certificate; Bama hospital is not functioning. There is no place to complain; the town has restricted movement. Everybody left what happened to God." 
Boko Haram staged its most deadly raid on the town on 19 February this year, when grenade and bomb attacks left almost 100 people dead and more than 200 injured.
Amnesty International called for an immediate, impartial investigation into human rights violations and war crimes in north-eastern Nigeria.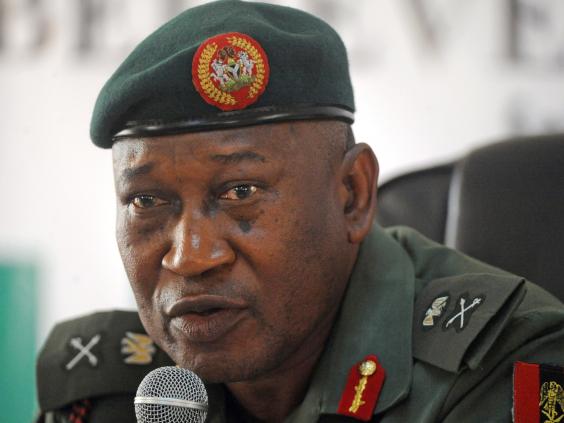 A spokesman for the Nigerian Defence ministry, Major-General Chris Olukolade, said the military authorities view Amnesty's allegations very seriously.
He added: "Much as the scenes depicted in this video are alien to our operations and doctrines, it has to be investigated to ensure that such practices have not crept, surreptitiously, into the system.
"That level of barbarism and impunity has no place in the Nigerian military.
"Respect for the sanctity of life is always boldly emphasized in our doctrinal training."
The conflict has intensified in recent months and in July, Damboa in Borno state became the first town to fall under the control of Boko Haram since President Goodluck Jonathan declared the State of Emergency last year. 
"A state of emergency must not give way to a state of lawlessness. Sadly, the same communities are now being terrorized in turn by Boko Haram and the military alike," said Mr Shetty.
Additional reporting by Reuters
Reuse content