Hundreds of people have been killed after suspected Boko Haram fighters clashed with Nigerian forces in the strategically important north-eastern city of Maiduguri on Sunday.
Residents awoke to the sounds of explosions and heavy gunfire as the insurgents launched their pre-dawn attack, the BBC reports, while ground troops and air strikes helped to hold off the insurgent attacks.
Over 200 combatants, mostly insurgents, were killed in the fighting as Nigerian troops held the city, though Boko Haram had managed to capture the north-eastern town of Monguno earlier in the day.
But as the fighting in the city raged, more suspected insurgents continued their scorched-earth attack on villages 125 miles to the south of the major city, in Adamawa state.
In a brutal attack they stormed though villages, slitting people's throats, looting and burning homes to the ground before abducting dozens of trapped women and children, according to survivors.
The rise of Boko Haram
The rise of Boko Haram
1/19 Boko Haram

The leader of the Islamist extremist group Boko Haram Abubakar Shekau delivers a message. Boko Haram has claimed responsibility for the mass killings in the north-east Nigerian town of Baga in a video where he warned the massacre "was just the tip of the iceberg". As many as 2,000 civilians were killed and 3,700 homes and business were destroyed in the 3 January 2015 attack on the town near Nigeria's border with Cameroon

AFP

2/19 Boko Haram

People displaced as a result of Boko Haram attacks in the northeast region of Nigeria, are seen near their tents at a faith-based camp for internally displaced people (IDP) in Yola, Adamawa State. Boko Haram says it is building an Islamic state that will revive the glory days of northern Nigeria's medieval Muslim empires, but for those in its territory life is a litany of killings, kidnappings, hunger and economic collapse

3/19 Boko Haram

Nitsch Eberhard Robert, a German citizen abducted and held hostage by suspected Boko Haram militants, is seen as he arrives at the Yaounde Nsimalen International airport after his release in Yaounde, Cameroon on 21 January 2015

4/19 Boko Haram

Officials of the Nigerian National Emergency Management Agency (NEMA) visit victims of a bomb blast in Gombe at the Specialist Hospital in Gombe. According to local reports at least six people were killed and 11 wounded after a bomb blast in a marketplace in Nigeria's northeastern state of Gombe on 16 January 2015. Islamist militant group Boko Haram has been blamed for a string of recent attacks in the North East of Nigeria

5/19 Boko Haram

People gather at the site of a bomb explosion in a area know to be targeted by the militant group Boko Haram in Kano on 28 November 2014

6/19 Boko Haram

People gather to look at a burnt vehicle following a bomb explosion that rocked the busiest roundabout near the crowded Market in Maiduguri, Borno State on 1 July 2014. A truck exploded in a huge fireball killing at least 15 people in the northeast Nigerian city of Maiduguri, the city repeatedly hit by Boko Haram Islamists

7/19 Boko Haram

President Goodluck Jonathan visits Nigerian Army soldiers fighting Boko Haram

Getty Images

8/19 Boko Haram

Displaced people from Baga listen to Goodluck Jonathan after the Boko Haram killings

AFP/Getty

9/19 Boko Haram

Nigeria's President Goodluck Jonathan speaking to troops during a visit to Maiduguri, the capital of Borno State; most of the region has been overrun by Boko Haram

AFP/Getty

10/19 Boko Haram

Members of the Nigerian military patrolling in Maiduguri, North East Nigeria, close to the scene of attacks by Boko Haram

EPA

11/19 Boko Haram

Boko Haram's leader, Abubakar Shekau, appears in a video in which he warns Cameroon it faces the same fate as Nigeria

AFP

12/19 Boko Haram

South Africans protest in solidarity against the abduction of hundreds of schoolgirls in Nigeria by the Muslim extremist group Boko Haram and what protesters said was the failure of the Nigerian government and international community to rescue them, during a march to the Nigerian Consulate in Johannesburg

13/19 Boko Haram

Boko Haram militants have seized the town in north-eastern Nigeria that nearly 300 schoolgirls were kidnapped from in April 2014

AFP

14/19 Boko Haram

A soldier stands guard in front of burnt buses after an attack in Abuja. Twin blasts at a bus station packed with morning commuters on the outskirts of Nigeria's capital killed dozens of people, in what appeared to be the latest attack by Boko Haram Islamists, April 2014

15/19 Boko Haram

The aftermath of the attack, when Boko Haram fighters in trucks painted in military colours killed 51 people in Konduga in February 2014

AFP/Getty Images

16/19 Boko Haram

The leader of Boko Haram, Abubakar Shekau (with papers) in a video grab taken in July 2014

AFP/Getty

17/19 Boko Haram

Ruins of burnt out houses in the north-eastern settlement of Baga, pictured after Boko Haram attacks in 2013

AP

18/19 Boko Haram

A Boko Haram attack in Nigeria, 2013

AFP/Getty Images

19/19 Boko Haram

Abubakar Shekau, Boko Haram's leader

AP
Adamu Kamale, the Adamawa state legislator, has called for military help to protect the six villages under attack in Michika, where he claims there has been no protection.
"The attacks have continued since Friday with no presence of security operatives," he said.
Maiduguri is the capital of the Borno state and home to thousands who have fled the violence in other towns. The city would have been a major asset to the insurgents should they have succeeded in their mission.
The multiple attacks come as US secretary of state John Kerry visited Lagos, Nigeria's commercial capital nearly 1,000 miles southwest of Maiduguri, to encourage peaceful elections in the upcoming 14 February vote.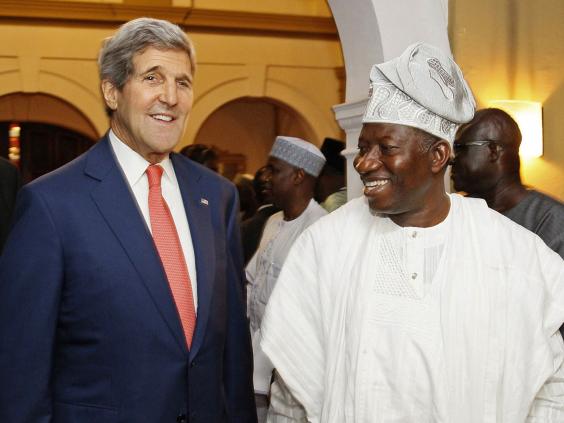 "This will be the largest democratic election on the continent," Kerry said. "Given the stakes, it's absolutely critical that these elections be conducted peacefully – that they are credible, transparent and accountable.
Kerry, who met with president Goodluck Jonathan, and with the running rival, the former military dictator Muhammadu Buhari, said he had won pledges from both candidates to refrain from violence after the election.
He promised that the US would boost its support for Nigeria's fight against Boko Haram if the elections take place peacefully and democratically, and warned that anyone found to be inciting post-election mayhem would be barred from entering America, where millions of Nigerians live.
Additional reporting by AP
Reuse content