In their forward base in the town of Gambaru on the border between Nigeria and Cameroon, Chadian soldiers displayed dozens of guns seized from Boko Haram and a burnt-out armoured vehicle painted with black and white Arabic script.
They had recently overrun a Boko Haram camp just inside northern Nigeria, and the battle-hardened soldiers were keen to press home their advantage against the fanatical Islamist group that is attempting to establish its own savage emirate in this part of Africa.
But the order came from on high that instead of pushing deep into Boko Haram territory, they must withdraw again. "We turned back because Nigeria did not authorise us to go any further," army spokesman Colonel Azem Bermandoa said.
For his soldiers fighting the group that is the common enemy of Nigeria, Chad and Cameroon, it was a frustratingly familiar scenario. Last month Chadian forces fought their way into the Nigerian town of Dikwa, only to be told to leave by Nigeria's military, which said it was planning air strikes, according to Gen Bermondoa.
Having defeated al-Qaeda in neighbouring Mali two years ago, Chad's military believes it could finish off Boko Haram alone after notching up victories that have pushed the Nigerian group back from the Cameroonian border.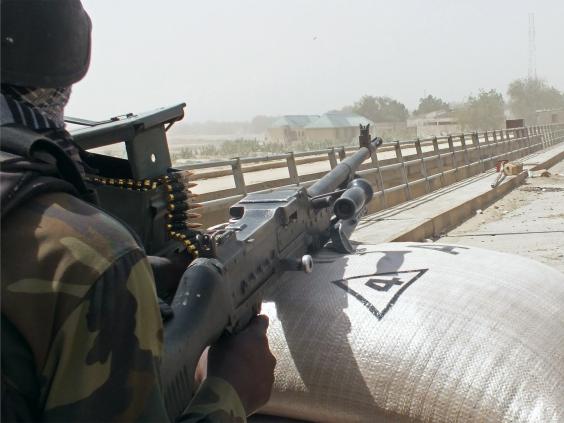 But with presidential elections due this month – already postponed once because of Boko Haram threats to  security – Nigeria is keen to press ahead with its own military campaign against the group, aiming to push it out of major towns before the March 28 ballot.
In an oil-rich country proud to be a major African power, it would be an embarrassment to President Goodluck Jonathan for a smaller nation to tackle Nigeria's security problems, diplomats say.
As a result, an opportunity to defeat the group that is responsible for slaughtering thousands of Nigerians – and kidnapping or terrorising many more – is in danger of being missed.
Nigeria's spokesman for operations in the area, Mike Omeri, said cooperation between Chadian and  Nigerian forces had brought some major military successes and any issues would be resolved via existing command structures.
The rise of Boko Haram
The rise of Boko Haram
1/19 Boko Haram

The leader of the Islamist extremist group Boko Haram Abubakar Shekau delivers a message. Boko Haram has claimed responsibility for the mass killings in the north-east Nigerian town of Baga in a video where he warned the massacre "was just the tip of the iceberg". As many as 2,000 civilians were killed and 3,700 homes and business were destroyed in the 3 January 2015 attack on the town near Nigeria's border with Cameroon

AFP

2/19 Boko Haram

People displaced as a result of Boko Haram attacks in the northeast region of Nigeria, are seen near their tents at a faith-based camp for internally displaced people (IDP) in Yola, Adamawa State. Boko Haram says it is building an Islamic state that will revive the glory days of northern Nigeria's medieval Muslim empires, but for those in its territory life is a litany of killings, kidnappings, hunger and economic collapse

3/19 Boko Haram

Nitsch Eberhard Robert, a German citizen abducted and held hostage by suspected Boko Haram militants, is seen as he arrives at the Yaounde Nsimalen International airport after his release in Yaounde, Cameroon on 21 January 2015

4/19 Boko Haram

Officials of the Nigerian National Emergency Management Agency (NEMA) visit victims of a bomb blast in Gombe at the Specialist Hospital in Gombe. According to local reports at least six people were killed and 11 wounded after a bomb blast in a marketplace in Nigeria's northeastern state of Gombe on 16 January 2015. Islamist militant group Boko Haram has been blamed for a string of recent attacks in the North East of Nigeria

5/19 Boko Haram

People gather at the site of a bomb explosion in a area know to be targeted by the militant group Boko Haram in Kano on 28 November 2014

6/19 Boko Haram

People gather to look at a burnt vehicle following a bomb explosion that rocked the busiest roundabout near the crowded Market in Maiduguri, Borno State on 1 July 2014. A truck exploded in a huge fireball killing at least 15 people in the northeast Nigerian city of Maiduguri, the city repeatedly hit by Boko Haram Islamists

7/19 Boko Haram

President Goodluck Jonathan visits Nigerian Army soldiers fighting Boko Haram

Getty Images

8/19 Boko Haram

Displaced people from Baga listen to Goodluck Jonathan after the Boko Haram killings

AFP/Getty

9/19 Boko Haram

Nigeria's President Goodluck Jonathan speaking to troops during a visit to Maiduguri, the capital of Borno State; most of the region has been overrun by Boko Haram

AFP/Getty

10/19 Boko Haram

Members of the Nigerian military patrolling in Maiduguri, North East Nigeria, close to the scene of attacks by Boko Haram

EPA

11/19 Boko Haram

Boko Haram's leader, Abubakar Shekau, appears in a video in which he warns Cameroon it faces the same fate as Nigeria

AFP

12/19 Boko Haram

South Africans protest in solidarity against the abduction of hundreds of schoolgirls in Nigeria by the Muslim extremist group Boko Haram and what protesters said was the failure of the Nigerian government and international community to rescue them, during a march to the Nigerian Consulate in Johannesburg

13/19 Boko Haram

Boko Haram militants have seized the town in north-eastern Nigeria that nearly 300 schoolgirls were kidnapped from in April 2014

AFP

14/19 Boko Haram

A soldier stands guard in front of burnt buses after an attack in Abuja. Twin blasts at a bus station packed with morning commuters on the outskirts of Nigeria's capital killed dozens of people, in what appeared to be the latest attack by Boko Haram Islamists, April 2014

15/19 Boko Haram

The aftermath of the attack, when Boko Haram fighters in trucks painted in military colours killed 51 people in Konduga in February 2014

AFP/Getty Images

16/19 Boko Haram

The leader of Boko Haram, Abubakar Shekau (with papers) in a video grab taken in July 2014

AFP/Getty

17/19 Boko Haram

Ruins of burnt out houses in the north-eastern settlement of Baga, pictured after Boko Haram attacks in 2013

AP

18/19 Boko Haram

A Boko Haram attack in Nigeria, 2013

AFP/Getty Images

19/19 Boko Haram

Abubakar Shekau, Boko Haram's leader

AP
But the Chadians say there have been no joint operations between the two forces. Chad's offer to join a Nigerian offensive to capture Baga, site of one of Boko Haram's worst atrocities in January, was rebuffed, Gen Bermandoa said. Officials from Chad, Niger and Cameroon say lack of cooperation from Nigeria has for months hampered efforts to put together a regional taskforce against Boko Haram.
Chad was compelled to take unilateral action in January, under a deal that allows it to pursue terrorists into Nigeria, but apparently not to remain there, after Boko Haram violence started to choke off imports to its economy.
Now with Niger and Cameroon also deploying thousands of troops on their borders to block escape routes for Boko Haram, there is a chance to turn the tide against the group, driving it from the remaining towns it holds, even if it remains a potent rural guerrilla force.
Niger, Cameroon and Chad say Nigeria neglected the uprising in its economically backward northeast, an opposition stronghold. Borno state is home to two percent of Nigeria's 170 million people.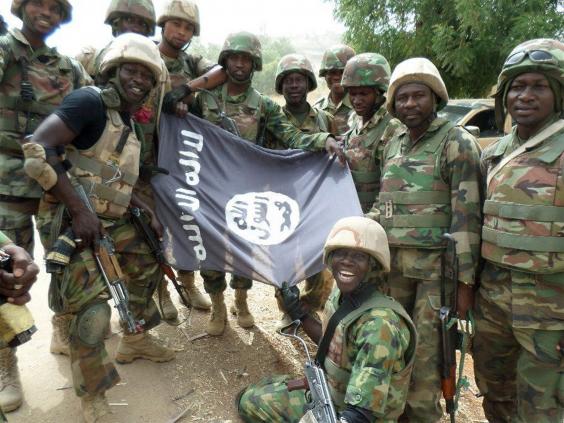 But Muhammadu Buhari, a former military ruler who is running as the presidential candidate for the opposition All Progressives Congress (APC), has gained popularity with voters desperate for tough policies both on corruption and Boko Haram.
Ernst Hogendoorn, Crisis Group's Africa deputy programme director, said the government appeared to have engineered the delay in the hope the opposition party would slip up, or that the  military could boost President Jonathan's chances of re-election by defeating the  Islamist group.
"Boko Haram has certainly suffered a strategic setback... clearly this improves  Goodluck Jonathan's chances somewhat," said Mr  Hogendoorn. At least, though, their military efforts seem to be safeguarding the neighbouring countries from Boko Haram's spread.
Cameroon has stepped up its activities since July, when Boko Haram attacked Kolotafa, the hometown of its deputy prime minister, killing dozens and kidnapping his wife. The government has boosted its security forces in northern Cameroon from 700 to around 7,000. "We have to do whatever it takes to make sure the sect does not occupy any town in Cameroon," said Colonel Joseph Nouma, in charge of Operation Alpha, the mission against Boko Haram.
Another senior Cameroon military figure said they were attempting to choke off Boko Haram's revenues, including the trade in fuel with Cameroon, Chad and Niger.
"All of this looks to be  paying off," the officer said, with no incursions since mid-February.
Reuters