Suspected Boko Haram Islamists have kidnapped eight more girls from a remote village in north-eastern Nigeria just three weeks after snatching nearly 300 schoolgirls who the militant group's leader has warned face being sold into slavery.
The latest attack, news of which took a couple of days to emerge, comes as the Nigerian government faces growing criticism for its failure to find the schoolgirls and curb the activities of the group that has claimed thousands of lives in its five-year insurgency.
Residents in Warabe in Borno State said that armed militias in two camouflaged vehicles swooped on the village on Sunday night, taking girls and torching homes. "They moved door to door looking for girls," said Abdullahi Sani, a resident. "They forcefully took away eight girls between the ages of 12 and 15."
Parents of the newly abducted girls will be painfully aware of their potential fate after Boko Haram leader Abubakar Shekau's chilling threat to sell schoolgirls taken from Chibok village, also in Borno, in the early hours of 15 April as slaves in the market.
The girls, who were at the boarding school to take their final exams, were aged between 16 and 18. The extremist leader's comments in a video released on Monday confirmed the worst fears of the girls' relatives amid unconfirmed local reports that some of the girls had already been sold as "brides" in neighbouring Chad and Cameroon for 2,000 naira (£8).

Boko Haram, whose name loosely translates as "Western education is forbidden", has waged war against the state since 2009 in a bid to establish a medieval-style caliphate in the north of the country. It has railed against the use of Western-style curricula in schools, and efforts to reconcile the Christian south with the Muslim north.
But in these latest attacks, Nigerians have transcended the ethnic divide to unite in their anger towards Boko Haram, but also in their condemnation of the government, which is accused of doing little to trace the missing girls.
Read more:
Nigerians have taken to the streets to protest in almost all major cities, urging President Goodluck Jonathan to act quickly to find the girls, and the hashtag #bringbackourgirls has been trending on Twitter, with more than a million tweets so far using the tag to publicise the attacks to the outside world.
Mr Jonathan publicly addressed the abductions for the first time at the weekend, fuelling criticism that only domestic and international pressure is forcing him to act.
International reaction to Boko Haram's acts was initially muted, but the spectre of girls being sold into slavery has focused attention on their plight, prompting the US, the UK and others to offer help to the Nigerian government.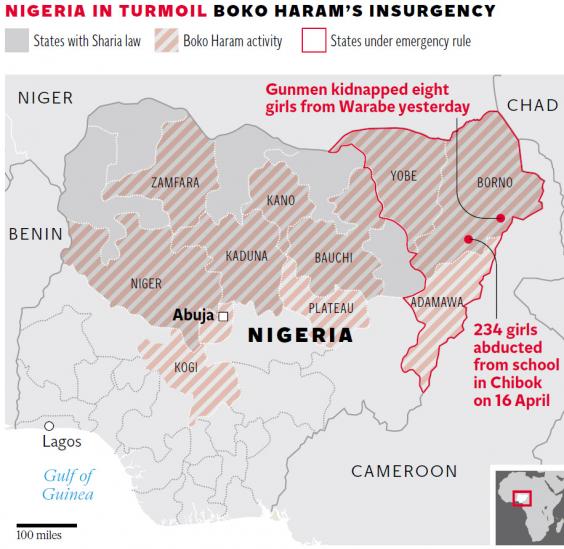 Washington has offered "a coordination cell" that would include military personnel and law enforcement officials with experience in hostage negotiations.
In the hours after the girls' disappearance - around 230 are said to remain hostage after some 50 girls escaped in the initial confusion, although some put the number as much higher - desperate parents entered the vast Sambisi forest reserve, where Boko Haram has several strongholds, to search for their daughters.
Efforts to enlist the Nigerian military in the search were inexplicably rebuffed, and the parents eventually had to return home after locals familiar with the area warned them that the militants were too well-armed.
Time has not been on the girls' side. In the three weeks since their abduction, it is thought the girls have been separated into small groups, with some whisked across the border, making them and the insurgents holding them increasingly difficult to track.
Some in Borno have accused the President, who comes from Nigeria's mainly Christian south, of being indifferent to the plight of the predominantly Muslim north. The insurgency has claimed 1,500 lives this year alone, including 59 boys massacred in their school in February.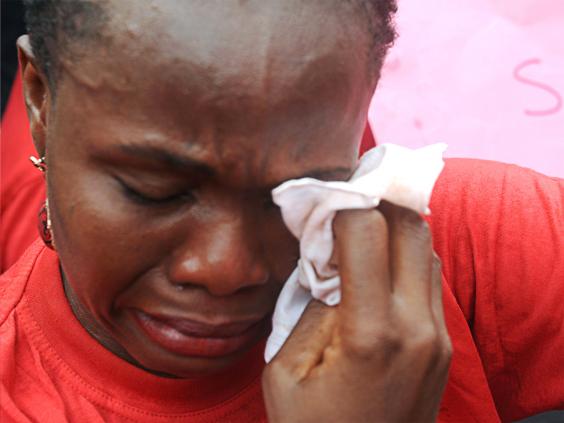 But the military is also woefully ill-equipped to tackle Boko Haram, which is well-funded with sophisticated weaponry. The Nigerian army has inferior arms, and soldiers have complained of basic shortages, claiming that they barely receive a meal a day. They will also be wary of the militants' known tactics of using hostages to lure soldiers into deadly ambushes, a tactic that has gradually eroded morale over the past year.
Boko Haram's graduation into the abduction business has in part been a response to the Nigerian military's earlier decision to take relatives of Boko Haram members as hostages to put pressure on the group.
Analysts warn that the only way to bring the insurgency down is by enlisting the help of the outside world, relying less on the country's heavy-handed military, which is credited with abuses of power and summary executions that have stoked the violence, and replacing them with internationally trained police and security forces.
Kidnapped from school: The named girls
1. Deborah Abge
2. Awa Abge
3. Hauwa Yirma
4. Asabe Manu
5. Mwa Malam pogu
6. Patiant Dzakwa
7. Saraya Mal. Stover
8. Mary Dauda
9. Gloria Mainta
10. Hanatu Ishaku
11. Gloria Dama
12. Tabitha Pogu
13. Maifa Dama
14. Ruth Kollo
15. Esther Usman
16. Awa James
17. Anthonia Yahonna
18. Kume Mutah
19. Aisha Ezekial
20. Nguba Buba
21. Kwanta Simon
22. Kummai Aboku
23. Esther Markus
24. Hana Stephen
25. Rifkatu Amos
26. Rebecca Mallum
27. Blessing Abana
28. Ladi Wadai
29. Tabitha Hyelampa
30. Ruth Ngladar
31. Safiya Abdu
32. Na'omi Yahonna
33. Solomi Titus
34. Rhoda John
35. Rebecca Kabu
36. Christy Yahi
37. Rebecca Luka
38. Laraba John
39. Saratu Markus
40. Mary Usman
41. Debora Yahonna
42.Naomi Zakaria
43. Hanatu Musa
44. Hauwa Tella
45. Juliana Yakubu
46. Suzana Yakubu
47. Saraya Paul
48. Jummai Paul
49. Mary Sule
50. Jummai John
51. Yanke Shittima
52. Muli Waligam
53. Fatima Tabji
54. Eli Joseph
55. Saratu Emmanuel
56. Deborah Peter
57. Rahila Bitrus
58. Luggwa Sanda
59. Kauna Lalai
60. Lydia Emmar
61. Laraba Maman
62. Hauwa Isuwa.
63. Confort Habila
64. Hauwa Abdu
65. Hauwa Balti
66. Yana Joshua
67. Laraba Paul
68. Saraya Amos
69. Glory Yaga
70. Na'omi Bitrus
71. Godiya Bitrus
72. Awa Bitrus
73. Na'omi Luka
74. Maryamu Lawan
75. Tabitha Silas
76. Mary Yahona
77. Ladi Joel
78. Rejoice Sanki
79. Luggwa Samuel
80. Comfort Amos
81. Saraya Samuel
82. Sicker Abdul
83. Talata Daniel
84. Rejoice Musa
85. Deborah Abari
86. Salomi Pogu
87. Mary Amor
88. Ruth Joshua
89. Esther John
90. Esther Ayuba
91. Maryamu Yakubu
91. Zara Ishaku
93. Maryamu Wavi
94. Lydia Habila
95. Laraba Yahonna
96. Na'omi Bitrus
97.Rahila Yahanna
98. Ruth Lawan
99. Ladi Paul
100 Mary Paul
101. Esther Joshua
102. Helen Musa
103. Margret Watsai
104. Deborah Jafaru
105. Filo Dauda
106. Febi Haruna
107. Ruth Ishaku
108. Racheal Nkeki
109. Rifkatu Soloman
110. Mairama Yahaya
111. Saratu Dauda
112. Jinkai Yama
113. Margret Shettima
114. Yana Yidau
115. Grace Paul
116. Amina Ali
117. Palmata Musa
118. Awagana Musa
119. Pindar Nuhu
120. Yana Pogu
121. Saraya Musa
122. Hauwa Joseph
123. Hauwa Kwakwi
125. Hauwa Musa
126. Maryamu Musa
127. Maimuna Usman
128. Rebeca Joseph
129. Liyatu Habitu
130. Rifka tu Yakubu
131. Naomi Philimon
132.Deborah Abbas
133. Ladi Ibrahim
134. Asabe Ali
135. Maryamu Bulama
136. Ruth Amos
137. Mary Ali
138. Abigail Bukar
139. Deborah Amos
140. Saraya Yanga
141. Kauna Luka
142. Christiana Bitrus
143.Yana Bukar
144. Hauwa Peter
145. Hadiza Yakubu
146. Lydia Simon
147. Ruth Bitrus
148. Mary Yakubu
149. Lugwa Mutah
150. Muwa Daniel
151. Hanatu Nuhu
152. Monica Enoch
153. Margret Yama
154. Docas Yakubu
155. Rhoda Peter
156. Rifkatu Galang
157. Saratu Ayuba.
158. Naomi Adamu
159. Hauwa Ishaya
160. Rahap Ibrahim
162. Deborah Soloman
163. Hauwa Mutah
164. Hauwa Takai
165. Serah Samuel
166. Aishatu Musa
167. Aishatu Grema
168. Hauwa Nkeki
169. Hamsatu  Abubakar
170. Mairama  Abubakar
171. Hauwa Wule
172. Ihyi Abdu
173. Hasana Adamu
174. Rakiya Kwamtah
175. Halima Gamba
176. Aisha Lawan
177. Kabu Malla
178. Yayi Abana
179. Falta Lawan
180. Kwadugu Manu
Reuse content