Walter Palmer, the American dentist accused of killing Cecil the lion in Zimbabwe, has emerged from hiding more than a month and a half after he shot the animal dead with a bow and arrow.
Zimbabwean conservationists say that Cecil was lured out of the sanctuary of Hwange National Park with bait before he was shot by Dr Palmer, who has not been seen in public since he was named as the killer on 28 July.
Pictured for the first time since the hunt, the Telegraph reported that Dr Palmer was now back in his Minnesota home town.
Exclusive: #CecilTheLion's killer Walter Palmer pictured for first time since Zimbabwe hunt http://t.co/daAkrKhcus pic.twitter.com/Cu09IlyzRS

— Telegraph World News (@TelegraphWorld) August 17, 2015
The dentist is reported to have paid £35,000 to shoot Cecil, who was carrying a radio collar as part of an Oxford University study. His guide and the owner of the land where Cecil was shot have since appeared in Zimbabwean court.
Officials in Zimbabwe have said that luring Cecil out of the national park made both the hunter and land-owner liable for prosecution.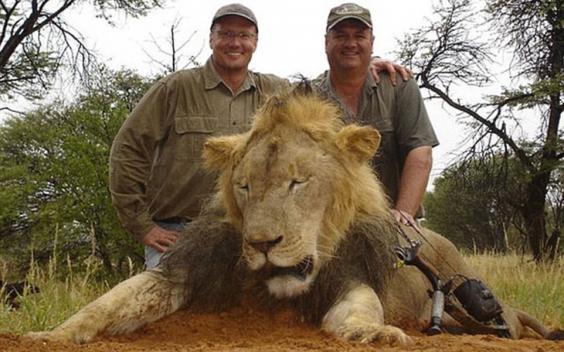 But Dr Palmer is highly unlikely to face extradition for the killing, which he has insisted he thought was part of a legal hunt.