These are the jubilant scenes as 21 of the Chibok schoolgirls were reunited with their parents, two and a half years after they were kidnapped by the Boko Haram militant group.
The girls were released on Thursday, in the first successful breakthrough for negotiations between the Nigerian government and the jihadist extremists that have been going on for months.
The delay in arranging for them to meet their families came because the government flew them out of the remote north-east to the capital, Abuja, for what some parents described as a press stunt. Most members of the girls' families arrived on Sunday after long drives from Chibok to Abuja over potholed roads, slowed further by military checkpoints amid a constant threat of militant attack.
But their frustrations were momentarily forgotten when the parents embraced the girls for the first time since the April 2014 raid on a secondary school in Borno state and mass abduction that shocked the world.
One mother told reporters gathered to witness the scenes: "I never expected I will see my daughter again and I pray that those girls still left behind, that God will bring them out safely the way our own daughter came out alive."
Some conflicting reports remain over the exact circumstances of the girls' release. Publicly, the Nigerian authorities have denied any Boko Haram fighters were set free as part of the deal.
But two military officers speaking to the Associated Press, and a security source quoted by the BBC, have said the girls were exchanged for four detained Boko Haram commanders.
A Nigerian who negotiated previous failed attempts said a "handsome ransom", some millions of dollars, was paid by the Swiss government on behalf of Nigerian authorities.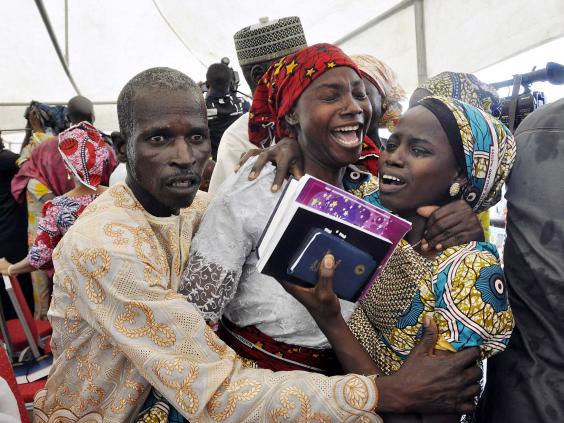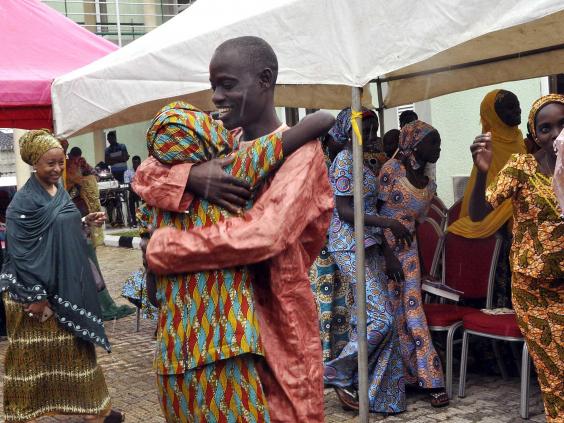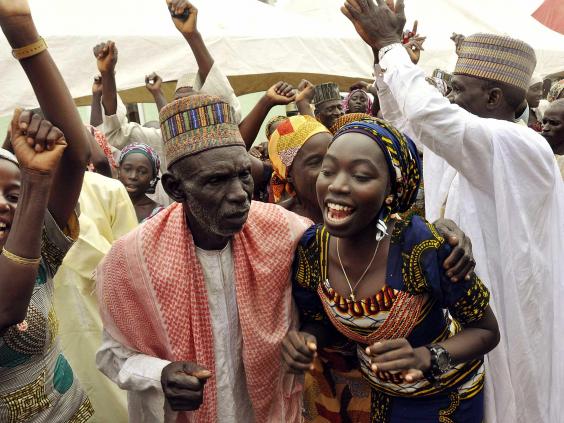 There are inconsistencies too in Nigeria's reports of which faction of Boko Haram released the girls.
Last year, the group renamed itself Islamic State's West Africa Province (Iswap), but in August it suffered a major split, with Isis naming Musab al-Barnawi its new leader in the region.
Some fighters remain loyal to the former leader, Abubakar Shekau, and his faction released a video showing some 50 of the girls - leading to the assumption that all the girls were under his control.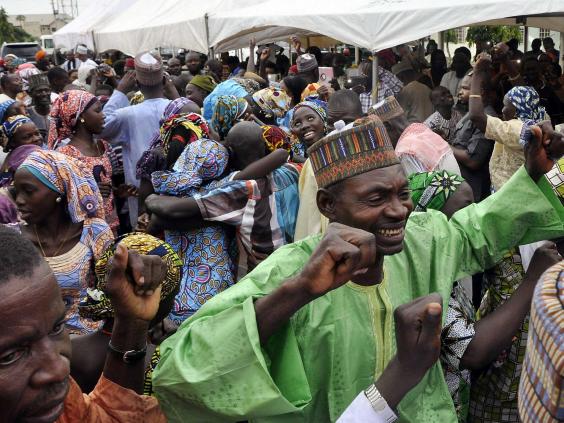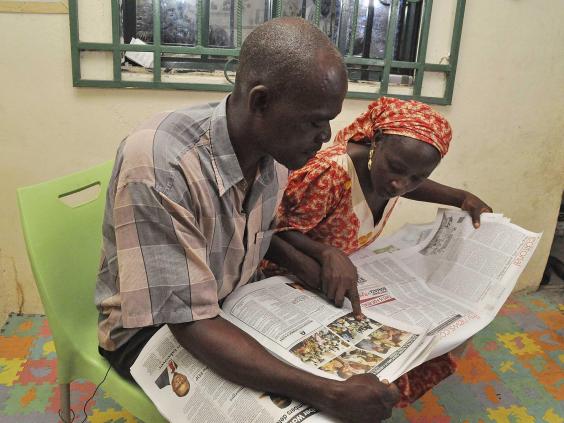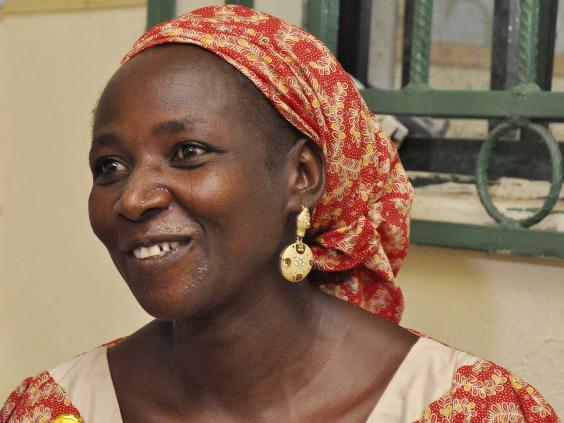 But speaking to the Reuters news agency, president's spokesman Garba Shehu said the 21 had in fact come from Iswap, and that the Isis-affiliated splinter group in fact held another 83 Chibok girls.
"The faction said it is ready to negotiate if the government is willing to sit down with them," Mr Shehu said.
Iswap said it was unable to negotiate the release of the rest of the girls, thought to number 114, because they are being held by the Shekau faction.
On the one hand, the news offers hope for the remaining 83 girls. Despite its affiliation to the bloody Isis regime in Syria and Iraq, Iswap has proven itself a more willing negotiator and has played down the importance of attacks on civilian targets in its rhetoric under al-Barnawi.
It is a concerning development for families of the other 114, however. Talks with the Shekau faction are understood to have repeatedly broken down, while his reign over the insurgency has corresponded with a particularly brutal spell in its history.
The 21 girls are getting medical attention and trauma counselling in a hospital, said Tsambido Abana, the Chibok community leader in Abuja. Some are emaciated from hunger, he said.
Nigeria's Information Minister, Lai Mohammed, said Thursday's release was "the first step" for the liberation of all the remaining girls.
"Already we are on phase two and we are already in discussions," he told journalists on Sunday.
"But of course you know these are very delicate negotiations, there are some promises we made also about the confidentiality of the entire exercise and we intend to keep them."
Beyond Chibok: Report shows alarming trends in countries affected by Boko Haram
Beyond Chibok: Report shows alarming trends in countries affected by Boko Haram
1/16

Fifteen year old Nigerian refugee Fati, hugs her mother Mariam while carrying her sister, at the Minawao refugee camp in Northern Cameroon

UNICEF

2/16

Fifteen year old Nigerian refugee Fati, carry her eight month old sister, who she last seen when she was 3 months old, at the Minawao refugee camp in Northern Cameroon. She was abducted by Boko Haram and spend four months in captivity. She was given to a man and forced to be his wife. She was eventually freed by Cameroonian soldiers and have been reunited with her family in a refugee camp in Cameroon

UNICEF

3/16

Nigerian refugee's at the Minawao refugee camp in Northern Cameroon. The conflict in North-East Nigeria prompted by Boko Haram has led to widespread displacement, violations of international humanitarian and human rights law, protection risks and a severe humanitarian crisis. This is one of the fastest growing displacement crisis in Africa – one of the world's most forgotten emergencies, with little attention from the donor community

UNICEF

4/16

Nigerian refugee children at the Minawao refugee camp in Northern Cameroon

UNICEF

5/16

Nigerian refugees line up to receive food aid at the Minawao refugee camp in Northern Cameroon

UNICEF

6/16

Didja Damna (26) with her daughter, 17 month old Ngarvounsia, as she gets treatment at the Maroua hospital in Northern Cameroon

UNICEF

7/16

Didja Damna (26) with her daughter , 17 month old Ngarvounsia, as she gets treatment at the Maroua hospital in Northern Cameroon. Didja have four other children and had her first child when she was sixteen. Ngarvounsia lost weight and have been treated for three day's in hospital and is recovering

UNICEF

8/16

Fadi ,the wife of internally displaced Alagi Dubji feed her daughter, Ina Petal( 13 months) a peanut butter supplement, at their home in Maroua in Northern Cameroon. Ina received treatment for malnourishment and is doing well after she was discharged from the hospital. Alagi and his family had to flee from his village near Maroua after Boko Haram fighters burned down his house.Alagi had 40 children with 26 still alive

UNICEF

9/16

A malnourished girl gets treatment at the Maroua hospital in Northern Cameroon

UNICEF

10/16

More than 135 displacement sites have been noted along the border with Nigeria

UNICEF

11/16

Temporary schools in the refugee camp of Kabelewa, counts eight classrooms for 549 pupils. Out of those 549 children, only 12 had already been to school before

UNICEF

12/16

As the river continues to dry up in April and May, we expect to see an increase in violence in the Diffa region. Both refugees and internally displaced people are affected by the insecurity, fleeing attacks and also fleeing to safer locations ahead of attacks. Generally noticed is a movement from locations near the border towards the inland area along the main road where spontaneous new sites are being created and host villages' population increasing

UNICEF

13/16

Forced displacement in the region of Diffa is becoming regular and is linked to the volatile security situation in the region. Diffa, the Niger's poorest region, has been affected by the consequences of the increased acts of violence in Nigeria, conducted by the armed group Boko Haram, increasingly expanding and targeting the civilian population in Niger - and Diffa region in particular. With water levels starting to fall, the Nigeria-based armed group is seizing the opportunity to cross over the Komadougou River, into Niger from Nigeria

UNICEF

14/16

Fatima Abubakar, 13, in Dar Es Salam refugee camp, Lake region of Chad. Fatima lost five family members during the attack of her small village in Nigeria, in the shores of the lake Chad. She now lives in Dar Es Salam refugee camp, in Chad, with her father, mother and 3 siblings, "The table was all set and we were just about to have our breakfast together when the gunshots started outside. We immediately left in panic. I escaped with my mother. We left in two pirogues. My mother's pirogue had a whole and they put a cloth to stop the water from entering. But they had to come back to shore. I thought I would be forever alone and that my parents were dead. I cried for days. When I met them both days later in Ngouboua (an island in Chad) I couldn't be happier. I sometimes think about our table, where the breakfast was served, and how the house would be now"

UNICEF

15/16

Hafsa Mohammed sews in the UNICEF-supported child friendly space in Dar Es Salam refugee camp, Lake region of Chad. Every child's future starts with a dream and Hafsa Mohammed, 16, has a very clear idea of what she wants to become. She wants to be a successful businesswoman and own a notions store. She now lives in Daresalam refugee camp, Lake region of Chad. "I have started again to sew. I used to do it back in Nigeria. My parents encouraged me to do it. It will be useful for me to start my own business and I would be happy to teach others as well," explains Hafsa

UNICEF

16/16

Salta Bintou Hassan is 11. She lost her arm after an suicide attack on Bagasola market in October 2015. After spending two months in the hospital of N'Djamena, she is back with her family. Yet, her life will never be the same

UNICEF
Muta Abana, the father of one of the released girls, has been living in Nasarawa state near Abuja. He said the girls' abduction has been politicised, complaining that "people's children aren't money, people's children are not clothes you wear to campaign, people's children are their pride".
And he expressed anxiety as many of the girls were reportedly forced to marry Boko Haram fighters. The Independent has previously reported on the stigma faced by former captives of the militant group, and particularly children fathered by its fighters.
"Some of them came back with babies, but think about it: are we going to kill the children?" Mr Abana said.
"We won't be able to kill the children because it would be as if we don't want the girls to come back. God knows why it happened. It's God's will."
Reuse content