The UK has become the ninth country to diagnose a case of Ebola on its soil, a year after the outbreak started in Guinea.
A health worker who tested positive for the virus in Glasgow has been transferred to a specialist unit at the Royal Free Hospital in London, and two more patients are being assessed in Cornwall and Aberdeen.
Ebola has killed more than 7,500 people – mostly in the worst-affected countries of Guinea, Liberia and Sierra Leone – and continues to spread.
The World Health Organisation (WHO) has recorded 19,500 cases and puts the death rate at 70 per cent.
Local and international health organisations in West Africa are working with the Government and WHO to contain the outbreak, bury victims safely and prevent the disease entering areas that have not yet been hit.
See the Ebola outbreak mapped

See the Ebola outbreak mapped

1/7 25 March 2014

This outbreak of the Ebola virus first emerged in the Guéckédou region of Guinea, at a crossroads with both Liberia and Sierra Leone

2/7 31 March

On 31 March the WHO confirmed the outbreak was now international, spreading first into Liberia's northern-most Lofa region

3/7 27 May

The virus spread to Sierra Leone at the end of May - just as agencies were hoping the worst was over

4/7 27 July

In Sierra Leone the virus boomed, and then it spread to Nigeria when the Liberian diplomat Patrick Sawyer flew from Monrovia to Lagos

5/7 9 August

The Nigeria cases sparked fears around the world, and there have now been deaths in Spain and Saudi Arabia involving people who had travelled to West Africa. The numbers of cases continue to rise

6/7 17-20 September

In mid-September, Senegal confirmed its first case linked to the Ebola outbreak, a development the WHO described as a top priority emergency. Numbers of cases continued to grow exponentially in Guinea, Sierra Leone and Liberia, as experts warned they could number one million by January if not contained

7/7 8 October

Two cases of Ebola have now been reported in the US and Europe - the first times the virus has been contracted among health workers outside Africa

 
Guinea
2,597 cases, 1,607 deaths
24 reported cases and 15 reported deaths per 100,000 population
The first patient to be infected at the start of the current global Ebola outbreak was a two-year-old toddler from Guinea named Emile Ouamouno.
The child from a village in Guéckédou died in December, followed by his sister and mother, but the spreading virus did not come to WHO's attention until March.
Transmission in the country is still "intense", especially in the capital city Conakry and south-eastern district of Kissidougou.

Liberia
7,862 cases, 3,384 deaths
199 cases and 85 deaths per 100,000 population
Ebola had crossed the Guinean border into Liberia by the end of March and the spread continues, although the rate is declining countrywide.
The district of Montserrado, including the capital Monrovia, is most infected and the disease is making a comeback near the border with the Côte d'Ivoire border, where the first cases for two months have been reported.

Sierra Leone
9,004 cases, 2,582 deaths
157 cases and 45 deaths per 100,000 population
Ebola was first confirmed in Sierra Leone in May and transmission remains intense, with 315 confirmed cases reported in the week up to 21 December.
Western and northern districts are currently worst affected and the capital, Freetown, accounts for a third of new Ebola patients – 115 in the last week.

Mali
Eight cases, six deaths
Authorities in Mali confirmed the death of the country's first Ebola patient, a two-year-old girl, on 25 October.
The girl had travelled hundreds of miles by bus from Guinea through Mali with symptoms. Her grandmother was trying to take her and her sister to safety from the virus.
That outbreak was contained but a second one started in November, when an elderly imam and a nurse who treated him died from Ebola.
The most recently diagnosed patient has tested negative twice and was discharged from hospital on 11 December. All contacts from both cases have not shown any symptoms, suggesting the spread may have been stopped.

Nigeria
20 cases, eight deaths
Nigeria had its first case of the disease in July, when a Liberian-American development consultant, Patrick Sawyer, collapsed in the arrivals hall of Lagos airport. 
By the time he was diagnosed with Ebola, he had exposed his 72 fellow plane passengers, the airport and hospital patients but thanks to health workers who refused to let him leave a clinic, the virus was contained.
Staff at the First Consultants Medical Centre paid a high price– 11 workers and their family members contracted Ebola and four died.
Nigeria's outbreak was declared officially over on 19 October, after twice the maximum incubation period for Ebola.

Senegal
One case, no deaths
Senegal reported its first case of Ebola on 29 August. A young man from Guinea had travelled to Senegal despite having been infected with the virus, officials said.
The outbreak was declared over 42 days after his death, on 17 October.
WHO commended the Government's response for quickly identifying 74 of the patient's close contacts and monitoring them for symptoms. The man later recovered.
"While the outbreak is now officially over, Senegal's geographical position makes the country vulnerable to additional imported cases of Ebola virus disease," a spokesperson said.

Spain
One case, no deaths
Teresa Romero, a Spanish nurse, was the first person to contract the virus outside West Africa.
She had been treating two missionaries infected in Liberia and Sierra Leone, who later died, alongside 30 staff at the Carlos II hospital in Madrid.
After weeks of treatment in isolation, she was discharged from hospital after testing negative twice, and the outbreak was declared over on 2 December.

USA
Four cases, one death
The first case of Ebola diagnosed on US soil was announced on 1 October.
Thomas Eric Duncan, 42, who contracted the virus in Liberia before travelling to the US, died a week later.
Two nurses who treated him in Dallas – Nina Pham and Amber Joy Vinson - tested positive for Ebola after his death but recovered.
Later in October, a doctor returning from Guinea to New York tested positive in the city. Dr Craig Spencer, who worked for Doctors Without Borders, afterwards pleaded for people to turn their attention to West Africa, where people did not have access to the care he did.
All contacts in the US have completed WHO's 21-day follow-up period.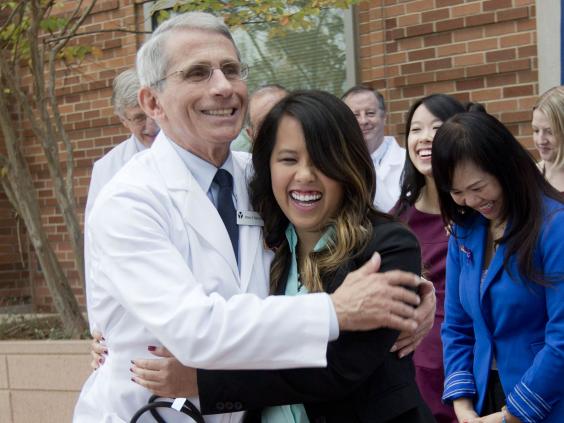 UK
One case, no deaths
An NHS worker diagnosed with Ebola in Glasgow on 29 December is being treated in a specialist unit at London's Royal Free Hospital.
She had been working in Sierra Leone with Save the Children. All people who may have had contact with her during the journey back to Britain are being traced.
Two more patients were being tested for the virus in Aberdeen and Cornwall on 30 December, although it was unclear whether they had contact with the first case.
British nurse William Pooley, who was treated at the Royal Free Hospital after contacting Ebola in Sierra Leone, is not counted in UK figures because he was diagnosed abroad.
Reuse content