Relatives of Ebola victims in Liberia are leaving bodies rotting in the streets because of fears about being quarantined, according to officials.
More than 280 people have so far died of the disease in the country, prompting the government to declare a state of emergency last week.
Tough new powers to crack down on Ebola include the decontamination of victims' homes, monitoring relatives and quarantine.
People have reportedly been seen dragging bodies into the streets rather than facing the emergency measures in the capital of Monrovia, which is still scared by the civil war that ended in 2003.
Soldiers were deployed to Lofa County on Monday to start isolating affected communities and authorities are cremating bodies after local communities opposed burials near homes because of infection fears.
With less than half of those infected surviving the disease, many Africans regard Ebola isolation wards as death traps.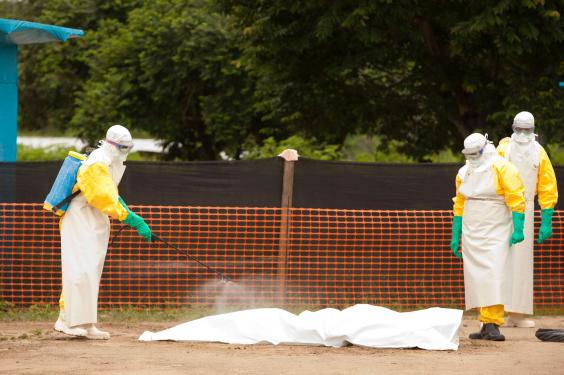 Liberia's Information Minister, Lewis Brown, said people were removing bodies of disease victims from their homes to avoid the crackdown, increasing the chances of it spreading further.
"They're exposing themselves to the risk of being contaminated," he told Reuters.
"We're asking people to please leave the bodies in their homes and we'll pick them up."
Although he hoped it "will not require excessive force", Mr Brown said authorities would do whatever they could to restrict the movement of people trying to flee infected areas.
Liberia is one of four countries affected by an outbreak of the deadly virus, which has so far killed 932 people in West Africa according to World Health Organisation (WHO) figures.
Ebola, which begins with flu-like symptoms and can lead to horrific external and internal bleeding, is deadly in the majority of cases and has no known cure.
As of 4 August, 1,711 cases of the disease have been confirmed, with 363 deaths in Guinea, 282 in Liberia, 286 in Sierra Leone and one – a nurse – in Nigeria.
Saudi Arabia has also announced one death of a person with Ebola-like symptoms.
The outbreak started in Guinea in March and is showing no sign of slowing, spreading fastest in Sierra Leone and Liberia.
The three countries announced a raft of measures last week to contain the disease, shutting schools and imposing quarantines on victims' homes, amid fears the incurable virus would overrun healthcare systems in one of the world's poorest regions.
A spokesman for WHO said the organisation was working with national health authorities on informing the public about dangers of handling dead bodies and training Red Cross teams to conduct safe burials.
Additional reporting by Reuters
Reuse content