Britain should help provide co-ordinated international military assistance to Nigeria to tackle the brutal forces of Boko Haram, a coalition of former government ministers and generals has urged. Today marks exactly six months since 276 schoolgirls were kidnapped by the Islamist extremists in northern Nigeria.
But despite an international campaign, no diplomatic or military progress has been made to secure their release – while Western attention has shifted to the problems of Islamic fundamentalism in Iraq and Syria. Kidnapping of young girls and women has also been carried out by Isis.
Now in a letter to The Independent, foreign affairs experts including former Foreign Secretary Sir Malcolm Rifkind MP and Lord Ashdown, former leader of the Liberal Democrats, say there is a compelling moral argument for international intervention against Boko Haram. "Boko Haram and Isis form a key part of a growing, well-organised international terror network that poses a direct threat to UK national security. They must be stopped."
In pictures: Nigeria kidnapped schoolgirls
In pictures: Nigeria kidnapped schoolgirls
1/19 Nigeria

A total of 276 girls were abducted from the northeastern town of Chibok, in Borno state, which has a sizeable Christian community. Some 223 are still missing

2/19 Nigeria

One of the kidnapped girls looks into a camera

3/19 Nigeria

One of the missing girls talking to the camera

4/19 Nigeria

The missing Nigerian schoolgirls, wearing the full-length hijab and praying in an undisclosed rural location. Boko Haram alleging they had converted them to Islam

5/19 Nigeria

Girls wearing the full-length hijab holding a flag reading "There is no god, but Allah" and "Mohammed is Allah's prophet"

6/19 Nigeria

A man claiming to be the leader of Nigerian Islamist extremist group Boko Haram Abubakar Shekau

7/19 Nigeria

Abubakar Shekau speaks on the video

8/19 Nigeria

Girls, wearing the full-length hijab and praying are filmed by an unidentified man (R) in an undisclosed rural location

9/19 Nigeria

People carry signs as they attend a protest demanding the release of abducted secondary school girls in the remote village of Chibok in Lagos

10/19 UK

A protester demonstrates against the kidnapping of school girls in Nigeria, outside the Nigerian Embassy in London

11/19 UK

Chief International Correspondent Christiane Amanpour and Prime Minister David Cameron appearing on the BBC1 current affairs programme

12/19 USA

People participate in a "Bring Back Our Girls" campaign demonstration and candlelight vigil in Los Angeles

13/19 USA

Girls holding heart shaped banners in a "Bring Back Our Girls" campaign demonstration and candlelight vigil in Los Angeles

14/19 South Africa

South Africans protest in solidarity against the abduction of hundreds of schoolgirls in Nigeria by the Muslim extremist group Boko Haram and what protesters said was the failure of the Nigerian government and international community to rescue them, during a march to the Nigerian Consulate in Johannesburg

15/19 USA

Karilyn Coates (10) joins others in a candlelight vigil for the more than 300 girls abducted by Boko Haram in Nigeria, at All Souls Unitarian Church in Colorado Springs

16/19 Nigeria

Mothers of the missing Chibok school girls abducted by Boko Haram Islamists gather to receive informations from officials. Nigeria's president said that Boko Haram's mass abduction of more than 200 schoolgirls would mark a turning point in the battle against the Islamists, as world powers joined the search to rescue the hostages

17/19 Nigeria

Former Nigerian Education Minister and Vice-President of the World Bank's Africa division (3rd L) Obiageli Ezekwesilieze speaks as she leads a march of Nigeria women and mothers of the kidnapped girls of Chibok, calling for their freedom in Abuja

18/19 Bring Back Our Girls

Kelly Hoppen tweeted: 'Please make sure you do this, we must stand together and not forget them'

19/19 Bring Back Our Girls

E.L. Rock Star tweeted: 'Join The Movement'
Other signatories include the former Labour Defence Secretary Bob Ainsworth, and two former Africa ministers.
They call for a coordinated Commonwealth-led military assistance programme for the Nigerian security forces in their campaign against Boko Haram, and increased international intelligence support and training for the Nigerian government and military.
Mark Simmonds, a signatory and former Africa Minister, said "there is more that needs to be done" to support Nigeria in the fight against Boko Haram. "We're not talking boots on the ground but we should be thinking about helping the Nigerian armed forces with training, procurement and with analysing intelligence."
The letter has been organised as part of a campaign by Nigerian business groups who feel international investment is being threatened by the instability in the country.
General Sir David Richards, formerly Chief of the Defence Staff and another signatory, said Western governments had taken their eye off the ball in Africa. "It is no good just dealing with Isis, we need a grand strategy that encompasses all these trouble spots," he said.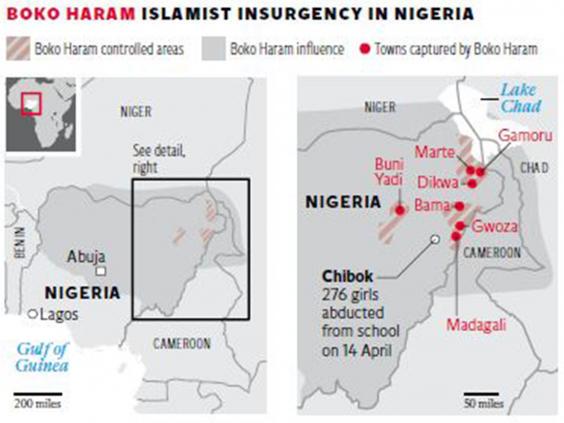 He added: "There is a lot that the British and other Western governments and militaries can do to train and sustain indigenous forces. But military means alone will not be sufficient. It will be part of a national or international grand strategy to deal with the problems."
Labour MP Chi Onwurah, who worked for two years in Nigeria and has a Nigerian father, said she believed it was "important to keep the kidnapping in the public eye". She said the Nobel peace award for Malala Yousafzai recognised the important contribution to peace of education for girls.
Despite the international outcry over the kidnapping of 276 female students at a secondary school in Chibok, Borno State, on 14 April, little progress has been made tracking down most of the girls.
On Sunday it was reported that four of the schoolgirls escaped by trekking through the jungle for three weeks. The captives said they had been raped every day.
There is no information on where the remaining hostages are being held and scepticism that the Nigerian armed forces can rescue them.
Meanwhile in Iraq an Isis propaganda magazine boasted that it had enslaved women from an Iraqi minority group to use them as concubines.
It said the Yazidi women and children were considered spoils of war after they were captured as the militants seized their towns and villages. It was the first confirmation from the group of widespread allegations of detention and sexual abuse against Yazidi women.
Reuse content