There was outrage on Friday at Judge Thokozile Masipa's ruling that Oscar Pistorius did not murder Reeva Steenkamp.
She said there was insufficient proof to convict him of premeditated murder but called the killing "negligent" and today found him guilty of culpable homicide.
South African newspapers were critical of the judge's verdict that sparked protests in solidarity with his victim's family outside South Africa's High Court.
Ms Steenkamp's death has been held up as an example of the perceived failure of authorities to prosecute domestic violence offenders and the model herself had campaigned on the issue days before her death.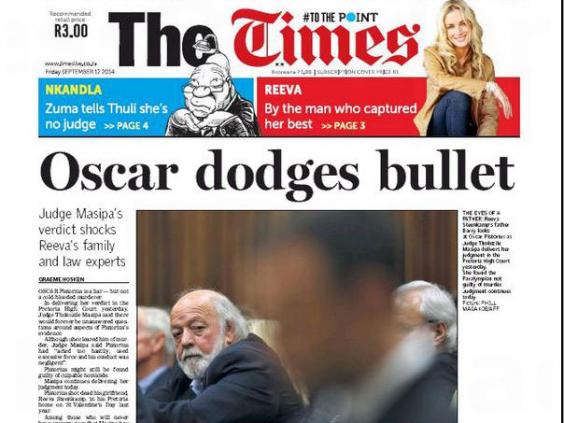 The Times chose the provocative headline "Oscar dodges bullet" with a photograph of his dead girlfriend's father, Barry Steenkamp, staring at him in court.
"Oscar Pistorius is a liar - but not a cold-blooded murderer," their report began.
The Pretoria News dubbed the ruling "Oscar's great escape" and featured a large picture on its front page of a stream of snot dripping from the emotional athlete's nose.
A lawyer told the newspaper: "Oscar Pistorius can count himself flippen lucky."
Similarly unflattering pictures were used in the Cape Argus, Cape Times, DFA and the New Age, which headlined its front page "Tears of relief".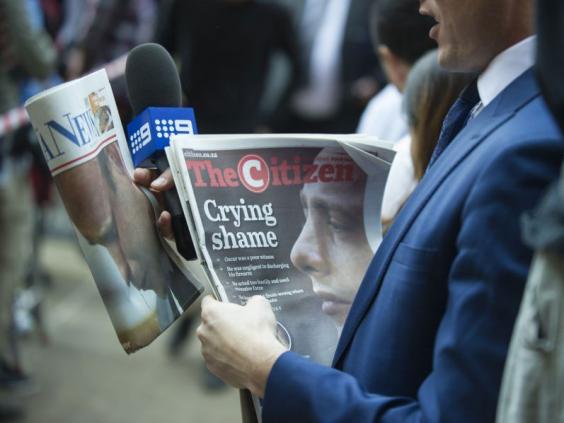 A montage of pictures featured Pistorius' defence lawyer, looking satisfied, and a displeased Gerrie Nel, who is the lead prosecutor.
The Citizen made no secret of its disappointment with the headline "Crying shame", following Thursday's front page simply saying: "Jail him!" The offence of culpable homicide carries a maximum sentence of 15 years in prison and Pistorius faces five more years for firing a gun in a restaurant in January 2013.
He was acquitted of another charge of discharging a firearm in a public place and possessing ammunition for an unlicensed firearm.
Reuse content