Two international flights have landed at Kenya's main international airport in Nairobi, marking a step towards normal service after a huge fire.
The inferno engulfed much of the Jomo Kenyatta International Airport yesterday, forcing its evacuation and the re-routing of all inbound flights. Today the Kenya Airports Authority said in a statement that international flights have not yet resumed officially.
The airport opened for domestic and cargo flights yesterday.
The airports body said it is working to ensure a return to normal service and that it would give more updates through the day.
While the worst of the injuries involved two people being treated for smoke inhalation, the closure of and damage to the airport will be a hammer blow to industry for whole swathes of East Africa.
It is the largest in the region, a portal for a disproportionately large number of the continent's businesses.
The fire came on the fifteenth anniversary of the bombings targeting US embassies in Nairobi and the city of Dar es Salaam in neighbouring Tanzania, but there was little to suggest it was a terrorist incident this time.
Nonetheless, Kenya's anti-terror police chief Boniface Mwaniki said he was reserving judgement until the fire had been put out and he could inspect the scene.
The fire gutted out the whole the international arrivals hall, and as a result the entire of the airport was shut down, with some flights redirected through Tanzania, Uganda, and other Kenyan cities like Mombasa.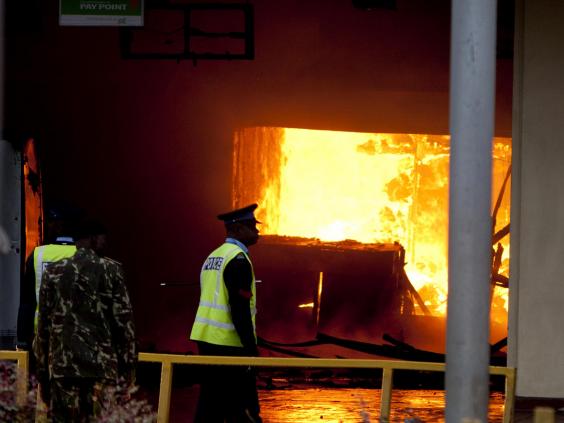 The fire began at 5am in the immigration section of the arrivals hall, and raged for more than four hours before it could be contained, if not completely put out.
Dark smoke was visible across much of Nairobi, yet the response of the fire services was initially noted as slow, leading to questions over whether the incident could have been handled better.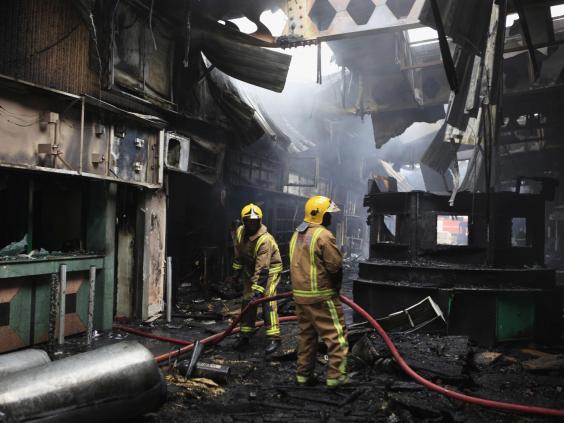 As in many countries in East Africa, Kenya's public services like police and fire units struggle with small budgets and outdated equipment. Many of the responding units to the fire were from private security firms.
A British passenger, Martyn Collbeck, said he was surprised that the airport was not shut sooner so that emergency vehicles could respond.
"When I arrived there were one or two fire engines parked outside the international arrivals. It spread very fast," he said. "There were a couple of explosions which I think were a couple of gas canisters. I would have expected more fire engines to respond faster."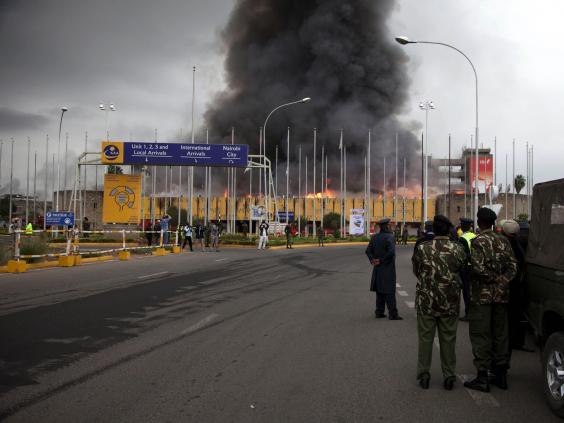 There may not have been fire engines available to respond. The country's largest newspaper, The Daily Nation, reported last month that Nairobi County does not have a single working fire engine, and that three fire engines were auctioned off in 2009 because the county had not paid an £800 repair bill.
"It is a disgrace of biblical proportions that the entire Nairobi County does not have a public fire engine in working condition," the paper wrote in an editorial last month. "When (government leaders) were debating their budgets, they did not deem it fit to set aside money either to buy new ones or repair the old ones. But they did set aside money to build mansions for governors, big vehicles for county executives and other needs without a direct benefit to Kenyans."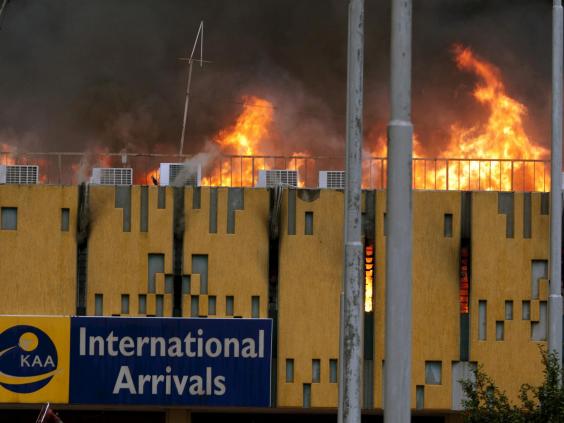 Additional reporting by the Associated Press