In the intense heat of the north-east Kenyan afternoon, a white pickup truck drives down Garissa's main road, a crowd running behind. It is the same road where three days ago terrified students also ran, barefoot in nightdresses and boxer shorts, after being awoken by gunshots as al-Shabaab militants stormed the town's university campus.
In the back of the pickup, the naked bodies of four men are piled on top of each other haphazardly, loaded earlier at the hospital morgue. They are, authorities say, the corpses of those responsible for the attack on Garissa University College: among a group of men who roamed the university with apparently impunity and killed 148 people.
In pictures: Kenya Garissa University shooting
In pictures: Kenya Garissa University shooting
1/10 Kenya

A Kenya Defense Force soldier runs for cover near the perimeter wall where attackers are holding up at a campus in Garissa

Reuters

2/10 Kenya

Kenyan soldiers take cover as shots are fired in front of Garissa University

EPA

3/10 Kenya

Students of the Garissa University College take shelter in a vehicle after fleeing from an attack by gunmen in Garissa

4/10 Kenya

Kenyan police officers take cover outside the Garissa University College during an attack by gunmen in Garissa

5/10 Kenya

Students gather and watch from a distance outside the Garissa University College after an attack by gunmen

6/10 Kenya

Students of the Garissa University College get out of a house where they were taking shelter from an attack by gunmen in Garissa

7/10 Kenya

Kenyan police officers take positions outside the Garissa University College as an ambulance carrying the injured going to a hospital, during an attack by gunmen in Garissa

8/10 Kenya

Students get out of a house where they seek refuge after fleeing from an attack by gunmen in Garissa

9/10 Kenya

Some students without their shirts of the Garissa University College get out of a house where they seek refuge after escaping from an attack by gunmen in Garissa

10/10 Kenya

Kenya Defence Forces soldiers move behind a thicket in Garissa
The truck stops at a primary school. Soldiers stand with guns and sticks attempting to hold the crowd back. But still it pushes closer. "Let them see it," a soldier standing guard says. The bodies, riddled with gunshots, are swollen – almost unidentifiable. Hassan Sheikh Ali, a local education official, insists that at least the attacker on top, whom he can see clearly, is not Somali. The corpse is not thin enough, he says. It is also uncircumcised which, in Mr Ali's view, makes the man unlikely to be from the country from where al-Shabaab continues to terrorise Kenya.
Ifrah Aden Shidow, a Red Cross volunteer who saw the corpses while picking up the bodies of students on Thursday, says that three of the attackers were shot to death while one barricaded himself in a room with students and detonated a grenade at the end of a 12-hour siege.
After the worst terror attack in Kenya in more than 15 years, Garissa is beginning to recover. The curfew imposed by Nairobi is lifted in the morning, with shopkeepers opening their windows, matatus (minibuses)  plying the main road and carts and pedestrians crowding the streets. By 9am yesterday, the makeshift camp at the military airstrip for survivors of the university massacre was empty, the last students on buses bound for their homes.
But survivors continue to emerge. At about 10am, an ambulance roars into the hospital compound with a female student who had been hiding for two days. Cynthia Cheroitich, 19, tells reporters that she refused to emerge from her hideout even when some of her classmates came out of hiding at the demands of the gunmen. "How do I know that you are the Kenyan police?" Ms Cheroitich says she asked Kenyan police when they found her yesterday.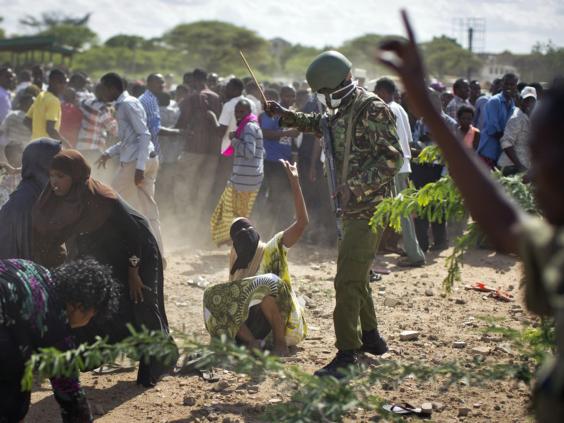 "I was just praying to my God," she tells reporters. It could have meant a certain death. The militants separated Christians from Muslims and executed those of the "wrong" faith.
Even as Garissa comes to terms with the massacre, al-Shabaab – the group behind the attack at the Westgate shopping mall in Nairobi in 2013 – continues to threaten its existence. "No amount of precaution of safety measures will be able to guarantee your safety, thwart another attack or prevent another bloodbath," the group warned in a statement yesterday. "Kenyan cities will run red with blood ... This will be a long, gruesome war of which you, the Kenyan public, are its first casualties."
Kenya's interior ministry said three men thought to have co-ordinated the assault were arrested while trying to flee to Somalia. They were all Kenyans of Somali origin, as was another of those detained, who was a security guard at the university. A Tanzanian man named as Rashid Charles Mberesero was also arrested at the university.
But Mohamed Mohamud, also known as Dulyadin and Gamadhere, the alleged mastermind behind the attack, remains at large. "We will fight terrorism to the end," said President Uhuru Kenyatta in a national address. "I want you to know that our security forces are pursuing the remaining accomplices. We will bring all of them to justice."
More survivors are still expected to arrive at Garissa's hospital where an ambulance worker stands in the hallway holding a handwritten list of names of students who are still missing – neither on the casualty list, nor on the list of survivors. Outside, locals surge forward whenever an ambulance pulls in. They are eager for information. Some have definitive proof they wish they didn't have. Ms Shidow, a local Red Cross member who rushed to the university when she heard about the attack, scrolls through messages in a WhatsApp group for the university's Red Cross club. She displays a photo of two male students. "They're dead now," she says.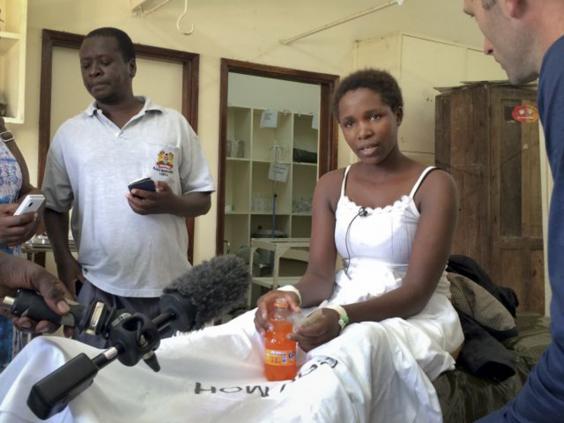 The messages show the panic in real time. "Are u safe? are u safe??" reads the first message from Thursday morning, from someone off campus. "Nooooooooo!!!!" reads the response from a Red Cross Club member whom Ms Shidow says they only know as "DJ Avast". She says she called DJ Avast a moment later and he told her he was hiding, but that he could hear the gunmen approaching. "They have me. I am dead," he told Ms Shidow. By the end of the siege, he was. So too were 147 others.
Now, the hospital wings are almost empty, the survivors of the attack taken to Nairobi and the medical staff on strike. They are refusing to come back until they are given better security. Most of Garissa's teachers, doctors and other skilled professionals are not locals. Decades of marginalisation have left most of north-east Kenya with few educated residents to draw on.
Garissa lies at the southern end of the sparsely populated, arid, predominantly ethnic Somali region – the last major population centre aside from Dadaab refugee camp for hundreds of miles. The tarmac road from Nairobi ends less than six miles from town. It is the only tarmac in the whole north-east region.
Garissa University had been elevated from a college only two years ago. It was held up as a sign of progress for Garissa. Now there are calls from Nairobi for the university to be closed.
In the Garissa hospital courtyard, Sheikh Omar Abdi Satar, a self-described peace monitor and general secretary of the Garissa Interfaith Council, is waiting to see the bodies of the attackers before they are moved in the white pickup. "The only development we have received since independence is this university. [It] is collapsing and will never come back," he says. "We are in mourning. We have lost our children who are supposed to be our teachers, the future of our country."
Reuse content