A Catholic pro-choice group has said their billboard, critical of Barack Obama's stance on abortion, has been taken down by the Kenyan government ahead of his important visit to the country.
The US-based group, Catholics for Choice, claim that "agents of the Kenyan government" had removed one of their billboards in the Kenyan capital of Nairobi before Obama's visit to the country, the homeland of his father.
The billboard consisted of an image of the President, alongside the text 'Kenyan women deserve better than 6 years of inaction, Mr President', with the added message of '#HelmsHurts'.
The billboard is critical of the Helms Amendment, a US law that states: "No foreign assistance funds may be used to pay for the performance of abortion as a method of family planning or to motivate or coerce any person to practice abortions."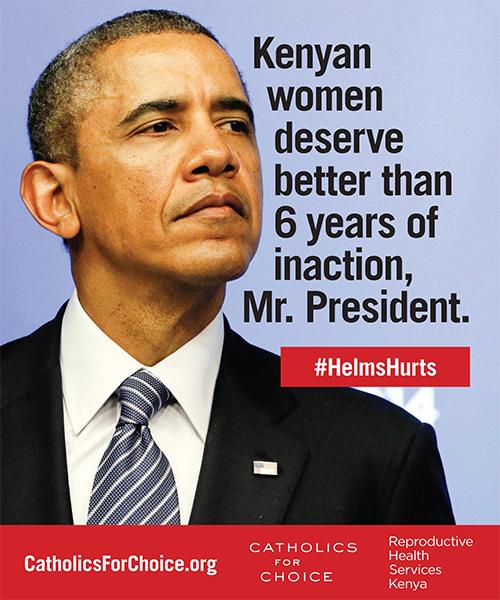 According to Catholics for Choice, and other pro-choice groups, despite the apparently limited scope of the Helms Amendement, it essentially acts as a complete ban on the use of American foreign aid for any abortion care or counselling options for pregancy.
It has faced criticism recently over claims that women in Iraq and Syria raped by Isis captors cannot get abortions, due to the effects of the amenment.
Catholics for Choice, which funded the billboard alongside Reproductive Health Services Kenya, says that the amendment has put "the health, welfare and lives of Kenyan women at risk", and added that the billboard called on Obama to "revise this cruel and unjust policy".
Speaking to BuzzFeed News, Dr John Nyuma, the executive director of Reproductive Health Services, said that the billboard company had informed him that Nairobi City Council had removed the billboard.
He also told the site that he believed that it was removed because the authorities wanted to avoid any prominent public criticism of the President ahead of the important visit.
Jon O'Brien, the president of Catholics for Choice, said: "We know that the administration and President Obama are aware of how unjust the Helms Amendment is, but the strictest interpretation of the policy persists."
Donald Trump's most controversial quotes
Donald Trump's most controversial quotes
1/14 On Isis:

"Some of the candidates, they went in and didn't know the air conditioner didn't work and sweated like dogs, and they didn't know the room was too big because they didn't have anybody there. How are they going to beat ISIS?"

Getty

2/14 On immigration:

"I will build a great wall — and nobody builds walls better than me, believe me —and I'll build them very inexpensively. I will build a great, great wall on our southern border, and I will make Mexico pay for that wall. Mark my words."

Reuters

3/14 On Free Trade:

"Free trade is terrible. Free trade can be wonderful if you have smart people. But we have stupid people."

PAUL J. RICHARDS | AFP | Getty Images

4/14 On Mexicans:

"When Mexico sends its people, they're not sending their best. They're sending people that have lots of problems. They're bringing drugs. They're bringing crime. They're rapists."

Getty

5/14 On China:

"I just sold an apartment for $15 million to somebody from China. Am I supposed to dislike them?... I love China. The biggest bank in the world is from China. You know where their United States headquarters is located? In this building, in Trump Tower."

Getty Images

6/14 On work:

"If you're interested in 'balancing' work and pleasure, stop trying to balance them. Instead make your work more pleasurable."

AP

7/14 On success:

"What separates the winners from the losers is how a person reacts to each new twist of fate."

8/14 On life:

"Everything in life is luck."

AFP

9/14 On ambition:

"You have to think anyway, so why not think big?"

Getty Images

10/14 On his opponents:

"Bush is totally in favour of Common Core. I don't see how he can possibly get the nomination. He's weak on immigration. He's in favour of Common Core. How the hell can you vote for this guy? You just can't do it."

Reuters

11/14 On Obamacare:

"You have to be hit by a tractor, literally, a tractor, to use it, because the deductibles are so high. It's virtually useless. And remember the $5 billion web site?... I have so many web sites, I have them all over the place. I hire people, they do a web site. It costs me $3."

Getty Images

12/14 On Barack Obama:

"Obama is going to be out playing golf. He might be on one of my courses. I would invite him. I have the best courses in the world. I have one right next to the White House."

PA

13/14 On himself:

"Love him or hate him, Trump is a man who is certain about what he wants and sets out to get it, no holds barred. Women find his power almost as much of a turn-on as his money."

Getty Images

14/14 On America:

"The American Dream is dead. But if I get elected president I will bring it back bigger and better and stronger than ever before and we will make America great again."

GETTY
"A very simple clarification [of the amendment] on paper would bring about profound change, not just for women in Kenya, but for women around the world."
"We have a duty to speak truth to power—and that is the cornerstone of democratic society. We can only hope and pray that Obama will listen to voices of the people who suffer most when American policy is bad."
Although the billboard is no longer on show in Nairobi, the campaign continues in different ways. The advert is due to appear in three Kenyan newspapers soon - the East African Standard, the Daily Nation, and The Nairobian.
Reuse content