The Nigerian government is reportedly prepared to commence talks with the militant Islamist group Boko Haram, in a bid to agree the release of over 200 schoolgirls that were abducted nearly a month ago.
Nigeria had previously rejected an offer to negotiate with Boko Haram, but national and international pressure on the government, aimed at their allegedly slow response to the situation, appears to have relaxed their stance.
Special Duties Minister Tanimu Turaki made the suggestion to BBC News in response to a video released by Boko Haram's leader on Monday, in which he claimed he would release the girls in exchange for jailed fighters.
The potential negotiations come after Mike Omeri, the director of the government's information agency, said late on Monday that the government will "use whatever kind of action" it takes to free the girls – not excluding a foreign-backed military operation.
"At the moment, because all options are open we are interacting with experts, military and intelligence experts from other parts of the world," he said, adding: "So these are part of the options that are available to us and many more."
The girls were snatched from a school in Borno state, in the north east of Nigeria, on 14 April. Almost a month after the kidnapping, Boko Haram released a video which they claimed showed the abducted girls.
In pictures: Nigeria kidnapped schoolgirls
In pictures: Nigeria kidnapped schoolgirls
1/19 Nigeria

A total of 276 girls were abducted from the northeastern town of Chibok, in Borno state, which has a sizeable Christian community. Some 223 are still missing

2/19 Nigeria

One of the kidnapped girls looks into a camera

3/19 Nigeria

One of the missing girls talking to the camera

4/19 Nigeria

The missing Nigerian schoolgirls, wearing the full-length hijab and praying in an undisclosed rural location. Boko Haram alleging they had converted them to Islam

5/19 Nigeria

Girls wearing the full-length hijab holding a flag reading "There is no god, but Allah" and "Mohammed is Allah's prophet"

6/19 Nigeria

A man claiming to be the leader of Nigerian Islamist extremist group Boko Haram Abubakar Shekau

7/19 Nigeria

Abubakar Shekau speaks on the video

8/19 Nigeria

Girls, wearing the full-length hijab and praying are filmed by an unidentified man (R) in an undisclosed rural location

9/19 Nigeria

People carry signs as they attend a protest demanding the release of abducted secondary school girls in the remote village of Chibok in Lagos

10/19 UK

A protester demonstrates against the kidnapping of school girls in Nigeria, outside the Nigerian Embassy in London

11/19 UK

Chief International Correspondent Christiane Amanpour and Prime Minister David Cameron appearing on the BBC1 current affairs programme

12/19 USA

People participate in a "Bring Back Our Girls" campaign demonstration and candlelight vigil in Los Angeles

13/19 USA

Girls holding heart shaped banners in a "Bring Back Our Girls" campaign demonstration and candlelight vigil in Los Angeles

14/19 South Africa

South Africans protest in solidarity against the abduction of hundreds of schoolgirls in Nigeria by the Muslim extremist group Boko Haram and what protesters said was the failure of the Nigerian government and international community to rescue them, during a march to the Nigerian Consulate in Johannesburg

15/19 USA

Karilyn Coates (10) joins others in a candlelight vigil for the more than 300 girls abducted by Boko Haram in Nigeria, at All Souls Unitarian Church in Colorado Springs

16/19 Nigeria

Mothers of the missing Chibok school girls abducted by Boko Haram Islamists gather to receive informations from officials. Nigeria's president said that Boko Haram's mass abduction of more than 200 schoolgirls would mark a turning point in the battle against the Islamists, as world powers joined the search to rescue the hostages

17/19 Nigeria

Former Nigerian Education Minister and Vice-President of the World Bank's Africa division (3rd L) Obiageli Ezekwesilieze speaks as she leads a march of Nigeria women and mothers of the kidnapped girls of Chibok, calling for their freedom in Abuja

18/19 Bring Back Our Girls

Kelly Hoppen tweeted: 'Please make sure you do this, we must stand together and not forget them'

19/19 Bring Back Our Girls

E.L. Rock Star tweeted: 'Join The Movement'
Hussein Monguno, an official with a civic group called the Borno Yobe People's Forum, said representatives of the families of the missing girls had been invited to the Nigerian capital of Abuja to view the latest Boko Haram video.
At least one mother has so far identified her daughter in the footage posted on YouTube by her captors.
It is expected that if more families are able to identify their missing children in the footage, the government will take the next course of action, he told reporters by phone from Maiduguri, the capital of Borno.
Since the girls were kidnapped, a national campaign for their return has become global, with social media users harnessing #BringBackOurGirls in a bid to raise awareness and motivate governments to act.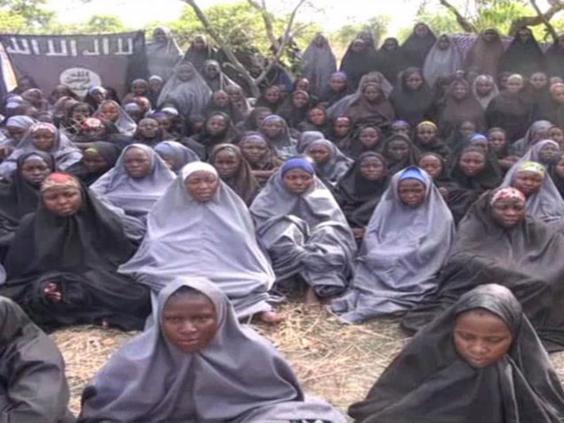 Last week critics organized a mass protest in Abuja to press the government to do more to find the missing girls and to stop attacks in Nigeria by Boko Haram. The group has killed more than 1,500 people in 2014.
On Tuesday, President Goodluck Jonathan reacted by asking the National Assembly to extend for another six months the state of emergency in Borno and two other northeastern states. The emergency was imposed 14 May, 2013, and extended in December.
Britain and the US are now helping Nigeria's rescue efforts, with the former sending security experts and counter terrorism methods, and the latter sharing commercial satellite imagery and manned intelligence, surveillance, and reconnaissance aircrafts.
Additional reporting by AP