Several suspected Boko Haram collaborators have been arrested for involvement in the kidnapping of almost 300 schoolgirls in Nigeria.
Among them is a businessman, Babuji Ya'ari, based in Maiduguri who allegedly helped the Islamist insurgents plan several attacks and murders under the cover of a pro-government vigilante group fighting Boko Haram.
Two women were also arrested, with one accused of coordinating payments to other "operatives".
A defence spokesman, Major General Chris Olukolade, said Ya'ari used his membership of the pro-government group "as a cover, while remaining an active terrorist".
"His main role in the group is to spy and gather information for the terrorists," he added.
The Major General claimed the man had coordinated several deadly attacks in Maiduguri since 2011 and was involved in the killing of a traditional ruler, the Emir of Gwoza.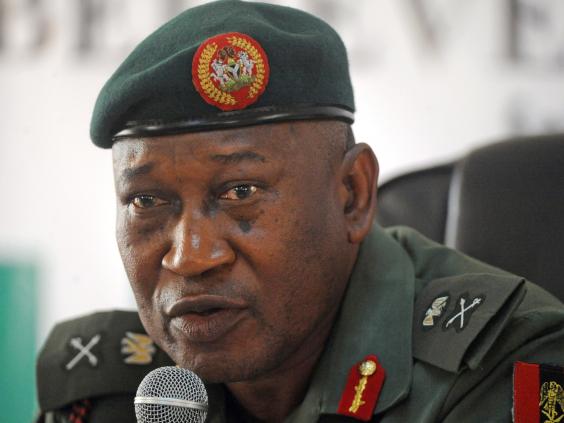 Almost 220 of the abducted girls are still in captivity and a video released earlier this year showed them unharmed but shaking, reciting the Koran.
The students were taken from a school in Chibok, in Borno state, in April and have become a symbol of the Nigerian Government's failure to protect citizens from the Islamist militants.
Boko Haram's insurgency, aiming to establish an Islamist state, has killed thousands since 2009 but the bloody murders, bombings and massacres received little attention until the mass kidnapping.
In pictures: Nigeria kidnapped schoolgirls
In pictures: Nigeria kidnapped schoolgirls
1/19 Nigeria

A total of 276 girls were abducted from the northeastern town of Chibok, in Borno state, which has a sizeable Christian community. Some 223 are still missing

2/19 Nigeria

One of the kidnapped girls looks into a camera

3/19 Nigeria

One of the missing girls talking to the camera

4/19 Nigeria

The missing Nigerian schoolgirls, wearing the full-length hijab and praying in an undisclosed rural location. Boko Haram alleging they had converted them to Islam

5/19 Nigeria

Girls wearing the full-length hijab holding a flag reading "There is no god, but Allah" and "Mohammed is Allah's prophet"

6/19 Nigeria

A man claiming to be the leader of Nigerian Islamist extremist group Boko Haram Abubakar Shekau

7/19 Nigeria

Abubakar Shekau speaks on the video

8/19 Nigeria

Girls, wearing the full-length hijab and praying are filmed by an unidentified man (R) in an undisclosed rural location

9/19 Nigeria

People carry signs as they attend a protest demanding the release of abducted secondary school girls in the remote village of Chibok in Lagos

10/19 UK

A protester demonstrates against the kidnapping of school girls in Nigeria, outside the Nigerian Embassy in London

11/19 UK

Chief International Correspondent Christiane Amanpour and Prime Minister David Cameron appearing on the BBC1 current affairs programme

12/19 USA

People participate in a "Bring Back Our Girls" campaign demonstration and candlelight vigil in Los Angeles

13/19 USA

Girls holding heart shaped banners in a "Bring Back Our Girls" campaign demonstration and candlelight vigil in Los Angeles

14/19 South Africa

South Africans protest in solidarity against the abduction of hundreds of schoolgirls in Nigeria by the Muslim extremist group Boko Haram and what protesters said was the failure of the Nigerian government and international community to rescue them, during a march to the Nigerian Consulate in Johannesburg

15/19 USA

Karilyn Coates (10) joins others in a candlelight vigil for the more than 300 girls abducted by Boko Haram in Nigeria, at All Souls Unitarian Church in Colorado Springs

16/19 Nigeria

Mothers of the missing Chibok school girls abducted by Boko Haram Islamists gather to receive informations from officials. Nigeria's president said that Boko Haram's mass abduction of more than 200 schoolgirls would mark a turning point in the battle against the Islamists, as world powers joined the search to rescue the hostages

17/19 Nigeria

Former Nigerian Education Minister and Vice-President of the World Bank's Africa division (3rd L) Obiageli Ezekwesilieze speaks as she leads a march of Nigeria women and mothers of the kidnapped girls of Chibok, calling for their freedom in Abuja

18/19 Bring Back Our Girls

Kelly Hoppen tweeted: 'Please make sure you do this, we must stand together and not forget them'

19/19 Bring Back Our Girls

E.L. Rock Star tweeted: 'Join The Movement'
It sparked a viral social media campaign, #bringbackourgirls, which led to support for the Nigerian Government from the US and Britain but international attention has again waned.
A bomb in a busy market in Maiduguri on Monday killed at least 20 people in the latest suspected attack by Boko Haram.
A separate explosion at a busy intersection in the northern city of Kaduna on Tuesday wounded two people but caused no deaths.
Additional reporting by Reuters