The family rescued by the brother of an anti-terror agent have spoken of their ordeal, after coming under siege by terrorists in a Kenyan shopping mall.
Dramatic pictures have since emerged of the moment that Abdul Haji ran amid a hail of gunfire to rescue four-year-old Portia Walton, in iconic images captured by Reuters photographer Goran Tomasevic.
After looking at the photos, Portia's mother Katherine Walton described the moment she realised they were trapped in the middle of a terrorist attack, during what should have been a family day out to the mall.
Ms Walton, who moved from North Carolina to Kenya two years ago with her husband Philip and five children, had let her two teenage sons go ahead in the mall whilst she shopped with her three young daughters.
The 38-year-old IT worker said she was about to reunite with the boys in the supermarket when she heard an explosion.
"I grabbed the girls and started running. A woman pulled us behind a promotional table opposite. I could see the bullets hitting above the shops and hear the screaming all around us," she told the Daily Telegraph.
Speaking a week after the tragedy, Mr Walton said his wife had come into such close contact with the attackers that she was able to describe them in detail to police and security forces.
"She heard them talking to people, telling them to stand up followed by gunshots," he recalled. "The thing that's troubling her now is she can't forget the smell of the gunpowder."
Gunmen continued to hurl grenades and fire at people trapped inside the mall, in an attack that terrorist organisation al-Shabaab have since claimed responsibility for.
An injured Kenyan woman and an Indian woman helped conceal Ms Walton's three children, who remained "so still and quiet" as the shootings continued that Ms Walton said she "couldn't understand how they could be acting like everything was fine".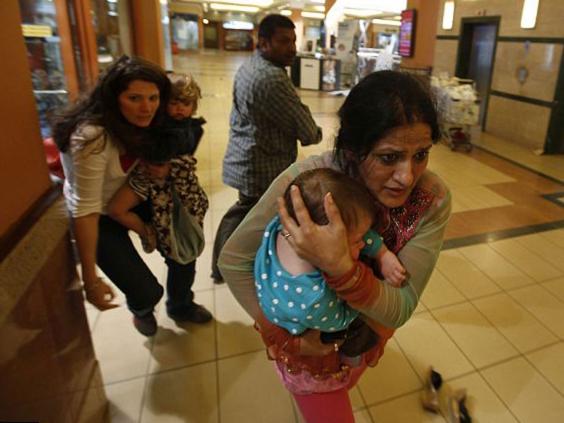 "My baby was screaming when there was shooting but between that, she just slept", she said. "In one lull in the fighting, my two-year-old and the baby were playing together with my phone."
Meanwhile, Mr Haji was just metres away shooting at a heavily armed attacker. He had rushed down to the upmarket shopping centre after receiving a text from his brother telling him he was trapped inside.
Speaking to Kenyan television station NTV, Mr Haji explained: "I might as well say it - it's no secret anymore. He's [my brother] an undercover officer, and he works for the intelligence agencies."
His brother's identity was revealed on news broadcasts, putting him in further danger.
Whilst in the mall, Mr Haji worked to protect Kenyan Red Cross workers from fire using his handgun.
"We saw a lot of dead people. Very young people, children, old ladies, you cannot imagine" he said.
"We were taken aback in shock of the things we saw."
Mr Haji, whose father had taught him how to use a gun to protect their cattle in his youth, saw Ms Walton hiding under a table whilst working with the Red Cross to form an escape strategy for civilians trapped inside.
After noticing Ms Walton, he asked her to move in his direction. When she indicated she had children with her, he asked if one of the older children could run towards him. It was at this moment Portia ran across an empty corridor and reached Mr Haji.
Mr Walton was 9,000 miles away in the United States on a business trip when the gunman took hold of the mall, and said he felt "disbelief" when he saw images of his daughter running across the mall alone.
"She's not normally the kind of girl that would run to a stranger, particularly one with a gun," he said.
Mr Walton agreed. "I don't know how she knew to do it but she did. She did what she was told and she went."
The family followed Portia one by one, running with Mr Haji and other rescue workers until they reached the safety of police lines.
Ms Walton was then reunited with her teenage sons, who had been hiding in a basement of the mall before managing to escape.
"I think I did what any Kenyan in my situation would have done to save lives, to save other humans regardless of their nationality, religion or creed," Mr Haji said.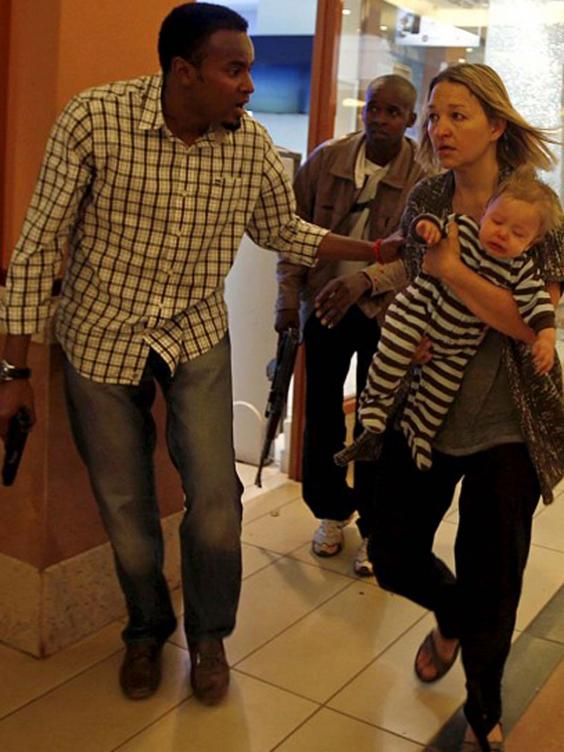 Ms Walton has said she owes Mr Haji " a hug or two" for his role in her rescue.