Celebrities have never invited the public to their funerals. Instead, the public has invited itself.
You can identify the precise moment this was managed for the first time, just before midday on 6 September 1997. It was six days after Princess Diana's death, and Earl Spencer had just finished his bitter eulogy for his sister, featuring a heartfelt promise to fight so that her sons not be "immersed by duty and tradition", but allowed to "sing openly as you planned". The normal response to such a speech would be a ponderous silence, but the crowds outside Westminster Abbey weren't having it. They started to clap.
Even the abbey's 1,000-year old oak doors were not sturdy enough to resist the noise. "A sound like a distant shower of rain … rolled towards us," wrote Brian Appleyard in The Sunday Times. "Then it was inside the church. It rolled up the nave, like a great wave." It was, Appleyard said, "the moment at which the meaning of what was happening on this incredible day was made plain". After a second, those inside the church joined in. "Spontaneous applause breaks out in Westminster Abbey," marvelled the BBC's commentator, Tom Fleming. "I've never heard that before."
Neither had anyone else. And the meaning that Appleyard was referring to is perhaps even clearer now than it was at the time. Consider Winston Churchill's funeral at St Paul's Cathedral 32 years earlier. Churchill was, to be sure, an entirely different sort of public figure; all the same, the manner of his send-off seems to speak of more than a merely personal difference between the two.
Churchill's funeral, wrote The Observer's Patrick O'Donovan, was "beautiful in the way that great works of art are beautiful. It obeyed secret rules." And as the coffin trundled past the thousands of onlookers on a gun-carriage, the reaction was not applause, but "extraordinary silence that could not be broken even by the bands and the rhythmic feet. It was a silence, not of grief but of respect."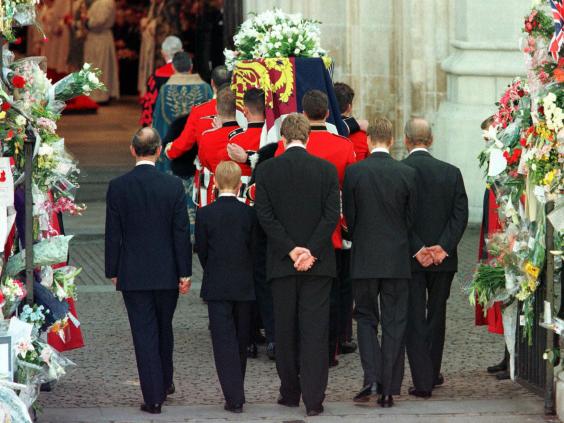 Since then, we have, perhaps, learnt to grieve more, and respect less, and to do it all at the top of our voices. The kind of grief that does its work in silence is a strictly private ritual these days: public mourning is a noisy business. Even the funeral of as divisive a political figure as Margaret Thatcher drew a response that aimed to resonate mostly on a personal, sentimental level. "They had come, they said, not to bury a political figure or an 'ism', but a woman of flesh and blood," wrote Jonathan Freedland in The Guardian. That newspaper and The Independent both made use of the same headline: "Lying here, she is one of us".
One of us? It is hard to see it. But in death everyone has to be made somehow approachable, "human", perhaps because we cannot bear to imagine facing the end in the terrible isolation that power brings. So it is in the aftermath of Nelson Mandela's passing. It is hard to imagine a foreign dignitary calling Churchill "Winnie" by way of tribute, but for some reason the intimate term of endearment "Madiba" has become a standard feature of the visiting leader's paean to Mandela. There did at least seem to be one helpfully silent figure at the centre of the memorial service, the sign language interpreter who stood next to dignitaries as they made their contributions. But as it turned out, he wasn't communicating anything at all. He was just babbling.
Now, after a service in a stadium, the funeral looms. Today's service will be more intimate. But it is obviously not very much like the kind of parting most of us can expect. About 4,500 people will attend, including Prince Charles and Jesse Jackson. The service will take place under a marquee outside the family home, but it will also be televised. The Mandela house will be off-limits for locals in Qunu, many of whom had hoped to pay tribute to their native son.
It is, perhaps, a step away from the mourning for Michael Jackson, where 1.6m people applied for 17,500 tickets to a memorial service at Los Angeles's unromantically named Staples Center. If Mandela was more greatly beloved, he was at least, by and large, spared the indignity of fans, those strange enthusiasts who believe that their love for an idol transcends that person's art and amounts to a real personal connection. Watching last week's out-  pouring of grief, it has been striking that, for all the cuddlifying of Mandela that has been an inevitable part of the discussion of his legacy, most of those ordinary people captured in mourning on the news channels have spoken with reference not  to his charm, to his twinkling  smile, but to the granite of his achievements.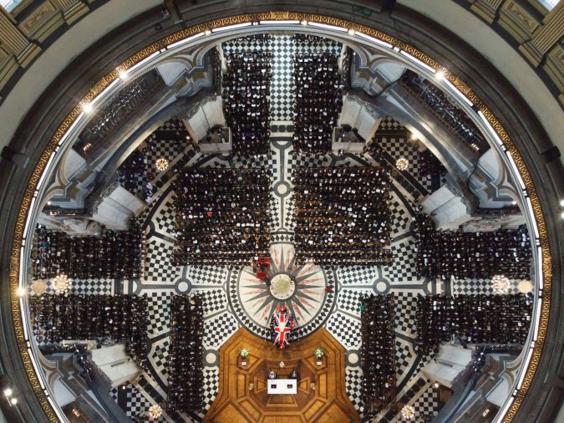 This division between private man and public figure is harder to make in Mandela's case than in most: if greatness is always rooted in character, in his case the two seemed to be nearly indivisible. That's why the public's claim on him – even outside of South Africa – is so persistent and so persuasive (and why we are so repeatedly unsettled by the bits of him, like his claimed youthful vanity, that didn't speak directly to his greatness). In the circumstances, it might seem as if our right to claim him as a universal figure could extend to every moment of the mourning – to have the great wave of applause roll into the church's nave once more. Diana, after all, never asked for anybody's vote.
There is another way of seeing it, though. Mandela gave himself completely to others in life; whether as a prisoner, a president, or a photo opportunity, he became a symbol so potent that it was at times hard to remember that there was a man of flesh and blood underneath. Now that he is dead, at a time when his symbolism could become all-consuming, it is more important than ever to remember the human reality.
Happily, those who have planned his funeral have understood this. The service might be broadcast, thousands might be in attendance; but in the very last moments, the lowering of his coffin into the ground, the cameras will go away, and only his family will be present. Up until now, his death has seemed to belong to all of us. His burial, at least, should be his, and theirs, alone.
Reuse content