The body of Nelson Mandela has arrived at his ancestral home village of Qunu in South Africa's Eastern Cape ahead of his state funeral on Sunday.
The coffin was driven in a hearse from Mthatha airport, 700 km (450 miles) south of Johannesburg.
A ceremonial military escort was cheered by crowds that lined the road as Mandela t-shirts were handed out.
Soldiers in full regalia were stationed on foot on either side of the road from the airport in Mthatha.
"We got up this morning at 2 am and drove from Port Elizabeth — it's about seven hours — and we got here now. We're waiting on to show our last respects to Madiba," said one bystander, Ebrahim Jeftha.
The anti-apartheid activist's body will be taken to the Mandela homestead, where rituals will be performed including wrapping his body in leopard skin as a mark of respect and to show he was the son of a clan chief.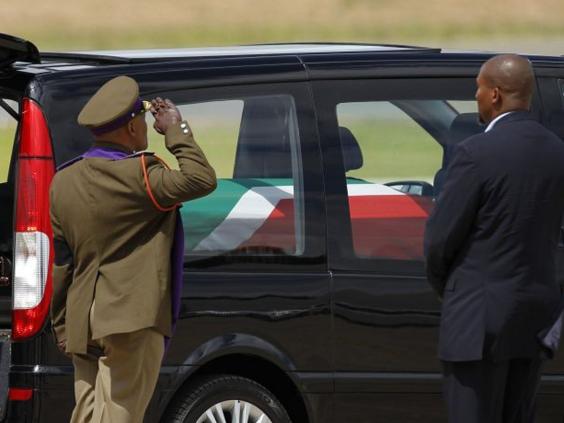 Mandela wanted to spend his final months in his beloved rural village but instead was kept in a hospital in Pretoria, and then in his home in Johannesburg, where he had remained in critical condition until his death.
The funeral has been marred by a dispute in which the former archbishop Desmond Tutu said he was not invited – an apparent snub that the government denies.
Gallery: Nelson Mandela's body makes the final journey
Gallery: Nelson Mandela's body makes the final journey
1/10

Nelson Mandela's body arrives at Mthatha airport ahead of his State Funeral where it is unloaded before being driven to his final resting place in Qunu

Getty

2/10

Waiting in Mthatha for former President Mandela's funeral procession to drive past, people sing and dance in the streets

Getty

3/10

Military figures salute as former South African President Nelson Mandela's flag-draped coffin leaves the Mthatha airport, journying through packed streets on its way to Qunu

EPA

4/10

Women and children watch as Nelson Mandela's convoy passes though the town of Mthatha on its way to Qunu, South Africa Saturday

AP

5/10

Thousands of people lining the streets in Mthatha cheer as the hearse carrying the body of Nelson Mandela drives through from the airport to Qunu

EPA

6/10

Xhosa women in traditional dresses sing and dance as they wait for the hearse carrying the coffin of South African former president Nelson Mandela

AFP/Getty

7/10

The Mandela procession crests the hill as it approaches the President's own village of Qunu, where he will be laid to rest

EPA

8/10

Two women sit just outside Qunu as former President Mandela's funeral procession passes by

Getty

9/10

The hearse carrying the body of former South African president Nelson Mandela is greeted by crowds and signs just outside Mandela's resting place of his village Qunu

AP

10/10

People chase the funeral cortege of former South African president Nelson Mandela as it passes through Qunu on its way to his family's rural home

Getty
Reuse content