A mouse-like creature with an elephant's "trunk" has been discovered in a remote desert in Namibia.
The new species is known as an "elephant shrew" and is a type of round-eared sengi.
The tiny creature is the smallest known member of the sengi family with a body just 9cm long and despite its size, is more closely related to elephants, manatees and aardvarks than to shrews.
It was discovered by researchers from the California Academy of Sciences during research on their cousins in southwestern Africa.
Dr Jack Dumbacher and colleague Dr Galen Rathbun noticed that one animal differed from any they had seen before, being smaller, with rust-coloured fur and a new hairless gland underneath its tail.
Genetic analysis confirmed that they had discovered a new species and their findings will be published in the Journal of Mammology.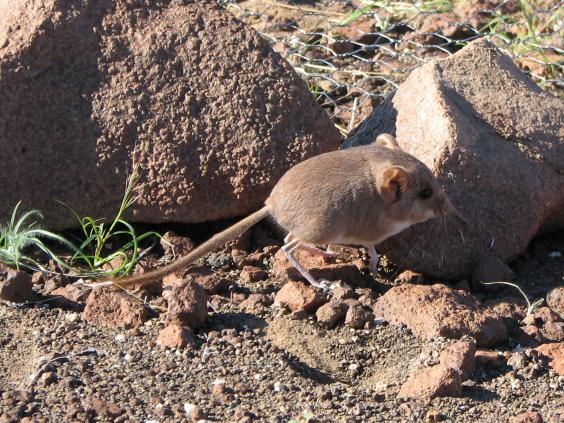 It is the third new species of sengi discovered in the wild in the past decade.
Dr Dumbacher, the Academy's curator of ornithology and mammalogy, thanked colleagues for collecting "invaluable" specimens that allowed them to discover the difference.
He added: "Genetically, Macroscelides micus is very different from other members of the genus and it's exciting to think that there are still small areas of the world where even the mammal fauna is unknown and waiting to be explored."
Found on the inland edge of the Namib Desert at the base of the Etendeka Plateau, scientists believe the creature went undescribed for so long because of the challenges of doing scientific research in such an isolated area.
Yet it is the isolation and unique environmental conditions of the region that have given rise to the sengi and other unique organisms.
Recently discovered mammals
Recently discovered mammals
1/7 Other recently discovered mammals

The olinguito was the first carnivorous mammal species discovered in the Americas since 1978

Getty

2/7 Other recently discovered mammals

The lesula, or Cercopithecus lomamiensis, are from the Democratic Republic of Congo and the species is described as shy and quiet

PA

3/7 Other recently discovered mammals

The Saola can only be found in Vietnam and Laos. It looks like a small deer and the first alive saola was discovered in 2010

AP

4/7 Other recently discovered mammals

The Cypriot mouse is a species of mouse native to Cyprus. It was discovered in 2006 and has bigger hear, ears and teeth than European mice

AP

5/7 Other recently discovered mammals

A Macroscelides micus elephant shrew found in the remote deserts of southwestern Africa. The new mammal discovered in the remote desert of western Africa resembles a long-nosed mouse in appearance but is more closely related genetically

Reuters

6/7 Other recently discovered mammals

The Burrunan dolphin (Tursiops australis) is a species of bottlenose dolphin found in parts of Victoria, Australia and Gippsland Lake.It's believed that only 150 of them remain alive

EPA

7/7 Other recently discovered mammals

Paucidentomys Vermidax, a rat that doesn't gnaw. It was discoveres in Indonesia

PA
An Etendeka round-eared sengi has been added to the Namib Desert exhibit in the Academy's natural history museum.
It joins a replica of Welwitschia mirabilis, an ancient plant also native to the Namib Desert that can live for up to 2,500 years.