The destruction and devastation was clear in the north-eastern Nigerian town of Bama, when dead bodies and burnt out buildings greeted government forces as they liberated the town once held by Islamic extremist group Boko Haram.
In rare footage taken earlier this month, cameras were able to film what remained of the town that had been held by Boko Haram for over six months.
Bama is situated 40 miles east of the Borno capital Maiduguri and was recaptured on March 16 after a week-long battle between Nigerian forces in partnership with Chad and Niger and Boko Haram. Accounts from locals said that living under the imposed caliphate "was hell", and many people were slaughtered.
Residents say that dozens of women who were forced to marry Boko Haram fighters were killed by their husbands unwilling to let them re-marry men who did not share their extremist Muslim beliefs.
As Nigerian soldiers patrolled the town, many covered their faces to protect themselves from the stench of dead bodies, while the military vehicles had to avoid the roadblocks left behind by Boko Haram.
"It's unbelievable that human beings could do this to fellow human beings," said Lieutenant Colonel Abu Bakar Haruna. "You can see on the bridge, just bodies littered.
"In the town you saw bodies all over. So it's something that someone can just say, 'why?', 'how?'. And it's a difficult thing."
Despite the success the Nigerian army in taking the town; they are still under significant pressure to hold onto the town, with Boko Haram forces still in the area.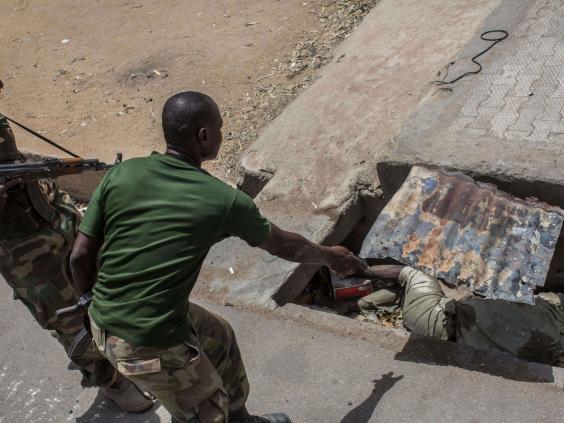 Bama resident, Abdul Maliki Yakubu, said that wherever you went "you could see dead bodies" and the town needed help to rebuild.
He said: "We need help from the government to rebuild the town, so that people will return to the town
Borno senator Ali Ndume said that 7,0000 people had moved from Bama to encampments just outside of Maidugiri, following the liberation.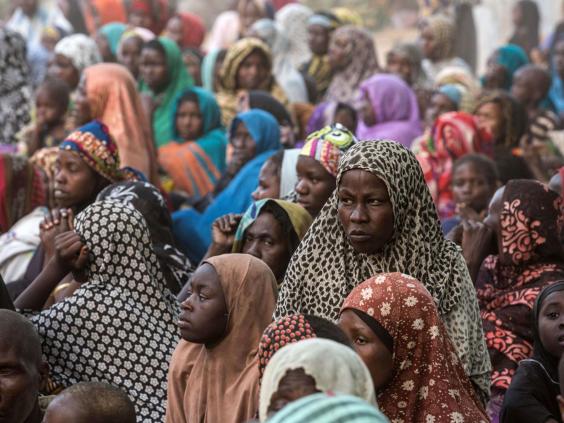 Abdulkadir Ibrahim, an information officer for the National Emergency Management Agency, said on Tuesday that many of these people were malnourished and unkempt, and that the organisation expected many more to make the journey in the coming days.
Reuse content