Teju is a 22-year-old waitress. She won't be voting in the Nigerian election on Saturday. "My voting card has its benefits," she says.
"I'll use it as my ID card but I have no interest in voting. Politics is a man's game in Nigeria, my vote doesn't count."
Sangosanya Tolulope, a 33-year-old philanthropist in Lagos, adds: "There's something at the back of people's minds that says women shouldn't get involved."
On Friday, campaigning for the elections draws to an end. It has been dominated by two key issues: the rampant Boko Haram insurgency in the north-east, and the corruption that has squandered the nation's oil wealth.
Military checkpoints are being established in every city. Borders are being closed in anticipation of violence. The poll pits President Goodluck Jonathan against a former military ruler, Muhammadu Buhari. Neither of the men has inspired women to vote.
Nigeria is a patriarchal society – even outside of the "caliphate" Boko Haram wants to create in the north-east. It is Africa's biggest democracy but only 8 per of representatives in the National Assembly are women. In South Africa the number of female politicians rises to 42 per cent. In Rwanda it's more than 50 per cent. In Britain it's around 25 per cent of MPs.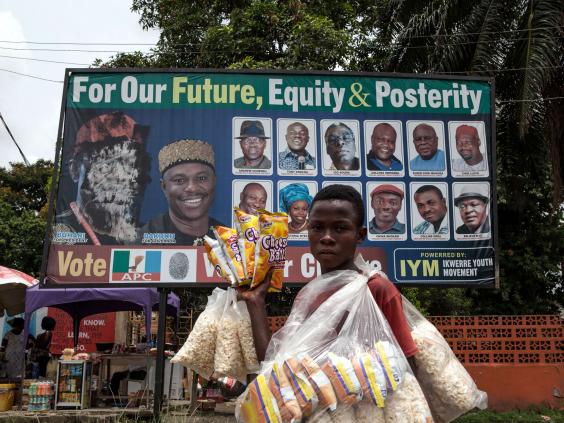 There is, however, one candidate who is representing women at the ballot box. She is 60-year-old grandmother, Remi Sonaiya. The retired professor of French is Nigeria's first-ever female presidential candidate.
Ms Sonaiya hopes her Kowa party's anti-establishment platform will resonate among the oppressed. "Women cannot keep on being cheerleaders in this country," she said on the campaign trail.
"The Nigerian government does not exist in its current state for the welfare of its people and that's why I'm here."
In the north of the country, girls face a constant struggle to attain the right to education. They also suffer the highest incidence of female circumcision in the world.
The women's struggle only came to the world's attention, however, last April when 279  girls from the north-eastern town of Chibok were abducted by Boko Haram jihadists. Less than two days later President Jonathan was seen dancing at a political rally.
It was nearly three weeks before Mr Jonathan publicly acknowledged the incident. Following the muted reaction from the government, Hadiza Bala Usman was motivated to increase the awareness of the missing girls.
"In Nigerian society the women and the girls are not encouraged to have a political consciousness," says Ms Usman, founder of the #BringBackOurGirls movement. "The government didn't respond in any way to the abduction. Not until we came out protesting," she told The Independent.
In pictures: Nigeria kidnapped schoolgirls
In pictures: Nigeria kidnapped schoolgirls
1/19 Nigeria

A total of 276 girls were abducted from the northeastern town of Chibok, in Borno state, which has a sizeable Christian community. Some 223 are still missing

2/19 Nigeria

One of the kidnapped girls looks into a camera

3/19 Nigeria

One of the missing girls talking to the camera

4/19 Nigeria

The missing Nigerian schoolgirls, wearing the full-length hijab and praying in an undisclosed rural location. Boko Haram alleging they had converted them to Islam

5/19 Nigeria

Girls wearing the full-length hijab holding a flag reading "There is no god, but Allah" and "Mohammed is Allah's prophet"

6/19 Nigeria

A man claiming to be the leader of Nigerian Islamist extremist group Boko Haram Abubakar Shekau

7/19 Nigeria

Abubakar Shekau speaks on the video

8/19 Nigeria

Girls, wearing the full-length hijab and praying are filmed by an unidentified man (R) in an undisclosed rural location

9/19 Nigeria

People carry signs as they attend a protest demanding the release of abducted secondary school girls in the remote village of Chibok in Lagos

10/19 UK

A protester demonstrates against the kidnapping of school girls in Nigeria, outside the Nigerian Embassy in London

11/19 UK

Chief International Correspondent Christiane Amanpour and Prime Minister David Cameron appearing on the BBC1 current affairs programme

12/19 USA

People participate in a "Bring Back Our Girls" campaign demonstration and candlelight vigil in Los Angeles

13/19 USA

Girls holding heart shaped banners in a "Bring Back Our Girls" campaign demonstration and candlelight vigil in Los Angeles

14/19 South Africa

South Africans protest in solidarity against the abduction of hundreds of schoolgirls in Nigeria by the Muslim extremist group Boko Haram and what protesters said was the failure of the Nigerian government and international community to rescue them, during a march to the Nigerian Consulate in Johannesburg

15/19 USA

Karilyn Coates (10) joins others in a candlelight vigil for the more than 300 girls abducted by Boko Haram in Nigeria, at All Souls Unitarian Church in Colorado Springs

16/19 Nigeria

Mothers of the missing Chibok school girls abducted by Boko Haram Islamists gather to receive informations from officials. Nigeria's president said that Boko Haram's mass abduction of more than 200 schoolgirls would mark a turning point in the battle against the Islamists, as world powers joined the search to rescue the hostages

17/19 Nigeria

Former Nigerian Education Minister and Vice-President of the World Bank's Africa division (3rd L) Obiageli Ezekwesilieze speaks as she leads a march of Nigeria women and mothers of the kidnapped girls of Chibok, calling for their freedom in Abuja

18/19 Bring Back Our Girls

Kelly Hoppen tweeted: 'Please make sure you do this, we must stand together and not forget them'

19/19 Bring Back Our Girls

E.L. Rock Star tweeted: 'Join The Movement'
Still, more than 200 of the girls remain in captivity, rumoured to have been offered to fighters as slaves. They may have been joined by some of the 500 civilians abducted last week.
Despite the Nigerian army reclaiming territory held by Boko Haram in recent weeks, the location of the missing girls remains unclear, with Mr Jonathan suggesting they may be in camps in the vast Sambisa forest. And with the presidential election just 24 hours away, the kidnapped girls hardly get a mention.
"We're all at a loss at how these girls cannot be found," says Ms Sonaiya. "This is a real slight on us as a nation that we would have these girls missing for a year now, and we continue as if everything was normal.
"People are going about their business, rallies are going on with their dancing, and laughing, and there's this serious issue of more than 200 girls missing. It does make one wonder whether the government cares about us at all."
Ms Sonaiya is sure she knows where the blame lies for Nigeria's problems. "The leaders of a country set the tone for public conduct. If there's impunity at the level of leadership the people too will practice it among themselves".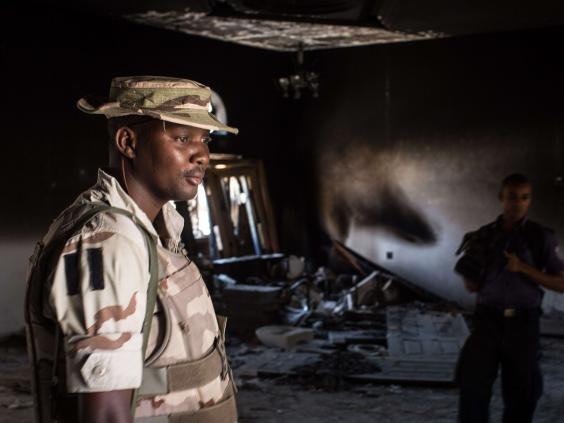 During her campaign, Ms Sonaiya experienced the difficulties faced by many in Nigeria. "I saw young and old people sitting down in front of their shops. They're supposed to be welders or tailors and there's no electricity."
She hopes her candidacy can inspire other girls to become politically active.
"I hope that by my experience a lot of people would be inspired to get involved in politics. Just by my being there, many are taking that challenge by themselves which is a  positive."
Asked whether women were right not to vote, Ms Sonaiya was adamant: "Their actions are going to prolong our days of woe, it's important for everybody to recognise that we are all in this together," she said.
"Those who make the choice to stay out of it are condemning all of us to longer days of suffering. The earlier we can recognise that all of us need to be in this together the better for us."
Reuse content