At first light this morning, the parents of Nigeria's missing schoolgirls left their homes and made the journey to the burnt remains of the Chibok school where their daughters were captured more than a month ago.
They had come to see President Goodluck Jonathan, whose failure to appear in the village where more than 300 girls were taken by Islamic extremists had become a symbol of how this north-eastern outpost has felt neglected by central government.
By 8am relatives of the abducted pupils – as well as some of the young women who managed to escape Boko Haram – were gathered at Chibok government secondary school in Borno, waiting expectantly for the man who they thought had forgotten them. But then, after more than an hour of sitting around, a call came through to the school's principal, Asabe Kwambura. Jonathan would not be coming.
"We were all prepared," Ms Kwambura told The Independent. "Some will be angry that he did not come. We had the parents and the students all gathered to see him and then we get the information to say he is not coming. We understand he was called by other foreign countries to discuss the missing students."
The apparent explanation – one which was not well-received by parents – was that the region was too unsafe for a presidential visit.
In pictures: Nigeria kidnapped schoolgirls
In pictures: Nigeria kidnapped schoolgirls
1/19 Nigeria

A total of 276 girls were abducted from the northeastern town of Chibok, in Borno state, which has a sizeable Christian community. Some 223 are still missing

2/19 Nigeria

One of the kidnapped girls looks into a camera

3/19 Nigeria

One of the missing girls talking to the camera

4/19 Nigeria

The missing Nigerian schoolgirls, wearing the full-length hijab and praying in an undisclosed rural location. Boko Haram alleging they had converted them to Islam

5/19 Nigeria

Girls wearing the full-length hijab holding a flag reading "There is no god, but Allah" and "Mohammed is Allah's prophet"

6/19 Nigeria

A man claiming to be the leader of Nigerian Islamist extremist group Boko Haram Abubakar Shekau

7/19 Nigeria

Abubakar Shekau speaks on the video

8/19 Nigeria

Girls, wearing the full-length hijab and praying are filmed by an unidentified man (R) in an undisclosed rural location

9/19 Nigeria

People carry signs as they attend a protest demanding the release of abducted secondary school girls in the remote village of Chibok in Lagos

10/19 UK

A protester demonstrates against the kidnapping of school girls in Nigeria, outside the Nigerian Embassy in London

11/19 UK

Chief International Correspondent Christiane Amanpour and Prime Minister David Cameron appearing on the BBC1 current affairs programme

12/19 USA

People participate in a "Bring Back Our Girls" campaign demonstration and candlelight vigil in Los Angeles

13/19 USA

Girls holding heart shaped banners in a "Bring Back Our Girls" campaign demonstration and candlelight vigil in Los Angeles

14/19 South Africa

South Africans protest in solidarity against the abduction of hundreds of schoolgirls in Nigeria by the Muslim extremist group Boko Haram and what protesters said was the failure of the Nigerian government and international community to rescue them, during a march to the Nigerian Consulate in Johannesburg

15/19 USA

Karilyn Coates (10) joins others in a candlelight vigil for the more than 300 girls abducted by Boko Haram in Nigeria, at All Souls Unitarian Church in Colorado Springs

16/19 Nigeria

Mothers of the missing Chibok school girls abducted by Boko Haram Islamists gather to receive informations from officials. Nigeria's president said that Boko Haram's mass abduction of more than 200 schoolgirls would mark a turning point in the battle against the Islamists, as world powers joined the search to rescue the hostages

17/19 Nigeria

Former Nigerian Education Minister and Vice-President of the World Bank's Africa division (3rd L) Obiageli Ezekwesilieze speaks as she leads a march of Nigeria women and mothers of the kidnapped girls of Chibok, calling for their freedom in Abuja

18/19 Bring Back Our Girls

Kelly Hoppen tweeted: 'Please make sure you do this, we must stand together and not forget them'

19/19 Bring Back Our Girls

E.L. Rock Star tweeted: 'Join The Movement'
Insurgents killed at least four soldiers in an ambush near the village on Monday and a senior government source said that the President was advised not to go ahead for security reasons.
Instead, he went straight to Paris ahead of Saturday's summit of West African leaders. The meeting is an attempt to improve co-operation with neighbouring Cameroon Chad, Benin and Niger in the fight against Boko Haram.
As a Christian from the south of the country, Jonathan has been accused of being indifferent to the fate of the predominantly Muslim north which has had to tolerate violent clashes with Islamic extremists for the past five years.
His conspicuous absence from Chibok at a time when the fate of the kidnapped schoolgirls has attracted international concern has only cemented this feeling.
Pastor Enoch Mark, who lost two daughters in the kidnapping, said of the president's cancellation: "I'm really, really disappointed by his failure to come to us".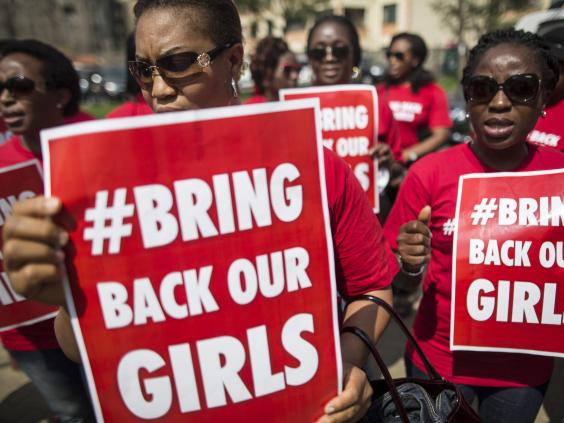 Pastor Mark was in Abuja when he heard the visit had not taken place. "The school is burnt to ashes," he said. "The President needs to see the damage that has been done to the school and the town. People are highly annoyed about it because he's our head of state."
In total, more than 300 students were taken from the Chibok Government Girls Secondary School on 15 April. Police say 53 managed to escape and 276 remain in captivity.
The girls were initially taken to Sambisa Forest, an area twice the size of Rwanda. It is thought they may still be there as it is a known Boko Haram hideout. Its vegetation also fits with that visible in the background of a video released by the group on Monday that showed around 130 captured girls. 
Tsambido Hosea Abana, 51, has three nieces and two cousins among the missing girls. The civil servant has been running rallies for the abducted schoolgirls in Abuja, where he is chairman of the Chibok Community.
"As of now I don't know what the government is doing," he said, "I want the girls to be released."
"When I heard the news I cried. At first I thought 'they are going to kill them'. I cried bitterly for the whole week. But now there's hope after seeing them on television."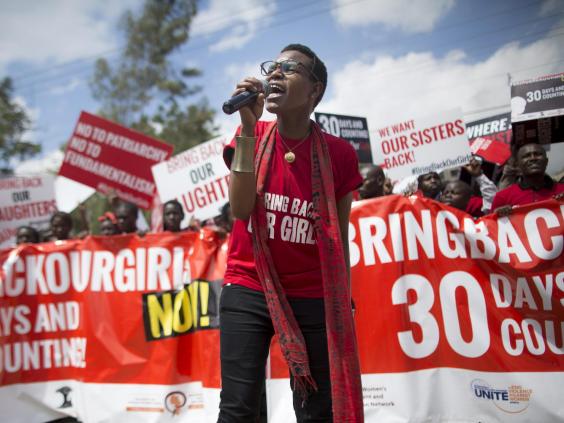 Although the sight of some of the girls in the video released by Boko Haram on Monday has given him relief, he only spotted one cousin among them.
"Since I have seen some faces on the screen I believe they will come back alive. That is my prayer. Although I have five relatives among the missing I've seen only one, my cousin, on the video."
Allen Manasseh, a community leader whose younger sister, Maryamu Wavi, is among the missing, said the President's protracted absence was having political consequences.
"His popularity has declined. This community in Chibok is supportive of his party. We've been voting for his party for the past 12 years. But now, people are really angry. What is the reason for supporting a political party that can't come to your aid in moments of grief?"
He said that despite this he was behind the government's decision not to agree to Boko Haram's demand for released prisoners in exchange for girls. "Why should there be a prisoner swap with innocent girls? It's a very bad signal to the nation if that's done", he said.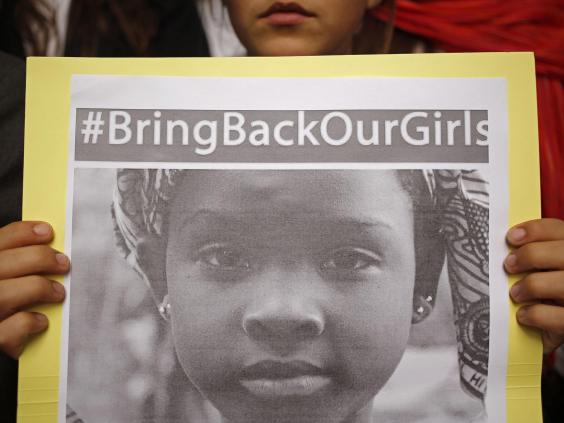 "What we should be saying is they should be compelled to release these girls unconditionally."
Like Mr Abana, Mr Manasseh could not see his relative in the video, amid ongoing confusion over whether the remainder of the girls are still in the country – or even still alive.
"I could not recognise my sister in the video," said Mr Manasseh. "Those that escaped told us they selected girls that looked older and they were put ahead of the smaller ones. My sister is a bit plumpy, so I suspect she's one of those [who] was sent further away."
The President's failure to appear will not improve morale in Nigeria's army, which some reports suggest is now near mutiny at a time when it is supposed to be intensifying its efforts in the region.
Troops complain that they are outnumbered and outgunned by the insurgents, are not properly paid and have to scavenge for food.
Funds are also limited in Chibok. Ms Kwambura does not know how she will educate the girls that remain, or for how long they will be safe from Boko Haram.
Reuse content