Dozens of Nigerian soldiers have been sentenced to death by firing squad for refusing to fight Islamic extremists within the country.
The men were accused of refusing to deploy to recapture three towns seized by Nigeria's home-grown militant group Boko Haram earlier this year, according to the charge sheet.
Lawyer Femi Falana, who was representing the condemned men, said 54 soldiers were convicted and sentenced to death while five soldiers were acquitted on Wednesday.
All of the soldiers were accused of "conspiring to commit mutiny against the authorities of 7 Division, Nigerian Army", which is fighting in the northeast of the country.
It has today been reported that Boko Haram gunmen kidnapped more than 100 women and children and killed 35 people during a raid on Sunday on the remote village of Gumskiri.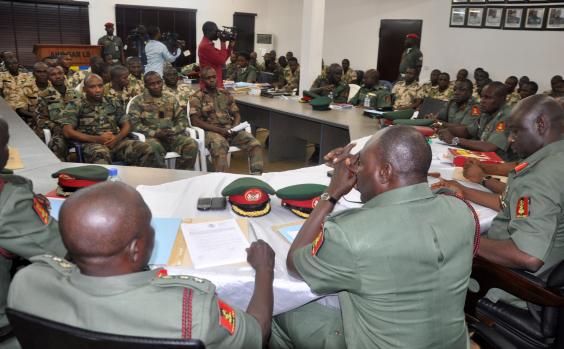 The militant group has seized a string of towns and villages and declared an Islamic caliphate in August along Nigeria's border with Cameroon.
Troops regularly complain they are outgunned by the militant group, while some have also claimed they were not paid in full or were "abandoned" on the battlefield without enough ammunition or food.
In September, 12 soldiers were sentenced to death for mutiny and attempted murder of the commanding officer in the counter-insurgency.
In pictures: Nigeria kidnapped schoolgirls
In pictures: Nigeria kidnapped schoolgirls
1/19 Nigeria

A total of 276 girls were abducted from the northeastern town of Chibok, in Borno state, which has a sizeable Christian community. Some 223 are still missing

2/19 Nigeria

One of the kidnapped girls looks into a camera

3/19 Nigeria

One of the missing girls talking to the camera

4/19 Nigeria

The missing Nigerian schoolgirls, wearing the full-length hijab and praying in an undisclosed rural location. Boko Haram alleging they had converted them to Islam

5/19 Nigeria

Girls wearing the full-length hijab holding a flag reading "There is no god, but Allah" and "Mohammed is Allah's prophet"

6/19 Nigeria

A man claiming to be the leader of Nigerian Islamist extremist group Boko Haram Abubakar Shekau

7/19 Nigeria

Abubakar Shekau speaks on the video

8/19 Nigeria

Girls, wearing the full-length hijab and praying are filmed by an unidentified man (R) in an undisclosed rural location

9/19 Nigeria

People carry signs as they attend a protest demanding the release of abducted secondary school girls in the remote village of Chibok in Lagos

10/19 UK

A protester demonstrates against the kidnapping of school girls in Nigeria, outside the Nigerian Embassy in London

11/19 UK

Chief International Correspondent Christiane Amanpour and Prime Minister David Cameron appearing on the BBC1 current affairs programme

12/19 USA

People participate in a "Bring Back Our Girls" campaign demonstration and candlelight vigil in Los Angeles

13/19 USA

Girls holding heart shaped banners in a "Bring Back Our Girls" campaign demonstration and candlelight vigil in Los Angeles

14/19 South Africa

South Africans protest in solidarity against the abduction of hundreds of schoolgirls in Nigeria by the Muslim extremist group Boko Haram and what protesters said was the failure of the Nigerian government and international community to rescue them, during a march to the Nigerian Consulate in Johannesburg

15/19 USA

Karilyn Coates (10) joins others in a candlelight vigil for the more than 300 girls abducted by Boko Haram in Nigeria, at All Souls Unitarian Church in Colorado Springs

16/19 Nigeria

Mothers of the missing Chibok school girls abducted by Boko Haram Islamists gather to receive informations from officials. Nigeria's president said that Boko Haram's mass abduction of more than 200 schoolgirls would mark a turning point in the battle against the Islamists, as world powers joined the search to rescue the hostages

17/19 Nigeria

Former Nigerian Education Minister and Vice-President of the World Bank's Africa division (3rd L) Obiageli Ezekwesilieze speaks as she leads a march of Nigeria women and mothers of the kidnapped girls of Chibok, calling for their freedom in Abuja

18/19 Bring Back Our Girls

Kelly Hoppen tweeted: 'Please make sure you do this, we must stand together and not forget them'

19/19 Bring Back Our Girls

E.L. Rock Star tweeted: 'Join The Movement'
He was blamed by the soldiers for the deaths of other soldiers who were ambushed after being ordered to drive at night on a road often attacked by militants.
More recently, Special Forces have recaptured at least four towns with help from air raids, traditional hunters and vigilantes.
Boko Haram, whose name means "Western education is sinful", has been conducting a five-year campaign for an Islamic state, which has become the greatest menace to the security of Africa's biggest economy.
Although no one has yet claimed Sunday's attack on the remote village of Gumskiri, it bore the hallmarks of the militant group.
In a similar assault in April, the group abducted 200 women from a secondary school in Chibok.
Maina Chibok, who did not witness the attack in Gumskiri but is from the village and visited her family there shortly afterwards, said: "They gathered the people, shot dead over 30 people and took away more than 100 women and children in two open top trucks."
She went on to say: "They also burnt down a government medical centre, houses and shops."
A security source confirmed more than 100 had been abducted and said 35 people had been killed, including the district head.
Additional reporting by AP
Reuse content