Abubakar Glavda looks forlornly at the red-dust ground, recounting the day Boko Haram entered his village. "I lost two sons that day; they had both just started primary school. As I ran with my other children for our dear lives the machine guns opened up and I would never see my two boys again."
It is a tale painfully familiar among Nigeria's internally displaced people (IDPs). As the Boko Haram insurgents have wreaked havoc through the towns and villages in the northeast of Africa's most populous nation, thousands have fled to the relative safety of Yola, in Adamawa state.
The UN says more than a million people have been displaced, with more than 200,000 having fled to neighbouring Cameroon, Niger and Chad.
While the Nigerian government and NGOs have responded to the crisis by supplying food aid, hygiene kits and basic shelter; these agencies are stretched to capacity.
"Security-wise we're now starting to cope with the crisis, but on humanitarian grounds we really need help. There's a need for support from international and humanitarian groups" said Yinka Afolabi, humanitarian co-ordinator at Oxfam Nigeria.
The rise of Boko Haram
The rise of Boko Haram
1/19 Boko Haram

The leader of the Islamist extremist group Boko Haram Abubakar Shekau delivers a message. Boko Haram has claimed responsibility for the mass killings in the north-east Nigerian town of Baga in a video where he warned the massacre "was just the tip of the iceberg". As many as 2,000 civilians were killed and 3,700 homes and business were destroyed in the 3 January 2015 attack on the town near Nigeria's border with Cameroon

AFP

2/19 Boko Haram

People displaced as a result of Boko Haram attacks in the northeast region of Nigeria, are seen near their tents at a faith-based camp for internally displaced people (IDP) in Yola, Adamawa State. Boko Haram says it is building an Islamic state that will revive the glory days of northern Nigeria's medieval Muslim empires, but for those in its territory life is a litany of killings, kidnappings, hunger and economic collapse

3/19 Boko Haram

Nitsch Eberhard Robert, a German citizen abducted and held hostage by suspected Boko Haram militants, is seen as he arrives at the Yaounde Nsimalen International airport after his release in Yaounde, Cameroon on 21 January 2015

4/19 Boko Haram

Officials of the Nigerian National Emergency Management Agency (NEMA) visit victims of a bomb blast in Gombe at the Specialist Hospital in Gombe. According to local reports at least six people were killed and 11 wounded after a bomb blast in a marketplace in Nigeria's northeastern state of Gombe on 16 January 2015. Islamist militant group Boko Haram has been blamed for a string of recent attacks in the North East of Nigeria

5/19 Boko Haram

People gather at the site of a bomb explosion in a area know to be targeted by the militant group Boko Haram in Kano on 28 November 2014

6/19 Boko Haram

People gather to look at a burnt vehicle following a bomb explosion that rocked the busiest roundabout near the crowded Market in Maiduguri, Borno State on 1 July 2014. A truck exploded in a huge fireball killing at least 15 people in the northeast Nigerian city of Maiduguri, the city repeatedly hit by Boko Haram Islamists

7/19 Boko Haram

President Goodluck Jonathan visits Nigerian Army soldiers fighting Boko Haram

Getty Images

8/19 Boko Haram

Displaced people from Baga listen to Goodluck Jonathan after the Boko Haram killings

AFP/Getty

9/19 Boko Haram

Nigeria's President Goodluck Jonathan speaking to troops during a visit to Maiduguri, the capital of Borno State; most of the region has been overrun by Boko Haram

AFP/Getty

10/19 Boko Haram

Members of the Nigerian military patrolling in Maiduguri, North East Nigeria, close to the scene of attacks by Boko Haram

EPA

11/19 Boko Haram

Boko Haram's leader, Abubakar Shekau, appears in a video in which he warns Cameroon it faces the same fate as Nigeria

AFP

12/19 Boko Haram

South Africans protest in solidarity against the abduction of hundreds of schoolgirls in Nigeria by the Muslim extremist group Boko Haram and what protesters said was the failure of the Nigerian government and international community to rescue them, during a march to the Nigerian Consulate in Johannesburg

13/19 Boko Haram

Boko Haram militants have seized the town in north-eastern Nigeria that nearly 300 schoolgirls were kidnapped from in April 2014

AFP

14/19 Boko Haram

A soldier stands guard in front of burnt buses after an attack in Abuja. Twin blasts at a bus station packed with morning commuters on the outskirts of Nigeria's capital killed dozens of people, in what appeared to be the latest attack by Boko Haram Islamists, April 2014

15/19 Boko Haram

The aftermath of the attack, when Boko Haram fighters in trucks painted in military colours killed 51 people in Konduga in February 2014

AFP/Getty Images

16/19 Boko Haram

The leader of Boko Haram, Abubakar Shekau (with papers) in a video grab taken in July 2014

AFP/Getty

17/19 Boko Haram

Ruins of burnt out houses in the north-eastern settlement of Baga, pictured after Boko Haram attacks in 2013

AP

18/19 Boko Haram

A Boko Haram attack in Nigeria, 2013

AFP/Getty Images

19/19 Boko Haram

Abubakar Shekau, Boko Haram's leader

AP
In Yola, families are trying to make sense of the violence they've been subjected to. "There's no hope. We've lost everything to the insurgents" Mr Glavda said.
The militants looted and burned his village. Mr Glavda's two herds of cattle were not spared, taking his only means of paying  for his remaining 18 children's education.
He said: "We have the lowest expectations a human being can have. We cannot move freely, we've little food, and our children don't go to school. This is the worst time of our lives."
Earlier this month, Boko Haram pledged allegiance to the so-called Islamic State seemingly in an attempt to gain further legitimacy and help recruit more members.
However, there has been some progress since Nigeria reached a new military alliance with its eastern neighbours. After months of losing ground to Boko Haram, Nigerian forces are now conducting offensive operations against the insurgents. Forces from Nigeria, Chad and Niger killed 300 militants as they gained control of Malam Fatouri and Damasak recently.
However, in Damasak, near the border with Niger, soldiers reportedly discovered the bodies of more than 70 people – many with their throats slit: another brutal reminder of the violence that has affected many of those displaced.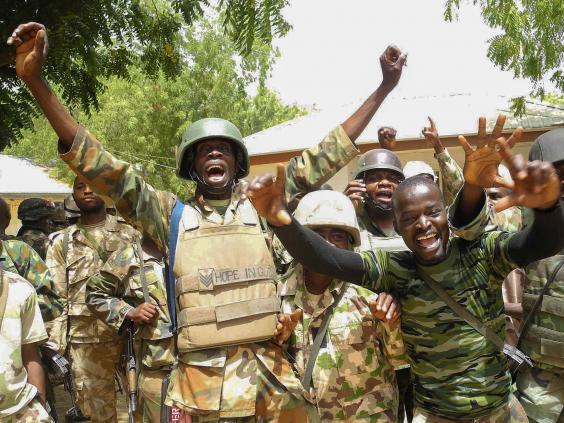 News of military victories provides a welcome relief for many. Mike Omeri, a government spokesman, told The Independent on Sunday: "Nigerians are very happy, very proud, that more territories have been taken. The morale of the troops is now very high."
The deteriorating security situation forced Nigeria's Independent National Electoral Commission (INEC) to delay the 14 February presidential election until this Saturday, giving a further six weeks to tackle Boko Haram.
President Goodluck Jonathan – perhaps with an eye to the election – told the BBC in an interview last week that Boko Haram was getting "weaker and weaker" and that the Nigerian government would be back in control of all its territory in no more than a month.
Such forecasts are not new, but the seeming improvement in security means many of the IDPs will now get the opportunity to vote. "We are eager to vote," said Niyu, a 25-year-old refugee. "Even if we are in the bush we will vote because that is our right as citizens of this country."
In the Kwalaya IDP camp in Yola, Pastor Daniel Tumba is hopeful of returning to his village. On 7 September last year, during a packed Sunday school service, Boko Haram militants invaded the small village of Michika, firing indiscriminately at his congregation.
"We just ran and didn't look back," he says. "We hid in the bush and we haven't been back home since." He says most of the houses in Michika were burnt, "so when we reach home we are going to start a new life altogether".
Reuse content