Reeva Steenkamp's mother June came to the North Gauteng High Court to "really look in the eye" the man she has never met, and who shot and killed her daughter.
But Oscar Pistorius afforded her no such opportunity, when he made his entrance at around 09.40 local time, only briefly glancing at his own family: sister Aimee, brother Carl and uncle Arnold.
The Steenkamps and the Pistoriuses sat just a couple of metres from one another in one long row, behind the dock in which the Blade Runner sat alone, and in front of five packed benches of the world's press.
"How are you feeling?" one journalist asked Carl Pistorius, who simply opened his palms and shrugged, as if to intimate "I can't say anything".
The press have been gathering all week, in a temporary tented city setup opposite the court house, and the first journalists arrived at 6am on Monday morning, to start queuing for the best seats.
They would have quite a wait on their hands. The most eagerly awaited day in South African legal history didn't get started until 11.30am, an hour and a half late. The Afrikaans interpreter who was required to translate for one of the state's witnesses had only discovered that morning that the case she was expected to work on the Pistorius case, and was suddenly "overwhelmed" and "burst in to floods of tears". What is about South African interpreters and the big occasions?

Conveniently, this delay ran concurrently with the arrival of "Anna Marie", this time wearing a lawyer's gown, an eccentric lady who claims her surname has been "stolen", and who also made an appearance at the bail hearing last year, and the hearing over the application to televise the trial. She has previously insisted Oscar Pistorius's brain be examined, that she is the sister of the surgeon who amputated his legs as a baby, and that she is a friend of his now deceased mother. She was led away, demanding to see the judge.
To the terrified interpreter's convenience, in any event, Dr Michell Burger, a professor at the University of Pretoria, appeared to be fluent in English, regularly helping the interpreter along, until she gave up and just started answering in English anyway.
Her testimony, that stood in marked contrast to the Oscar Pistorius's version of events, had Ms Steenkamp, 67 whispering to her sister, "Why would she lie? Why would she lie?"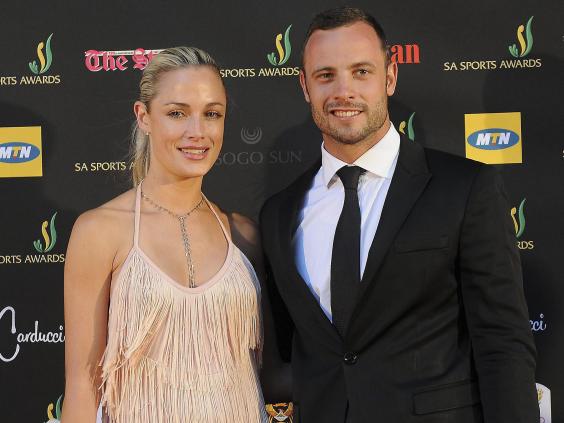 Oscar, meanwhile, sat on a little yellow cushion he had brought himself, and made pages and pages of notes in an A4 pad.
In all the long hours they sat by one another, no eye contact was spotted being made between any of the Steenkamps and the Pistoriuses. With the trial scheduled to last some weeks yet, there may be some stiff necks to contend with.