The "C-Max" high security prison in Pretoria will soon lose its highest profile inmate, a one-time police colonel sentenced to two life sentences and 212 years behind bars.
Eugene de Kock, mastermind of South Africa's Apartheid death squads, will walk free in secret after being granted parole yesterday – having spent less time incarcerated than Nelson Mandela.
Supposedly reformed, the 66-year-old bespectacled enforcer of South African white rule, known as 'Prime Evil', will be released after serving 20 years, having expressed his profound regret at the campaign of terror and insurrection among black South Africans,  carried out from Vlakplaas, a farm 15 miles west of Pretoria.
"If they didn't burn them, then they shot them. If they didn't shoot them, they hanged them. And if they didn't hang them, they threw them in a pit and put dirt on them," Morris Hlongwane, who helps to guard the Vlakplaas farm, told the BBC yesterday.
Released in the "interests of nation-building and reconciliation", according to Justice Minister Michael Masutha, De Kock has helped authorities recover the remains of his victims. His parole was, despite being widely predicted, controversial. Few in South Africa can forget how even as Nelson Mandela was released from prison after 27 years in 1990 and began talks with then President De Klerk, De Kock was planning unprecedented violence. Four years later, as Mandela came to power, De Kock was arrested.
Nelson Mandela: the memorials and landmarks
Nelson Mandela: the memorials and landmarks
1/5 Nelson Mandela: From the Eastern Cape to Soweto

'Release' sculpture near Howick (Emma Gregg www.emmagregg.com)

Emma Gregg www.emmagregg.com

2/5 Nelson Mandela: From the Eastern Cape to Soweto

Qunu, where Mandela grew up (Emma Gregg www.emmagregg.com)

Alamy

3/5 Nelson Mandela: From the Eastern Cape to Soweto

Street art in Soweto (Emma Gregg www.emmagregg.com)

Emma Gregg www.emmagregg.com

4/5 Nelson Mandela: From the Eastern Cape to Soweto

Location map

5/5 Nelson Mandela: From the Eastern Cape to Soweto (GEtty)

Memorial man: the bronze of Mandela in Pretoria

Getty
As he told the Truth and Reconciliation Commission (TRC), thousands of weapons were, under his direction, given to Inkatha militants who used them to murder ANC members. From Vlakplaas he directed battles in Natal and Transvaal that led to an estimated 12,000 deaths over four years until 1994. Majority rule, De Kock believed, would appear inconceivable in the face of the black-on-black massacre and South Africa would, he hoped, remain an Apartheid state.
"He is not supposed to be freed. The atrocities he did to our people were very bad," Aniel Motlhake, 35, a financial planner in Johannesburg, told Reuters yesterday.
But Tshapo Mohapi, a lawyer with the Human Rights Institute of South Africa in Johannesburg, told The Independent: "He has shown a great amount of remorse throughout the investigation and has tried to make amends.
"It will go much further in advancing the reconciliation in this country than keeping him there."
De Kock's lawyer, Julian Knight, said he had been unable to contact his client and so could not comment on his state of mind or future plans. His release date is now a closely guarded secret.
By the late 1980s, the apartheid state was buckling as international sanctions took effect. It was in November of 1989 that two former members revealed the existence of a "police-run terror network" run by De Kock. As The Independent's correspondent John Carlin reported at the time: "Eugene de Kock is believed to still head a Pretoria-based anti-terrorist unit." There was at one stage a meeting where De Kock considered whether to assassinate Mr Carlin.
Mr Carlin said yesterday: "The apartheid state's most notorious assassin has done well to get out after just 20 years behind bars. For some, this is an outrage. In terms of strict justice, the bigger outrage is that De Kock was only following orders and those that gave them never had to pay the price.
"He was the fall-guy while the likes of Adriaan Vlok, minister of police, and Magnus Malan, minister of defence, and assorted generals and police commissioners higher up the chain of apartheid's 'securocrat' command were allowed to see out state-paid retirements in freedom and, in some cases, high luxury. The same goes for PW Botha, the last but one apartheid president, who saw out the last years of his life in a splendid mansion on the Indian Ocean.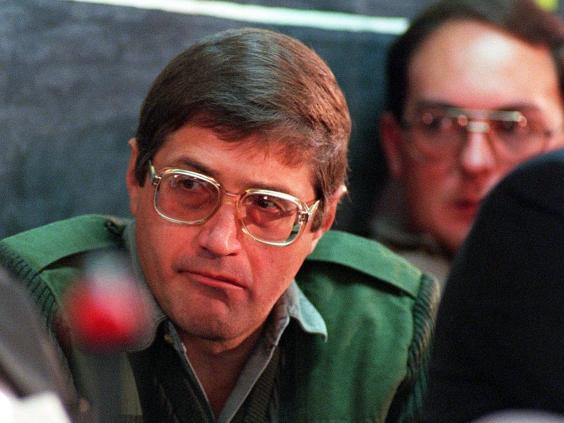 "But 20 years ago the decision to punish De Kock and spare his masters was the right one. At a time of risky national transition, when the prospect of civil war loomed, politics took precedence over justice.
"The South African peace process worked and apartheid gave way to democracy because, when the critical moment came, Nelson Mandela and his African National Congress were more pragmatists than moralists.
"They were generous and forgiving, for sure, but with a clear political purpose in mind. Had they locked up or exiled or shot all those who deserved to be locked up, exiled or shot, the response of the well-armed white right would have been pitiless and the dream Mandela worked all his life to achieve would have drowned, as he himself would warn it might, in blood."
In a 2007 radio interview, De Kock accused FW de Klerk of having hands "soaked in blood" for ordering political killings. Mr De Klerk, who won the Nobel Peace Prize jointly with Mr Mandela, has denied the allegations. At the TRC in November 1997, De Kock testified: "I want to say that no member of the National Party, including the previous President who has now run away, could at any time have gone to bed at night, and believed that they were in control of this country, because they were the popular majority, politically speaking.
"They were kept in control directly by the South African Police, the Defence Force and the Intelligence structures. There should be no doubt about that."
In 2012, De Kock met Marcia Khoza, the daughter of ANC activist Portia Shabangu, who he executed in 1989. "We greeted each other and shook hands. His handshake was firm," she said after the meeting. "I thought I would cry but strangely enough had the courage to continue to listen to him. I was not jolted because I had long forgiven him."
At the same news conference yesterday, Mr Masutha denied medical parole to Clive Derby-Lewis, an ultra-right wing politician who masterminded the 1993 assassination of Communist Party leader Chris Hani in an attempt to trigger a race war.
Reuse content