Some came by themselves, others in groups, among them families spanning generations; the women of Benghazi were arriving to pay their last respect to Salwa Bughaigis, one of Libya's foremost human rights campaigners killed in her own home by gunmen on Libya's election day.
The women joined the funeral procession, breaching the tradition under which women go to the cemetery later, separately from the men. But, many among the hundred or so gathered under the blazing sun were keen to stress that it was important to show their solidarity with the murdered lawyer and affirm that the principles which cost her life would not be allowed to wither.
"It was something spontaneous not organised, it what people wanted to do, there is a belief we must stand together in such a dangerous time" said Iman Bughaigis, a sister of Salwa, and a fellow campaigner for civil liberties. A little while after the fatal attack, there had been a telephone call, warning that she would be next on the hit list.
"It is worrying, but I can't spent time thinking too much about that now, all of us who do the type of work we do are under threat, Salwa knew she was, so we have to carry on with what we believe in", she said. "The immediate priority is to try and help Essam any way we can."
Essam Al-Ghariani, Salwa's husband, was abducted by the five strong assassination gang.
The family gardener, who was shot on the leg, was taken away by the police for questioning; it was later announced that he had died at the police station. "It was not a major wound he had suffered, so we don't know what happened there. It means there is one less witness to what happened; of course, it's also very sad for the man's family and we need to look after them as well," said Iman.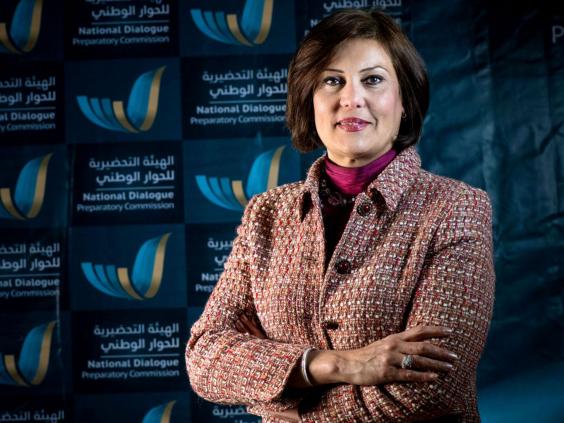 More tributes poured in for Salwa Bughaigis today. Hilary Clinton described what happened as "heartbreaking news, a vital voice for justice is silenced". William Hague said he was "shocked and saddened by the killing, she was a passionate campaigner for the ideals of democracy." United Nations Secretary General Ban Ki-moon condemned "the assassination of a courageous dedicated defender of human rights."
Amnesty International urged the Libyan authorities to ensure that there was a thorough, independent and impartial investigation was carried out into the killing and those responsible brought to justice. That, however, was greeted with mirth by many. "There are dozens of people getting slaughtered every month by the Islamists, the militias, criminals, they are not caught, I doubt very much if they will catch whoever did this, I am sure they have influential friends", said Hamira al-Thani, a 24 year old student attending a vigil for Ms Bughaigis in Tripoli's Algeria Square on Thursday night.
Her brother, Faied, said: "They know they can get away with murder. Why did she just not leave the area, she knew they were trying to kill her." The US ambassador, Deborah Jones, was present along with a few other foreign diplomats. Also there were some local politicians. "They are the ones who allowed this situation to develop, they pay off the Islamists," maintained Faied.
Salwa Bughaigis and her husband had taken their son to live in Jordan after an attempt had been made to kidnap him in the past. "She came back to Benghazi late on Wednesday night, and they killed her the next evening", said her sister Iman, "So they were prepared for the opportunity. She was determined to vote and how could anyone stop her?
"I am not going to start blaming individual groups, because we don't have evidence who was involved, there are obviously people with guns who find those who speak up for human rights a threat, especially if it is women speaking up. But Salwa was not a threat to anyone, all she was trying to do was achieve a national dialogue.
"We also know that some of these people have protection from above: but there has been a lot international coverage of this, a lot of important international figures have spoken about Salwa, so we are hoping that the authorities will do something, that's important not just for Salwa, but to stop other terrible things like this in the future."
Reuse content