Environmentalist group Sea Shepherd says they believe there were signs that a ship that sank off the coast of west Africa on Monday had been "intentionally scuttled", following a rescue operation that saw them save 40 crew members from the vessel suspected of illegal poaching.
The Sea Shepherd ships, the Bob Barker and Sam Simon, rescued the crew from the alleged poaching vessel Thunder off the coast of west Africa after they had received a distress call on Monday afternoon.
Both ships were quickly mobilised and found the crew members in life rafts following their decision to abandon the sinking vessel. Captain Peter Hammarstedt of the Bob Barker said: "The captain of Thunder radioed us and said their ship was sinking. We launched our small boat and did everything we could to assist.'
Adding: "It appeared as though the ship and crew were in a serious situation."
The life rafts were then towed by the Bob Barker to its bigger sister ship, the Sam Simon.
The rescued crew members will now be taken to São Tomé and Príncipe, in the Gulf of Guinea.
The incident comes after a pursuit that has seen the Bob Barker follow the Thunder vessel for nearly 110 days after Sea Shepherd raised suspicions that the Thunder ship had been poaching the highly sought after but under-threat toothfish.
During that period of time, Sea Shepherd has reported a number of incidents in which it claims the Thunder crew has shown aggressive behaviour towards the Bob Barker.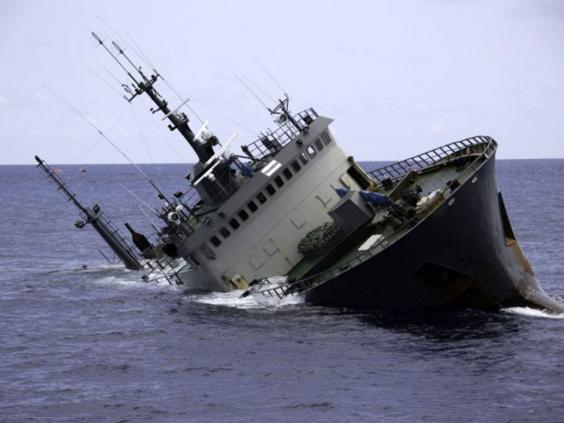 Speaking after the rescue, Captain Hammarstedt said: "It was a very unusual situation. Certainly the crew on board that vessel have been very aggressive towards my crew and my ship for the past almost four months, so it was a weird, surreal experience having to take them on board one of our ships, but it is our legal and moral obligation to do so."
Captain Hammarstedt also said that when the boat finally sunk below the water, the rescued crew members were heard cheering and applauding, leading him to believe that the ship had been scuttled intentionally.
The Thunder's captain is reported to have said the ship was hit by a cargo vessel. According to Interpol, the Thunder, which has used a series of names, is said to have illegally reaped millions of dollars' worth of prized "white gold" toothfish in the past.
Reuse content