Reeva Steenkamp's parents have called for Shrien Dewani to give evidence to a South African court about his wife's murder.
Both women were shot dead in South Africa, but while Oscar Pistorius was imprisoned for killing his girlfriend, questions around Anni Dewani's murder have never been resolved.
The 28-year-old was shot dead while travelling through a township near Cape Town on her honeymoon in November 2010.
Three men have been jailed over her murder but claimed Mr Dewani had paid them to kill his wife and make it look like a hijacking.
He denies any involvement in Mrs Dewani's murder and the case against him is teetering on the verge of collapse.
Barry and June Steenkamp called the victim's family to express their sympathy and back their calls for the trial to continue, the Daily Mail reported.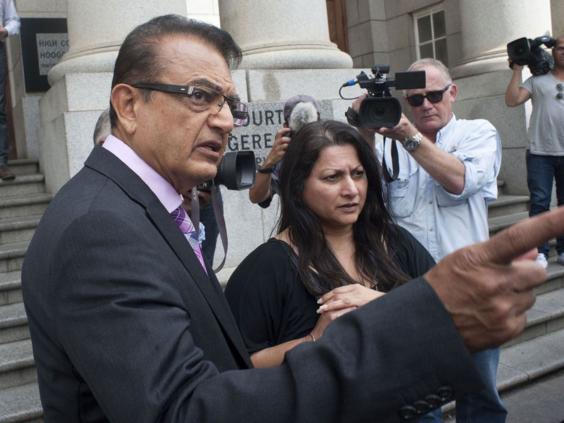 In a call to Mrs Dewani's father Vinod Hindocha, Mr Steenkamp reportedly said his family understood what they were going through.
Mr Hindocha told the Daily Mail: "Mr Steenkamp and I talked about Reeva and Anni and I gave him my sympathy too.
"Only he and I as fathers can properly understand the pain of losing a daughter to bullets and then experience very difficult and high profile cases.
"Reeva's father told me 'we are both in the same boat' and that I needed to be strong."
His family support the Steenkamps' push for an appeal against the decision to acquit Pistorius of murder and hand him a lesser sentence for culpable homicide (manslaughter), Mr Hindocha added.
On Monday, the Western Cape Court will decide whether to throw out the charges against Mr Dewani, a millionaire from Bristol, or whether the trial will continue.
Judge Jeanette Traverso has received an application from the defence that the prosecution's argument was weak, inconsistent and based on the testimony of unreliable witnesses.
Mrs Dewani's family have begged her husband to "tell the world what happened the night she died" by giving evidence in court.
Honeymoon crime: Shrien and Anni Dewani
Honeymoon crime: Shrien and Anni Dewani
1/8 Honeymoon crime

Shrien Dewani and wife Anni on their wedding day

PA

2/8 Honeymoon crime

The couple pictured together

3/8 Honeymoon crime

Mrs Dewani is believed to have been shot three times

4/8 Honeymoon crime

Xolile Mngeni was sentenced to life after being convicted for the murder of Mrs Dewani in November 2012

Rex

5/8 Honeymoon crime

Mngeni, convicted of killing Anni Dewani, had a brain tumour and died in prison in October

Getty Images

6/8 Honeymoon crime

Mr Dewani, who has consistently maintained his innocence, broke down in tears as graphic footage and images of his wife's dead body were shown in a South African court

7/8 Honeymoon crime

Vinod Hindocha, left, the father of murdered Mrs Dewani, has said he was not aware of his son-in-law's sexuality prior to his daughter's marriage to the British businessman

AFP

8/8 Honeymoon crime

Here, Mr Hindocha, breaks down at a news conference on the eve of the murder trial's start

AP
At a press conference in South Africa, her brother Anish Hindocha said: "It would be a terrible development if we and the people of South Africa are not afforded the full story,
"If they are not given the full facts, and by that I mean Shrien Dewani telling the court his version, then Anni's death will remain on the conscience of South Africa forever."
Mr Dewani and the driver, Zola Tongo, were thrown out of the taxi when it was hijacked by Mziwamadoda Qwabe and Xolile Mngeni, in what they say was a pre-arranged paid hit.
Mngeni died in custody from a brain tumour and the other defendants remain in prison.
Reuse content